We've seen Teslas take on mighty performance cars and hold their own in some wacky drag races. But have you ever seen a BYD Seal compete against a Lamborghini Huracan, Porsche Cayman GT4, Nissan GT-R R35, and more?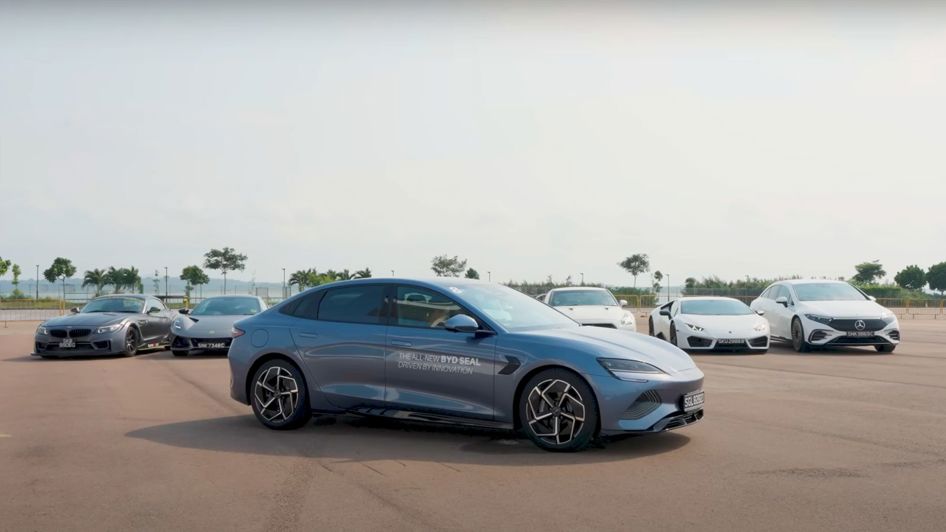 YouTube channel Horizon Drivers Club recently made that vision a reality, pitting the all-electric BYD Seal against some serious competition. The video starts by introducing the Seal, then quickly transitions into a race between the Chinese EV and a Porsche Taycan. The Seal obliterated the Taycan, finishing about two seconds quicker.
The video goes on to show the Seal go three for three in wins before facing the GT-R and losing by a tiny margin. The Seal did win, perhaps unexpectedly, against the Lotus Emira, getting the win despite a slower start. It also beat the Cayman GT4 before failing its final test against the Lamborghini Huracan.
The Seal driver was all smiles in the end, however, garnering five wins against two losses against some of the most desirable supercars around. The rest of the video shows the Seal in action at a test track in Singapore, where the host explains the EV's capabilities outside of straight-line racing.
Now that we've seen the Seal go toe-to-toe against a veritable list of performance vehicles, it might do Kiwis well to know that the electric sedan boasts a starting price of $62,990 or nearly $5k cheaper than the entry-level Tesla Model 3.
The range-opening Seal Dynamic features a 61kWh battery, 150kW/310Nm single electric motor, rear-drive configuration, 460km WLTP range and 0-100km/h in 7.5 seconds.
Meanwhile, the top-spec Seal Performance can be had for $83,990, boasting a twin-motor all-wheel-drive (AWD) setup with an 83kWh battery, 390kW/670Nm, 520km range and 0-100km/h in an blistering 3.8 seconds.
The 2024 BYD Seal will be available in New Zealand early next year.