AUSTRALIAN WRITER ALBORZ FALLAH TESTS A SOUGHT-AFTER LAMBORGHINI
Lamborghini's Huracan Spyder is — by and large — one of the best ways to enjoy supercar ownership on this side of the world.
There's an old argument that supercars should only come with hard and fixed roofs. Some believe the apparent loss of rigidity, extra cost, extra weight, slower acceleration and showiness of owning a convertible supercar defeats its intended purpose. But they are wrong.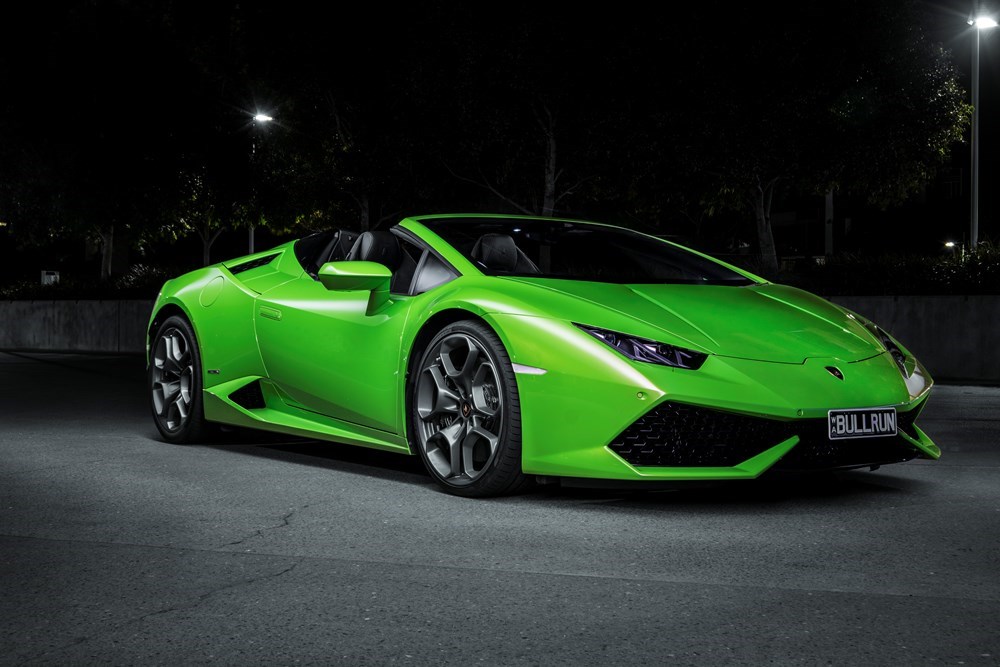 In Australia, where you can lose your licence in less than 3 seconds of supercar ownership, having one with a removable roof is the ideal way to enjoy the glory of its mechanical prowess while owning an extremely competent performance machine worthy of its exotic badge.
Lamborghini NZ has taken at least two orders for the luxury soft-top in the past month.
Here, the 5.2-litre naturally-aspirated V10 Lamborghini Huracan Spyder is priced from $475,000, up from the coupe version's base price, so why should you buy one?
The answer is rather simple – because with 449kW of power and 540Nm of torque, the Spyder, particularly in bright Verde Mantis green, is the sort of car you seek to arrive in.
The Spyder's roof works at up to 50km/h and in around 18 seconds but the car doesn't look as good when it's on
Around Brisbane, the car attracted so much attention that it become a challenge to park it anywhere without having to constantly worry about people leaning on it for photos. Basically, you only go to places where you can leave it somewhere within your line of sight at all times.
But let's be honest, you don't buy a Lamborghini because you believe in subtlety or wish to stay under the radar.
From the outside the Huracan Spyder takes everything we loved about the coupe, except the roof. It still looks like a missile from the front and though it's far more subdued at the rear, there is no mistaking its Lambo character on the road.
The Huracan is low. There is no other way of putting it. The car comes standard with a lift kit though, which is rather annoying to use. You have to manually engage it to lift the front, then when you go over 70km/h it automatically goes down to standard height.
Left in normal height, the front end's lower guards will scrape at almost every possible opportunity. It's just plastic, but the sound is horrific and makes you die a little inside.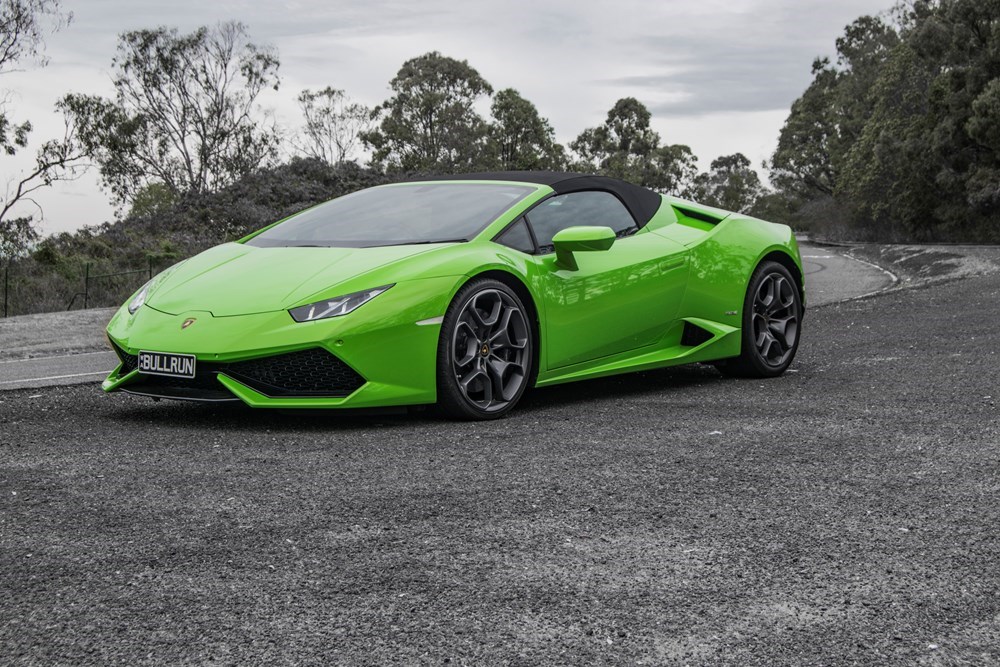 Around the city you'll find yourself either learning some self-control and not going over 70 to trigger the descend (extremely difficult), or constantly pressing the button to raise the nose again. And again. 
It would be ideal if the Huracan came with a mode that would auto re-engage the lift system at all times.
The only other evident problem is when the roof is on. This would only happen when it's raining or your companion thinks it's too cold for top-down motoring.
It's an easy problem to solve; you should never drive it in the rain anyway.
The roof works at up to 50km/h and in around 18 seconds. It's not a hard-top like the 488 Spyder, which is why it doesn't look as good when it's on.
However it does have a weight advantage (the Spyder weighs only 120kg more than the coupe). The Ferrari equivalent is four seconds faster but only works up to 40km/h. So it's a bit of give and take.
Behind the wheel the Huracan is very much a Lamborghini, with aviation-style switchgear and a missile-launcher switch starter button. Unfortunately the knobs and switches feel a tad flimsy and cheap.
That's in contrast to its sister car, the new Audi R8, which has a far more conservative but better screwed together interior.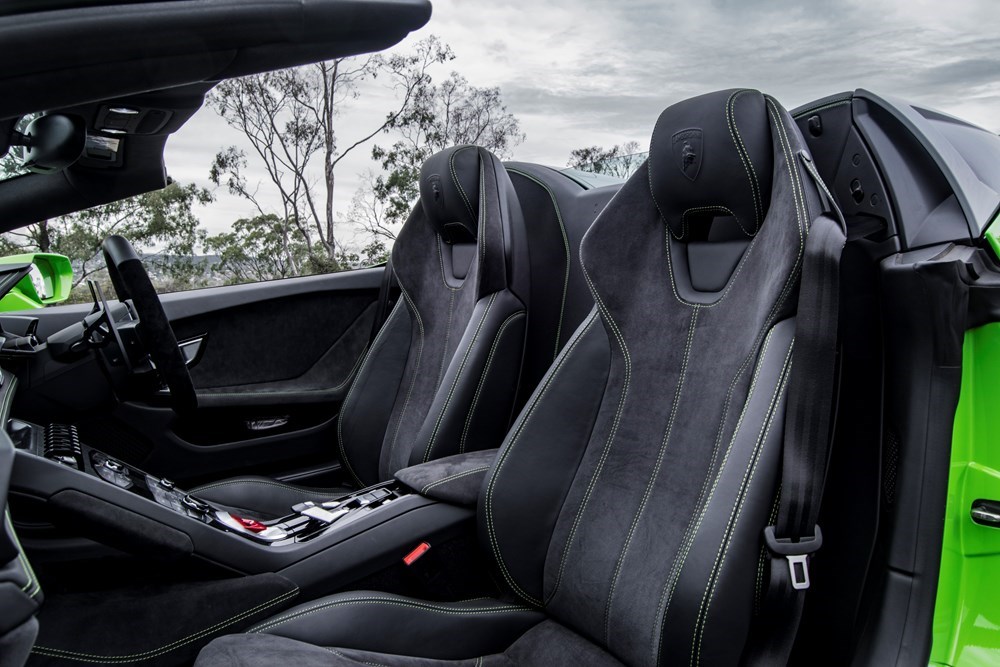 All-round visibility is excellent.
The seating position is typical Italian supercar, low and hard to get in and out of. The Spyder is compromised over the coupe with less legroom (the seat doesn't move back as much) but for this tester's 179cm stature, it didn't prove too much of an issue.
Nor did outward visibility, which, with the aid of a reversing camera, makes driving it easy enough for everyday use.
Once you're in, simply press the little drive selector knob on the steering wheel to Corsa and begin to live.
The Huracan Spyder is loud, and having no roof certainly amplifies the V10 engine's deafening bark of pure adrenaline, a sound that should be enjoyed while it lasts, as the ever-tightening emission regulations will push even Lambo to follow Ferrari, Porsche, Aston Martin and others to turbocharge its powertrains. Having a naturally-aspirated V10 should be reason enough to buy the Huracan over its turbocharged competitors.
Going from 0-100km/h takes 3.4 seconds, 0.2 of a second slower than the coupe, though side-by-side the hardtop felt faster than that.
Around twisty mountain roads, we pushed the Huracan to its limits and quickly found its shortcomings.
It's incredibly easy to drive fast, it possesses a confidence-inspiring chassis and road-going dynamics that make you push harder and harder, until it begins to come unstuck.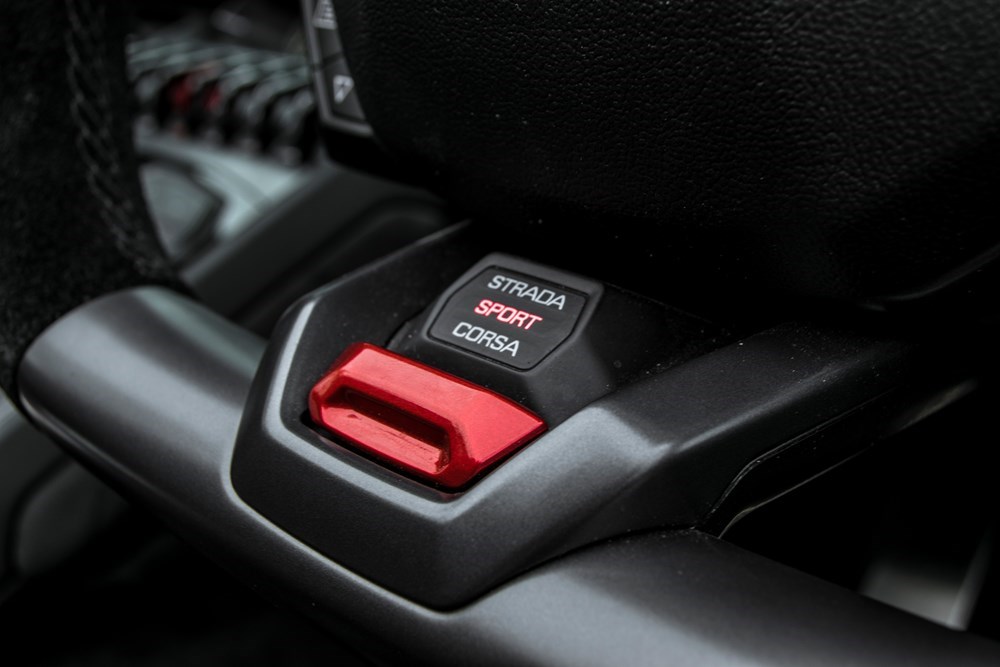 Controls feel flimsy
Where the rear-wheel drive Ferrari feels manic at all times, the Lambo is highly predictable and easy to manage. Part of the reason is the built-in tendency to understeer.
Push it hard into a corner and the Huracan loses a bit of grip at the front, just enough to let you know where the limit is. The understeer feels fake, almost manufactured, because the chassis drives as though it has so much more potential for grip and poise than what is on offer here.
This is evident from the new Audi R8, which is the same chassis, body and drivetrain, yet with almost no understeer until you're going 11/10ths. It's likely Lambo has dialled this into the quattro all-wheel drive system to ensure safer driving characteristics at the cost of flat-out racing, something they will no doubt rectify with the Superleggera variant expected in the near future.
That aside, the Huracan is a very sharp and engaging car to drive at speed. It responds with immediate ferocity to the slightest steering or accelerator input and its seven-speed dual-clutch transmission is utterly violent in race mode with a shift jolt through the cabin that makes it feel like a proper racecar. Yet, stick it in road mode and it becomes smoother than a Volkswagen Golf.
There is no doubt the Huracan Spyder is more of a lifestyle car than an outright performance machine, yet it has enough of that to make it an amazing supercar to own.
LAMBORGHINI HURACAN SPYDER
| | |
| --- | --- |
| PROS: | Convertible lifestyle wow factor; attention-seeking; V10 naturally aspirated engine; transmission; AWD system; easy to drive fast; easy to live with; fast and convenient roof operation |
| CONS: | Front end will bottom out around town; lift kit can be better; flimsy switchgear; compromised seating position; consistent understeer; premium over coupe |
-caradvice.com.au