MG New Zealand has had its share of time in the battery electric vehicle (BEV) limelight. The ZS EV came along at just the right time in 2020, amid rising interest in BEVs and then an explosion of sales as the Clean Car Discount kicked in from July 2021.
The ZS EV enjoyed a stellar run as NZ's least expensive BEV (or indeed EV of any kind) for quite some time, and more than that – it was just downright affordable for mainstream car buyers.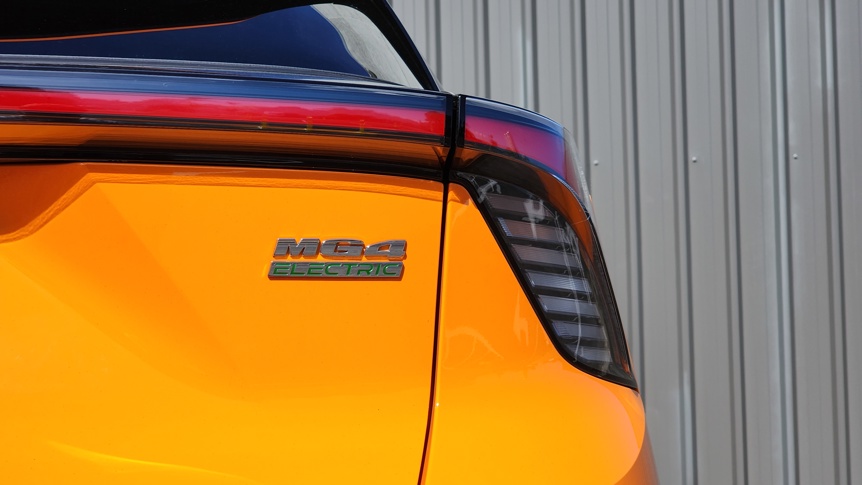 This year's new MG4 once again claimed the "cheapest BEV" mantle at launch, although it was short-lived: GWM slashed the price of its rival Ora by $5000 and that was that. Easy come, easy go.
That's okay, because price is not the most significant thing about the MG4. While the ZS EV is essentially an electrified version of a petrol model, the MG4 represents a whole new generation of EV technology for the brand: it's built on a bespoke platform, with the intention of being affordable yet also cutting-edge. It'll be the base for a whole lot more stuff to come from MG.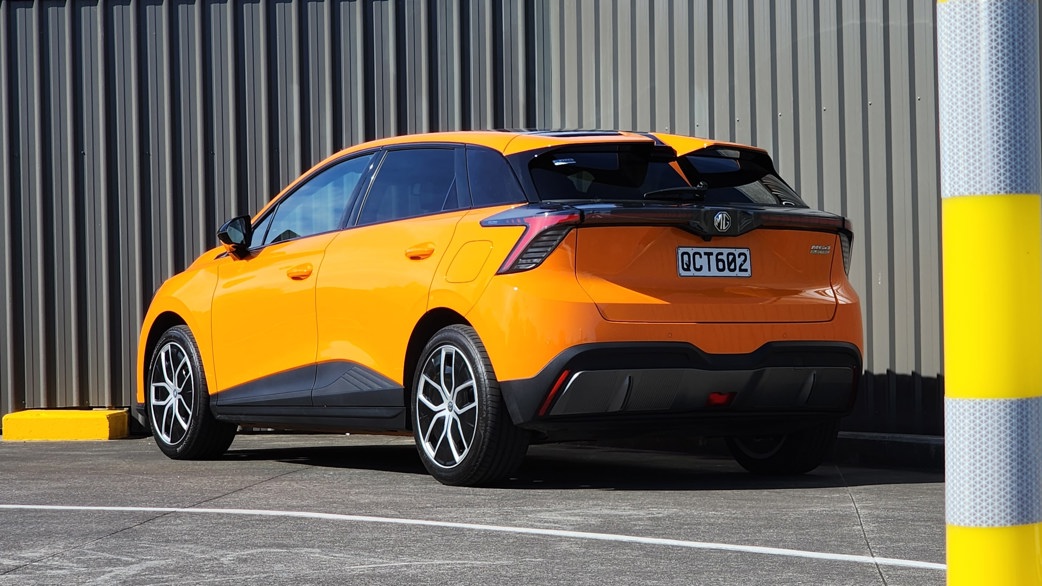 It's also a family hatch, so a very different proposition to the ZS compact-SUV. Are hatches coming back (the Ora is also quite hatchy)? That's a nice thought.
Our Essence test car is in the middle of the MG4 lineup and arguably the logical all-round choice.
There's no shortage of choice in the MG4 lineup, with two main specifications and three battery sizes; prices from $46,990 to $63,990.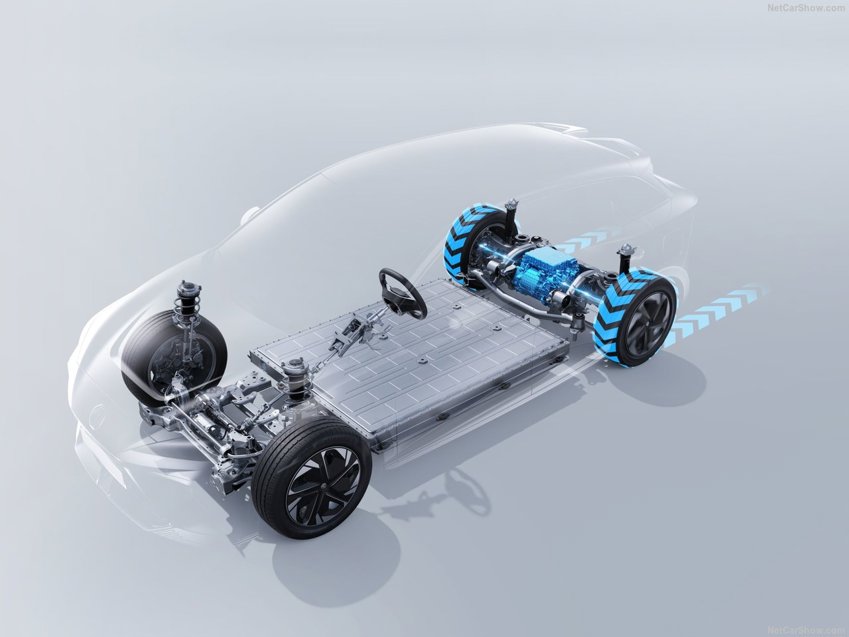 Our Essence test car is in the middle and arguably the logical all-round choice. It has the 64kWh battery – a useful 13kWh/100km range increase over the entry Excite (although you can also have that larger battery as an Excite option) and offering a peak charge rate of 140kW.
Essence is the one to choose if you want that huge double-bubble rear wing, which is such a thing for BEVs at the moment.
Essence also adds kit like connected-car services (including mobile Bluetooth key), power/heated seats, wireless phone charging, 360-degree camera, 18-inch wheels, black roof, two-level boot floor and extra functionality for the MG Pilot driver-assist setup.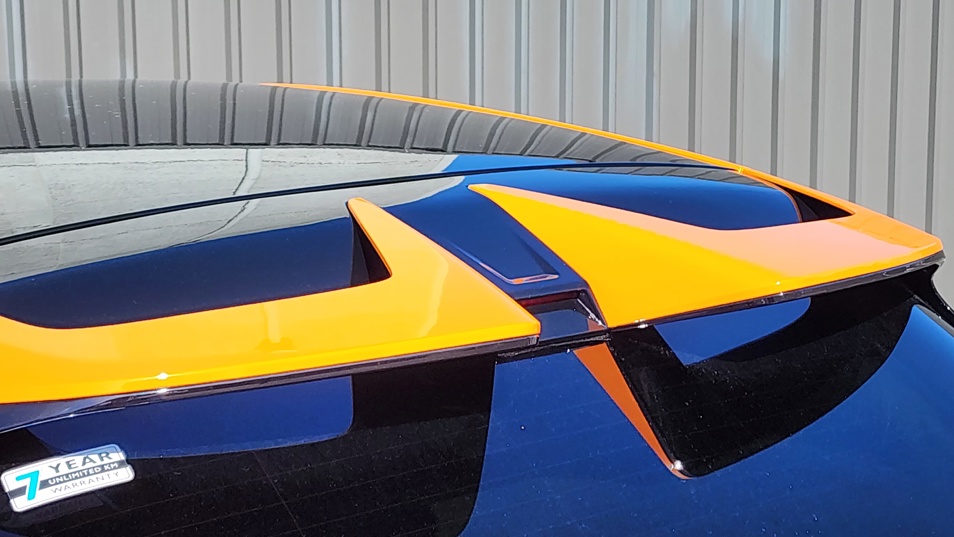 It's also the one to choose if you want that huge double-bubble rear wing, which is such a thing for BEVs at the moment (shades of Lotus Eletre). Although we reckon the entry car, sans spoiler, looks just as good – or maybe better.
The infotainment OS is more intuitively configured than the ZS, but it's still not brilliant.
The MG4 does look the part in any guise, and if you're not keen on our car's retina-searing Volcano Orange Metallic, there are more conventional hues on offer. Still generally bright and cheerful, though.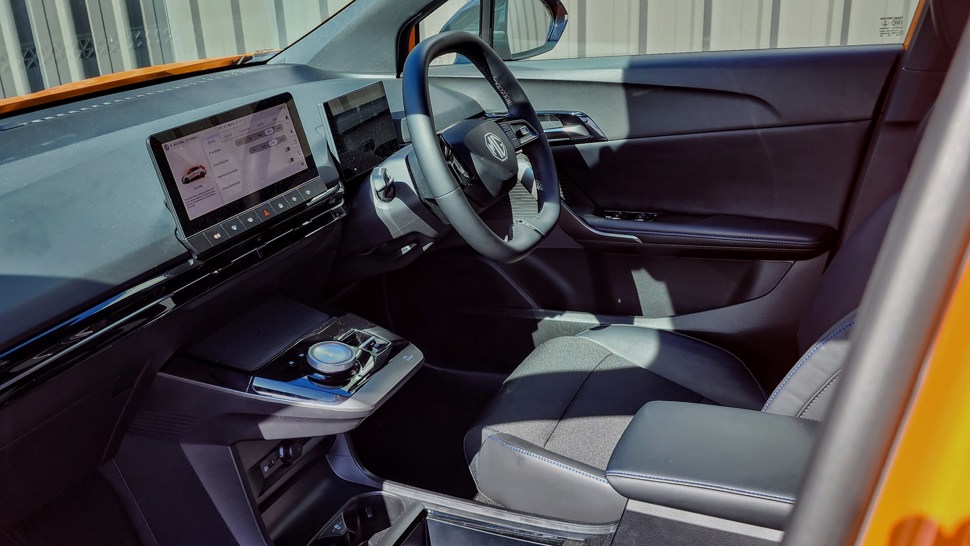 It's thoroughly modern inside and out. The cabin design is pleasingly minimalist, with a small 7in instrument display and 10.25in tablet-style infotainment screen in the centre. The rotary gear selector is presented on a platform and falls nicely to hand; other than that there are few physical controls, although the car does retain volume up/down buttons for the audio and a shortcut to the home screen.
You can also programme the steering wheel controls - one on each side - as shortcuts to regen, drive modes, air-co and 360deg camera.
The infotainment OS is more intuitively configured than the ZS, but it's still not brilliant; this seems to be something that MG really struggles with. The tile-type arrangement should be logical but it's all a bit hard to fathom at times, and the busy graphics with tiny type aren't kind to post-millennial eyes.
That's not a deal-breaker, because Apple CarPlay and Android Auto phone projection is standard, which means you can bring your some of your own OS with you.
BEVs are famously very space-efficient thanks to their smooth "skateboard" platforms and the MG4 is no exception. But it's worth noting that this is a tiny car: supermini-size at 4.3m long and quite low. So it's not a family-sized or versatile as the ZS EV SUV.
There's still adult-sized accommodation front and rear, but the back is a little knees-up and the seats all-round lack shape; you tend to writhe around a bit on them.
The boot is 350 litres and the dual-level floor is a nice idea, but again: not huge. We're not complaining because it's not supposed to be a big car, but it's worth mentioning if you're coming to this in an SUV frame of mind... or from a ZS EV (448l).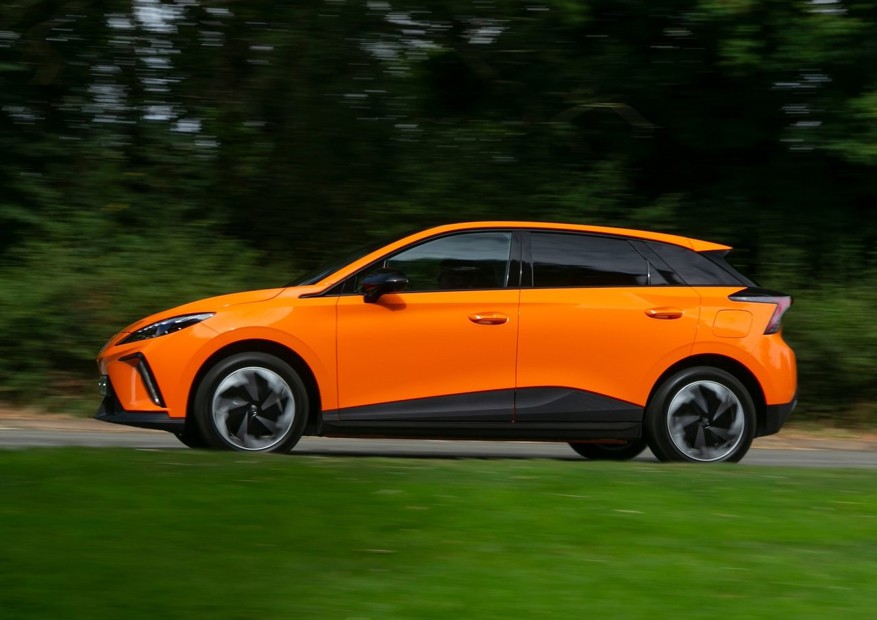 So far, so good and now, here's the very, very good bit: the MG4 is great to drive. Electric power is always sprightly off the line of course, but the 150kW Essence has a decent level of poke teamed with a fun little chassis.
It's not a hot hatch and doesn't pretend to be, but this is a rear-drive platform and it seems really well sorted. The ride is good on urban roads, save the odd jitter over low-speed ripples (common with EVs thanks to those rigid underpinnings); but the steering and suspension are also up for a bit of messing around on winding roads. It wears decently grippy tyres too, which is not always a given with mainstream BEVs.
This MG4 is very forward-looking, but in some respects it seems like a return to the old days of affordable, mainstream hatchbacks that knew how to have fun. Try it, you'll like it.
There's nothing wrong with the ZS EV, but the MG4 has made a leap of several generations in terms of technology and appeal (driver and otherwise). In terms of value and ability for the money, this is one of the best EVs on sale. More importantly, it puts a smile on your face in so many ways.
MG4 ESSENCE
ENGINE: 64kWh battery with single electric motor
POWER: 150kW/250Nm
GEARBOX: Single-speed automatic, RWD
0-100KM/H: 7.2sec
CONSUMPTION: 13.0kWh/100km, range 435km (WLTP)
PRICE: $54,990