In product pricing, the human brain is simple: $9.99 seems much cheaper than $10, and a $19,999 car is way more appealing than one priced at a seemingly high $20k. We all know it, but we still think it, either good or bad.
There is some related good news here, with MG's new MG4. The price is $46,990. Better than $47,000, right? Then figure in the Clean Car Discount of $7015 and presto, we have a potential winner on our hands, with a starting price of 39,975 New Zealand dollars.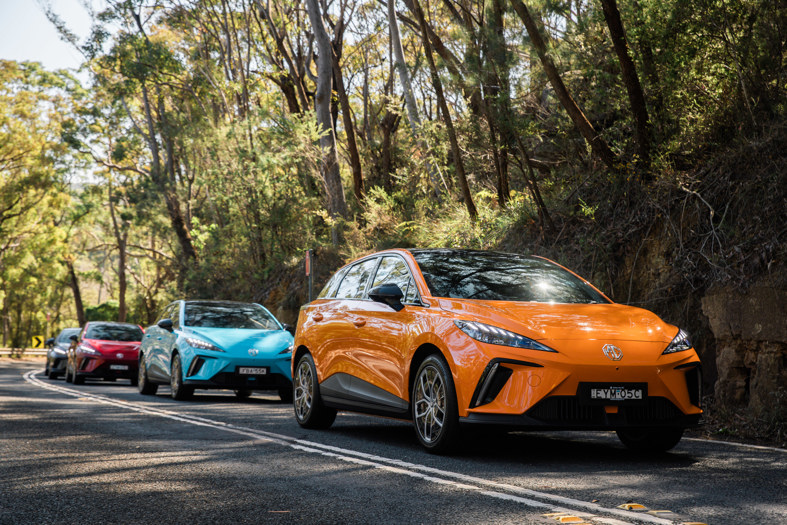 Curiously, it also undercuts the previous cheapest EV, MG's own ZS EV, which post-rebate is priced at $42,975 - that's a $3k gap.
The difference between the two is distinct but subtle: one's a five door hot hatch while one's a five-door city SUV. Labels, schmabels, as the MG4 could easily be mistaken for a small SUV in these blurred car classes where a Suzuki Ignis is classified as an SUV.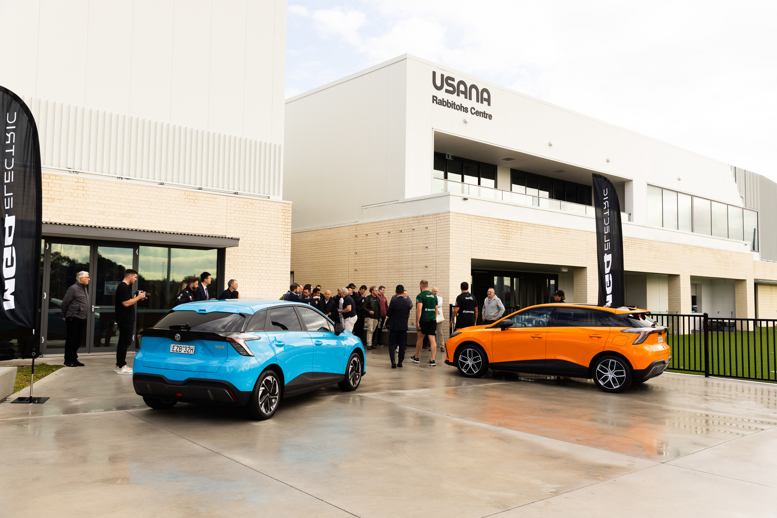 Launched in Sydney this week, from the NRL South Sydney Rabbitohs's incredible new headquarters in Maroubra, a presentation and 300km of a day's round-trip drive to Bowral and back and $40 of road tolls has revealed that this is a good car. Very good.
As title sponsor and partner with Souths, MG resonates with the Rabbits, the NRL's most successful franchise, sharing the mantra of being community ingrained.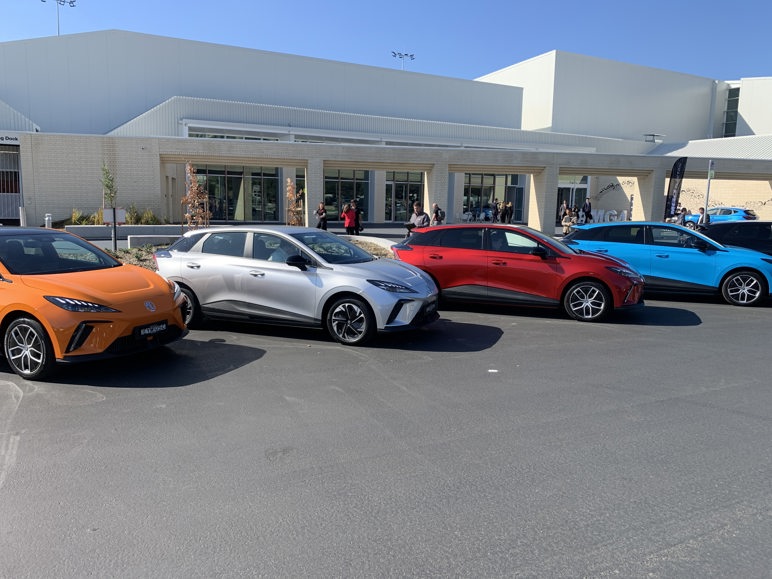 Ushering in a new era of EV high performance and affordability, the MG4 is packed with the latest EV technology, bold and sharp design elements and hot hatch performance - and even more, very soon. By year's end, the ultra high performance XPower version will almost halve the current 0-100km/h time, down to 3.8 seconds.
Put brand bias aside because even the standard MG4 is very impressive; car of the year-qualifying impressive. Its underpinnings are designed from the ground-up to be an EV, unlike the ZS, so the floorpan and passenger room is very accomodating both front and rear. At 189cm, the rear seat leg and headroom is virtually identical to the front in regards to fit and comfort.
The dash and dual displays are modern and substantially better than previous attempts. Not perfect - few are - but fewer quirks and niggles between menus and settings, with a mix of buttons and touch-screen. The steering wheel has a range of programmbale buttons and things like the active cruise control work really well - though pressing the button when already in a maximum or minimum distance won't flash up the setting on screen, for example. Petty niggle.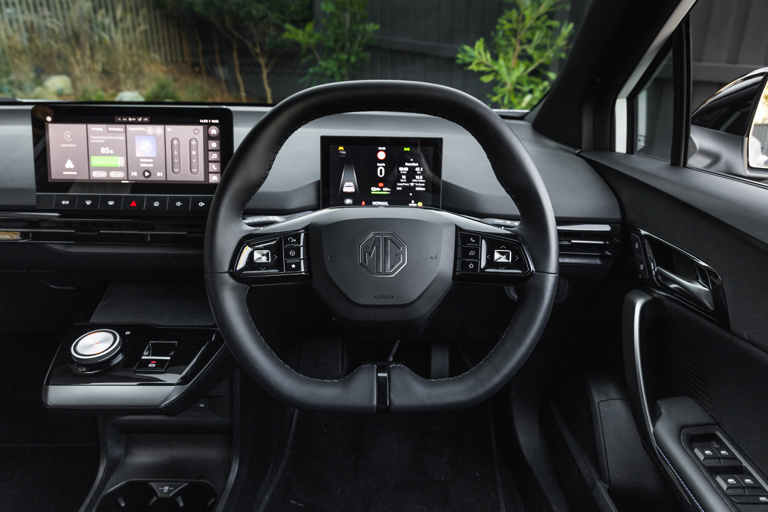 The layout is function and works really well, with a keyless in-n-go set-up, only requiring it to select a gear to drive, or Park to leave. USB-C ports and storage pockets and bins and space make it all very user-friendly.
The MG4 comes in four spec levels from launch (until the X Power arrives at the end of 2023, to make it five) starting with the headliner, the MG4 Excite 51 (for kWh battery).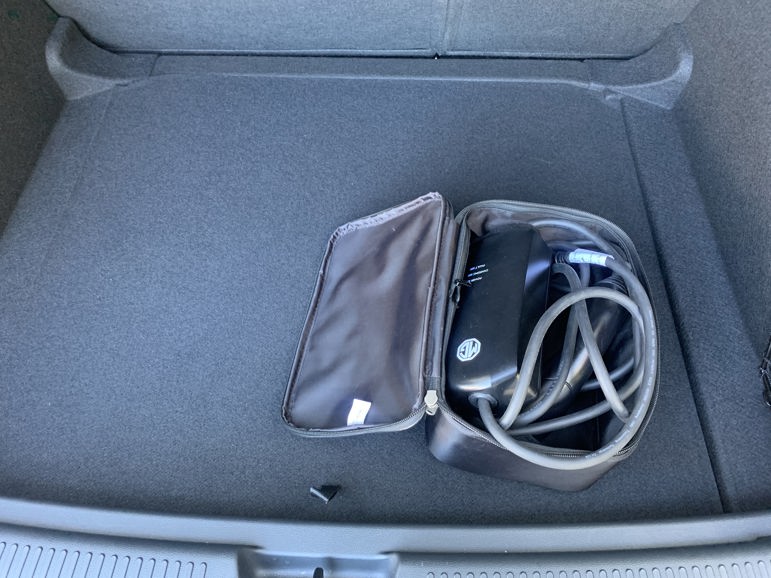 There are some tech and comfort sacrifices in the base model, like the lack of wireless phone charging, electric seats or one-pedal driving mode, but that headline-grabbing sub-$40k price, in typical car sales fashion, only needs a few more dollars to move it up the scale and start to get them added. Summarised in a nutshell, the range is:
MG4 model     Power   Range    Max charge rate  Price
Excite 51          51kW     350km    125km                  $46,990
Excite 64          64kW     450km    150kw                  $51,990
Essence 64       64kW     435km    150kW                  $54,990
Long Range 77  77kWh   530km    180km                  $63,990
MG4 is a visually striking shape, with sharp lines and angles, unique design elements and a style all its own offering a speedy look, especially with the twin-aero spoiler of the high-spec models; even more so in the seven striking colours, like the hero Volcanic Orange. There's a U-shaped bonnet that offers an impression of a sports bonnet vent, an LED constellation at the rear, and active shutter grille in upper models to maximise aero efficiency. The windscreen is virtually flat, and offers a big, wide view from the front seats.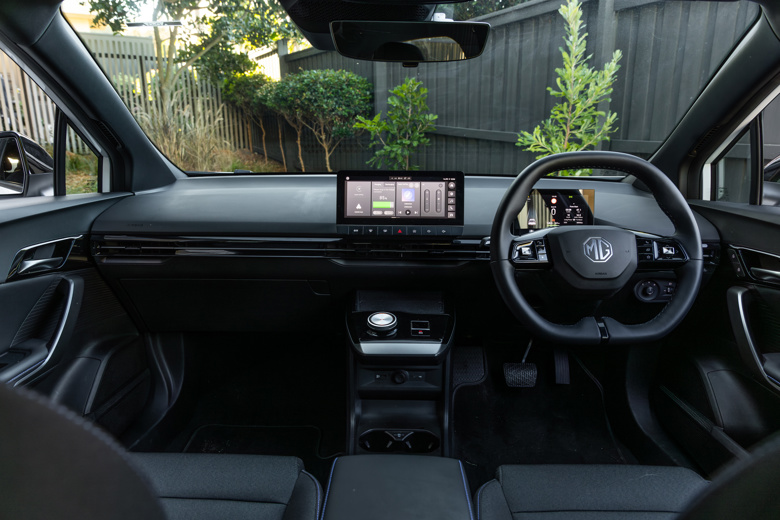 Those seats are electric in higher models but comfortable and with comforting materials. The MG Pilot offers 15 highlights of a suite of safety and tech, while the steering wheel controls, new voice control, online maps and wired CarPlay/Android Auto all keep it up to date. The iSmart app also offers remote locking/unlocking, AC control, find-my-car and charging management.
There's also the latest battery tech, too, with a flatter, thinner lithium-ion battery pack positioned mid-ship for 50:50 weight balance and designed with the modular chassis to maximise that interior space. Boot space is also maximised by a height-adjustable floor, and up to 1177 litres once the rear seats are lowered, depending on the model (high spec, larger motor models eat up more boot space, thanks to the rear-wheel drive). The battery itself is thinner thanks to a horizontal design of the cells, with water cooling channels, resulting in a 110mm height, 10mm shorter than a drink can.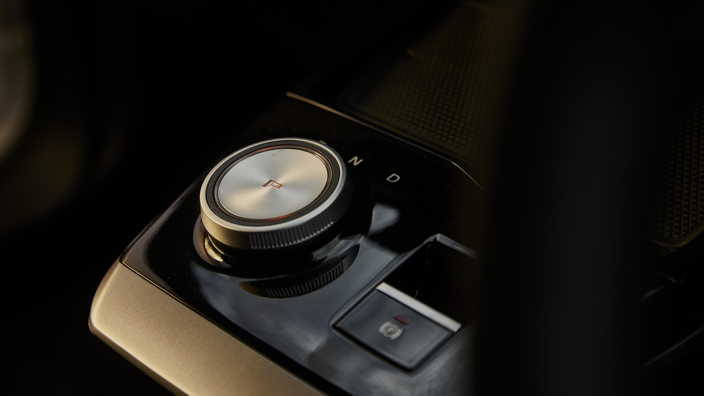 There's been plenty of durability testing, too, to avoid fires and minimise risk, such as pressure and vacuum testing in dust and water, needle penetration, salt corrosion, 15 types of chemical and gas corrosion and simulated use of 960,000km.
It offers DC fast charging, from 88kW to 140kW charging speed depending on the model, which equates to around 40 mins from 10-80 per cent charge, regardless of the model. AC charging is the standard 6.6 to 11kW for single or three-phase, but there's also the option of V2L, for auxiliary remote power for scooter charging or campside cake mixing. There's also a tow rating of 500kg.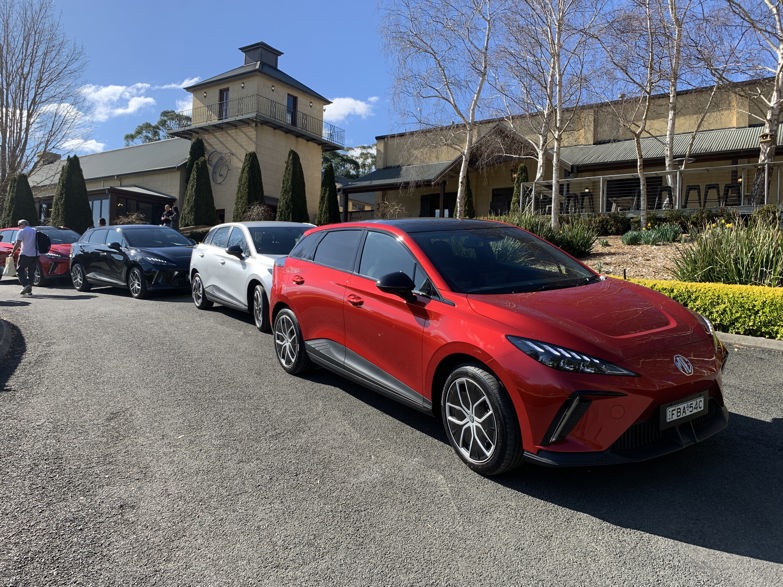 Range varies between models with the entry model offering an official 350km (WLTP), up to a mighty 530km for the Long Range top-spec model. Along with three steering modes, five drive modes help optimise the preference, between eco, normal and sports, plus snow and a customisable mode for preferred presets, such as enabling the new one-pedal driving mode (in higher spec models).
Our test drive started from Maroubra in Sydney's south, down to Bowral, pass through the National Park's winding and challenging roads and the tourist stop at Stanwell Tops... though our cornering fun was cut short from fallen trees closing our chosen roads. That meant we didn't get more than a few corners to sample the rear-wheel drive aspect, with 80 per cent of our drive being on the smooth 110km/h motorways; we'll reserve some driving aspects to our local drive on NZ's rough roads.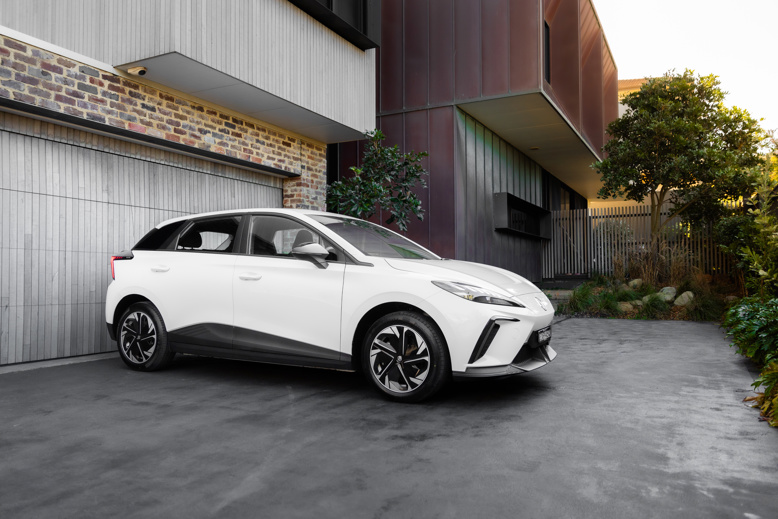 What we did experience was very impressive: from the way the power is delivered in a linear electric way but without that initial sick-inducing wallop. The rear-drive does temper (typically front) wheelspin, and it's decently hot-hatch quick with 0-100km/h in the low-7 or high 6-second range, depending on the model. Ride quality is also very impressive: maybe it was the smooth roads, but the ability to soak small and big bumps without either harshness or wallowing is a pleasant surprise, particularly given the 18-inch wheels and low-profile tyres.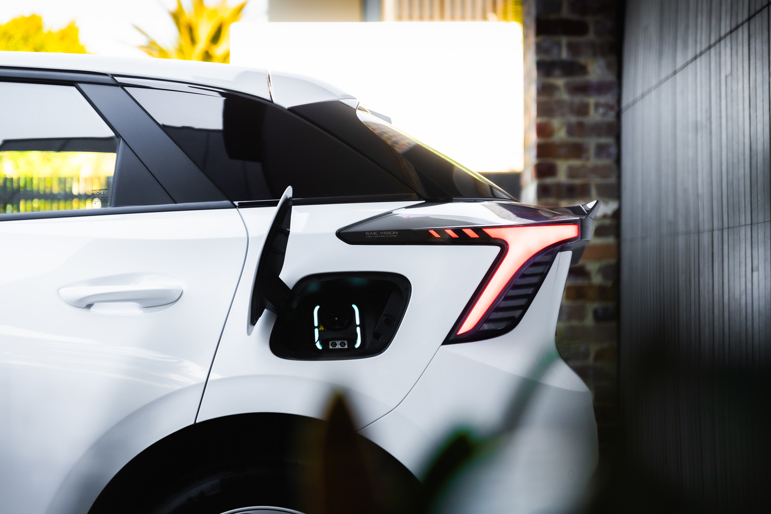 The total tour of 260km ended with around 20km to spare, netting a total around 280-300km from the 350km Excite 51 model that we swapped into for the final leg - impressively we were seeing around 14kWh useage, which is very efficient for an EV, with less than 20kWh being an efficiency target. Sadly we missed out sampling the 180kW Long Range 77 model this time.
MG calls the MG4 a game-changer, a pure hot hatch sports doctrine and a shift for the brand and EV architecture. With the Xpower model due before Christmas and the funky Cyberster due in 2024 for the company's 100th anniversary, along with the current success of the MG ZS EV, it's a new foray for MG that's just starting to swell.
Break it Down
MG4 (Excite 51/64, Essence 64/77)
MOTOR: Single motor, rear-wheel drive
POWER: 125-180kW, 250-350Nm
BATTERY: 51-77kWh
CHARGING: 6.6 (AC) to 140kW (DC)
RANGE: 350-530km
0-100KM/H: 6.5-7.9 secs
PRICE: $46,990-$63,990