While most of the buzz around the launch of Mazda's latest pair of related SUVs - the CX-60 and the CX-90 - has centred around the new AWD/RWD platform and the equally new straight-six engine, the fact that the CX-60 line up is powered almost exclusively by a four-cylinder PHEV powertrain has almost slipped under the radar to a degree.
The CX-60 actually only has one model in its line up powered by the 3.3-litre mild hybrid six, a mid-spec Homura, while the rest (Touring, the other Homura and the Takami) all use the 2.5-litre four-cylinder petrol plug-in hybrid powertrain.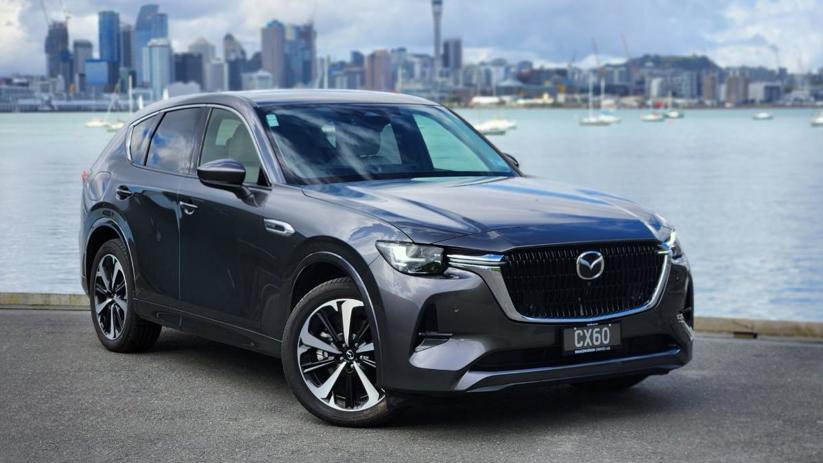 The PHEV uses a 17.8kWh battery that gives a claimed 60km pure electric range, as well as boosting power to an impressive 241kW/500Nm with a 0-100km/h time of 5.8 seconds, making it the quickest form of CX-60.
The Takami PHEV we drive here is the top of the CX-60 range at an eye-watering $90,990, but what you get is proper luxury car levels of build quality and refinement. Well, almost, but more on that later.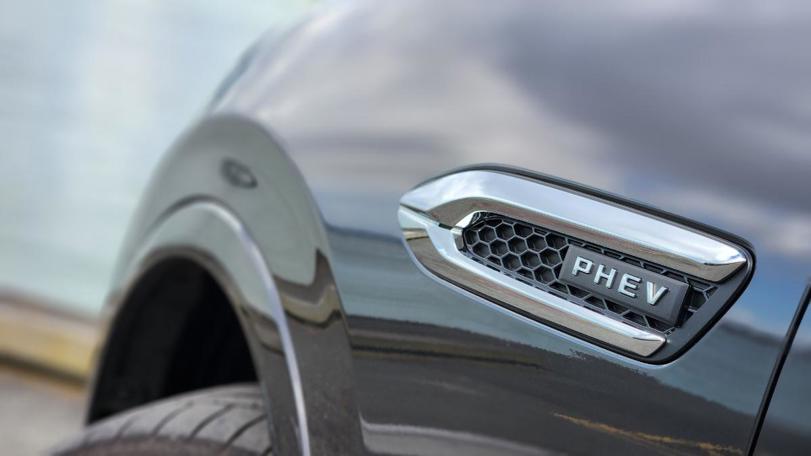 First impressions are overwhelmingly positive, with the interior instantly making an impact with its sheer quality. If you have children (or are a particularly grotty person yourself), then the Takami may not be for you, however, with lots of cream leather and white fabric trim dominating the cabin.
The highlight is the absolutely gorgeous, but worryingly white stitched dashboard finish, that is just begging for chocolate-y fingerprints to utterly ruin it. It's best to say that this is probably a car for the more fastidious owner…
Driving the CX-60 PHEV in electric-only mode around town is arguably the best way to enjoy it, as it is super smooth and impressively responsive, even without any input from the petrol engine.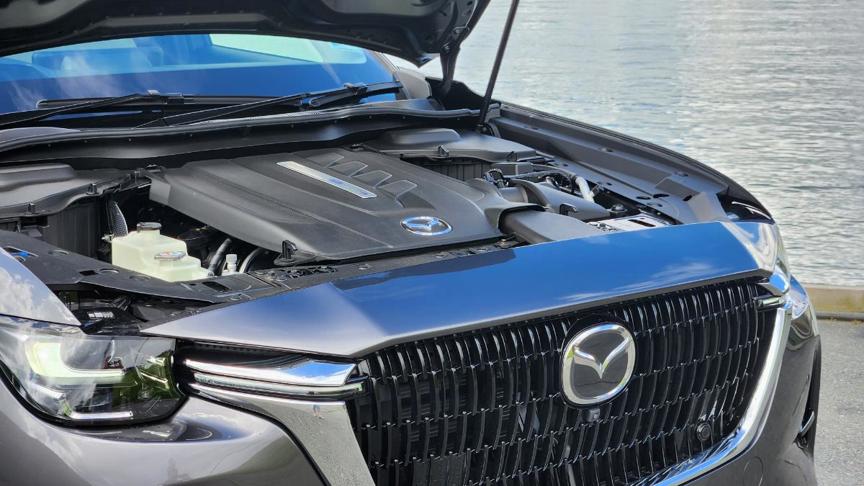 It does feel a little odd at first, however, as the electric motor is placed in between the engine and transmission, driving all four wheels though said transmission, meaning that even in pure EV mode, the CX-60 still changes gear.
In EV mode the CX-60 is superbly flexible and quiet, effortlessly commuting at both urban and open road speeds and never using a drop of petrol.
While this initially feels strange, particularly because the transmission rushes the first two shifts to get into third as quickly as possible, you quickly get used to it. And, to be honest, some people likely won't notice it at all.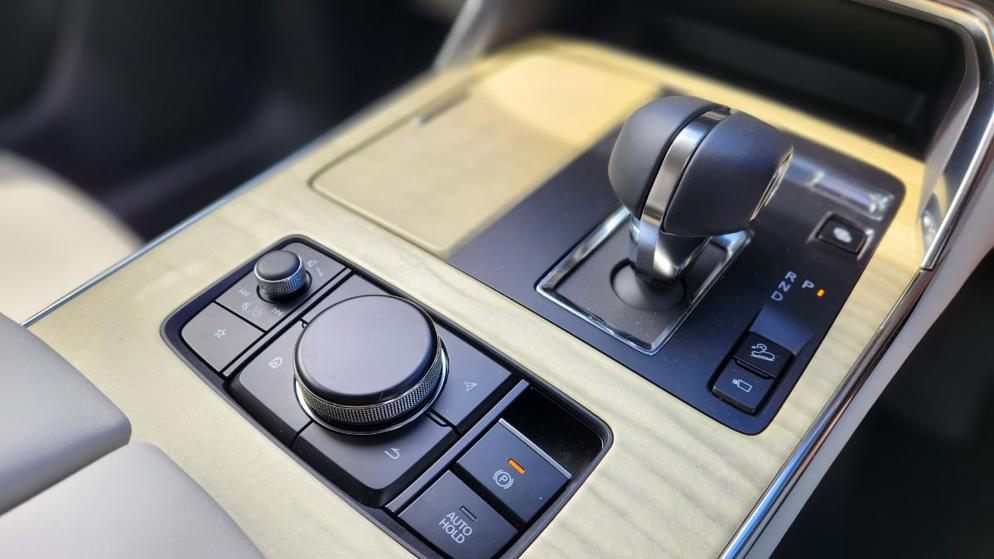 In EV mode the CX-60 is superbly flexible and quiet, effortlessly commuting at both urban and open road speeds and never using a drop of petrol. Running the CX-90 as an EV is superbly easy, and if you have a place to plug it in for a few hours a day (either overnight at home or, as we do here at DRIVEN, at the office during the day) and you realistically never need to use petrol unless you are heading out on a longer trip.
In fact, I ran the CX-60 all week without ever having the petrol engine kick in, only seeing the transition on the weekend when I forced myself to specifically not plug it in.
And this is where that 'almost' comes in.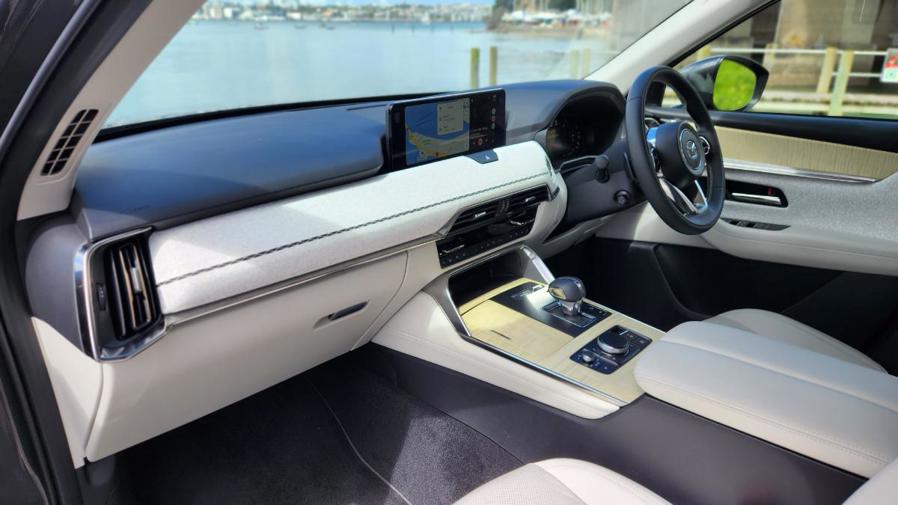 While the CX-60 is a superbly refined car in almost every aspect it is somewhat let down by its transmission. This isn't particularly noticeable in electric mode, but when the petrol engine kicks in it becomes apparent: there is a slight shudder - a hint of driveline shunt - when the transmission shifts gears under light throttle applications.
The CX-60 Takami is a delightfully high-quality vehicle that does a lot to justify its price tag.
Full throttle shifts are perfectly acceptable, shifting with a DSG-like speed and refinement, but while those low speed ones aren't actually a heinous offence - after all, such things are present in a lot of vehicles - it is weirdly irritating because the rest of the CX-60 is so incredibly smooth and refined, and they are particularly noticeable during the transition between electric and petrol.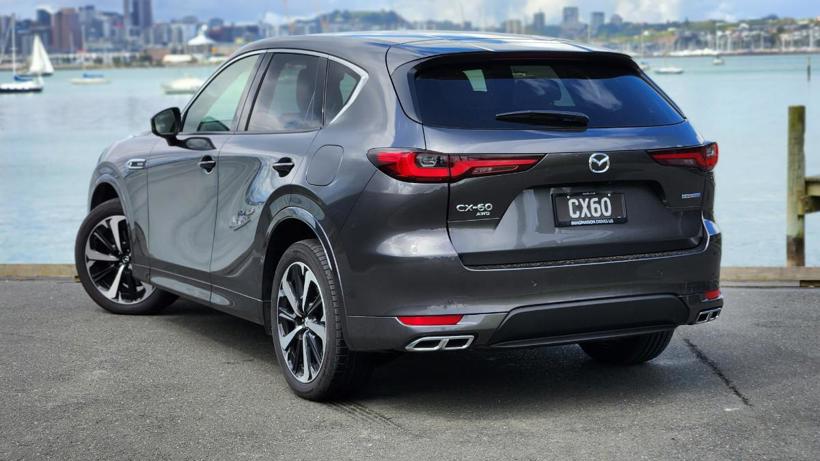 While it isn't necessarily a huge issue (and will depend very much on how sensitive the driver is to such things), it does take the otherwise vastly impressive edge off the CX-60.
On the road, the CX-60 PHEV is very much set up as a luxury car with noticeable - but extremely well-controlled - body roll and a luxurious ride. Slam it into a corner a tad too enthusiastically and it will progressively lean, but the front will track sharply and faithfully through without a hint of drama, while powering out brings the CX-60's RWD origins to the fore, flattening things back out and providing a satisfying shove of power from the rear end.
After intentionally not charging the Takami and driving around for a weekend using it as a conventional hybrid, fuel consumption was still impressive, with the big SUV racking up a grand total of 4.7L/100km over around 100km of mixed urban/motorway running.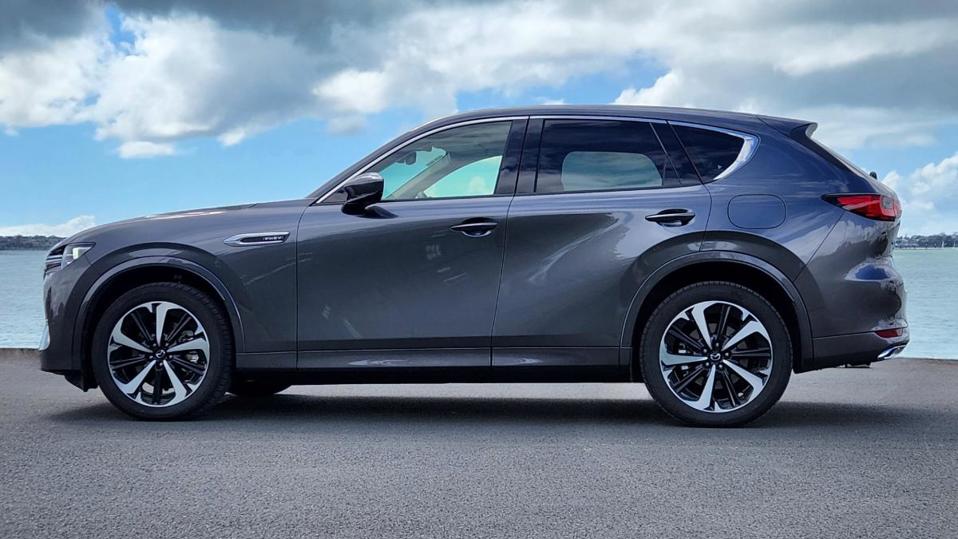 On the technology side the Takami has all the expected tech features, including the traditional slightly frustrating Mazda infotainment system, a full suite of advanced safety and assist features - all of which work unobtrusively and effectively - and a extremely sensitive wireless phone charging pad that doesn't: every time the phone moves only a tiny bit it stops charging, only to fire up again a few seconds later, which is insanely annoying and quickly sees you just putting the phone somewhere else and plugging it in if it needs charge…
Small niggles like this aside, the CX-60 Takami is a delightfully high-quality vehicle that does a lot to justify its price tag. An extremely admirable and convincing attempt at taking on the European luxury brands at their own game, whether or not the CX-60 Takami pulls it off will depend on whether or not that driveline shudder will bother you. Or if you even notice it.
MAZDA CX-60 TAKAMI
ENGINE:
2.5-litre turbo-petrol four with 17.8kWh battery
POWER:
241kW/500Nm
GEARBOX:
7-speed automatic transmission, AWD
0-100KM/H:
5.8 sec
CONSUMPTION:
2.3l/100km (3P-WLTP)
PRICE:
$90,990