Lifestyle and Entertainment Editor Jenni Mortimer took the family away for a weekend in the new Volkswagen Amarok PanAmericana V6; but how did the pair become star-crossed lovers?
As a mother of a 4-year-old who works in an inner-city office and carries nothing more in her car than some reusable grocery bags, an ample supply of baby wipes and enough crumbs to survive a short famine, you wouldn't think I would need much more than my current mid-size SUV.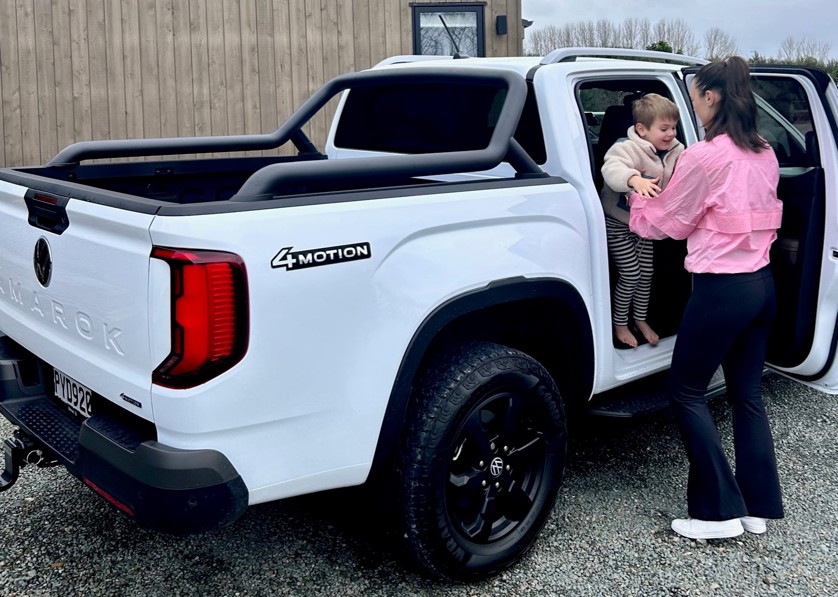 But when I drove the new Volkswagen Amarok PanAmericana V6, I felt cooler than Cool Runnings; and much like the iconic 1993 movie, I saw pride, I saw power, I saw a bada** mother who didn't take no crap out of nobody.
Sitting in the heated and luxurious leather seats of the Amarok, you're instantly hit with the realisation that yes, this is a big vehicle, but unlike traditional large utes I've driven, like the Ford F150 and the Ranger, it's somehow a classier affair.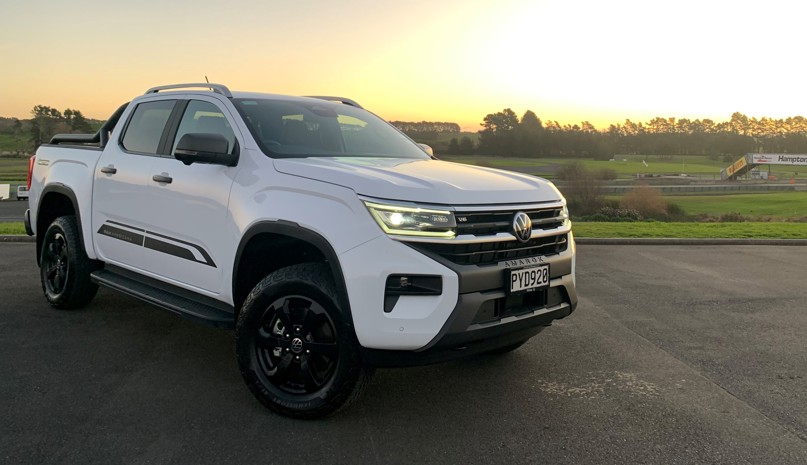 The Amarok is sleek around the edges and refined whereas some utility vehicles tend to skimp on detail. It's fully equipped with hands-free charging an absolutely massive touchscreen control panel, sexy semi-concealed interior door handles (yes, they're equally sexy in the Ranger), and a fully electric interior operation system.
Possibly the ultimate parental bonus comes in the form of the massive backseat which fits the biggest of child booster seats with enough room that even the most excited little legs don't kick the seat in front of them like a JetStar economy flight to Wellington.
As far as accessibility goes, getting a toddler in and out of a standard car isn't always posture-friendly and can often lead to tiny dings on tiny heads (and even adult ones), but the Amarok was high enough that the car seat was directly set at my arm's reach, making loading, unloading and Isofix installing an absolute dream. Even the sidesteps, that I didn't think I'd use, actually got used almost every entry and egress.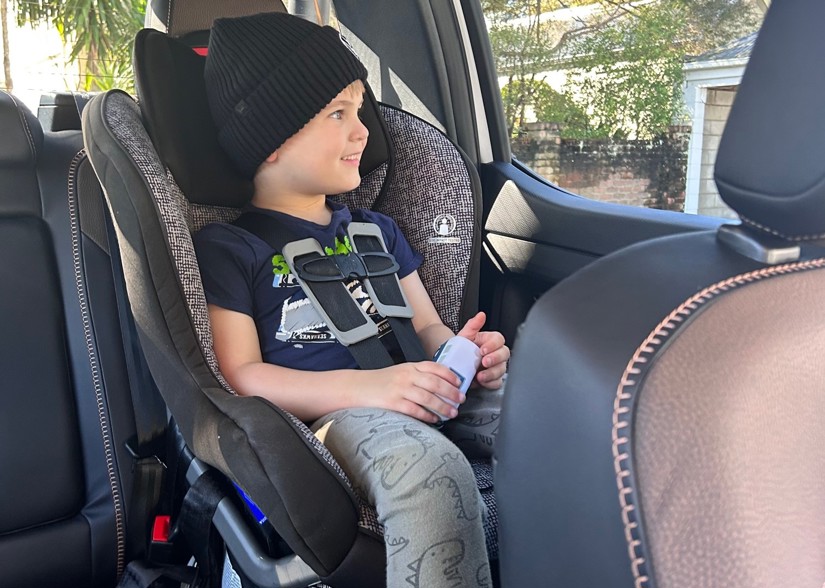 While sandy shoes, scooters and bikes are usually slung into the backseat of my Ford Kuga, leaving devastation and dirt in their path, the Amarok's massive tray meant that the messy bits stayed on the exterior of the truck and the mess that did make it into the inside was easily wiped off leather seats.
The massive backseat fits the biggest of child booster seats with enough room that even the most excited little legs don't kick the seat in front of them like a JetStar economy flight to Wellington.
Testing the Amarok's longer distance pros and cons, I headed away for a weekend in Mangawhai with suitcases in the tray (which sans tray cover, stayed dry thanks only to the glorious weather), plenty of road trip snacks and mapping in some gravel roads to really test its handling capabilities.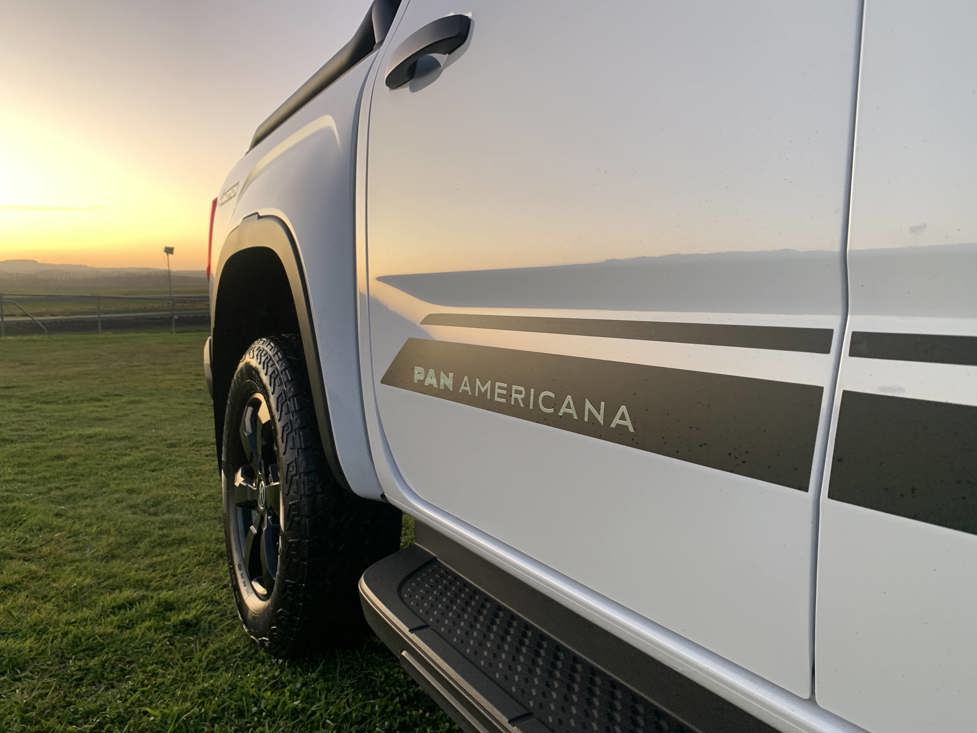 For such a large vehicle, the Amarok handled like an absolute dream and was easy to negotiate around tight corners, even parallel parking was a breeze with its sensors and cameras, even letting you know when you're at crash risk, being followed or following too closely to other cars.
Back in Auckland, a trip to Bunnings saw the tray loaded with stone pavers – which I was genuinely terrified would destroy the back – but didn't leave a mark due to the textured and scratch-proof tray. I don't have the technical term for the material the tray was made out of, but it's so durable it could well be Auckland's answer to the great pothole dilemma.
And as for existing potholes, thanks to the dodgy Mangawhai Tavern car park, I tested those too, and it navigated them in such a manner that it earned legend status. Because while this truck is sexy to look at – and it is sexy – it's also incredibly fit for purpose and incredibly hard-wearing.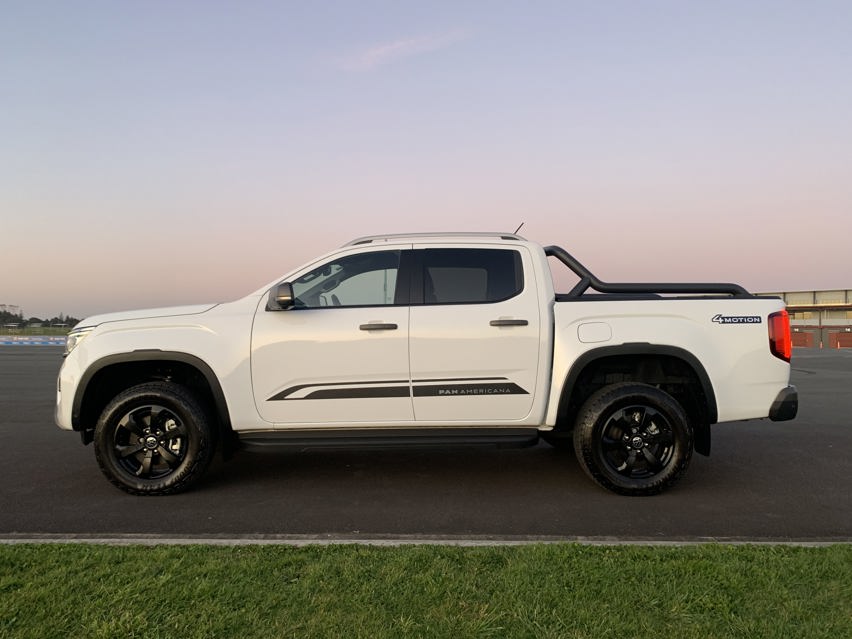 When I returned the truck after three lovely days, I felt genuinely sad. A tiny part of me I didn't know existed had been ignited by its V6 engine, high frame and the looks on the road I got from people genuinely questioning "Why is that woman in a hot pink anorak listening to the Wiggles driving that huge truck?"
Because while I know I don't NEED the Amarok, I was left genuinely wanting it - buying a lotto ticket and hoping that much like the star-crossed lovers we are, we would find our way back to each other. Some day.
So yes, the Amarok might just be the perfect vehicle for high-octane parents, who want a little luxury and maybe to feel alive again as they hold that leather steering wheel and enjoy the stares as they recite word-for-word the lyrics to Fruit Salad, Yummy Yummy - and who wouldn't want that?!
VOLKSWAGEN AMAROK PAN AMERICANA
ENGINE: 3.0-litre V6 turbo diesel
POWER: 184kW/600Nm
GEARBOX: 10-speed automatic, full-time AWD, low-range transfer
CONSUMPTION: 9.6/100km (Clean Car fee $6555)
PRICES: $91,000