When did utes become aspirational "lifestyle" (for want of a better word) vehicles in New Zealand? You could make a strong case that it started with Ford's first Ranger Wildtrak.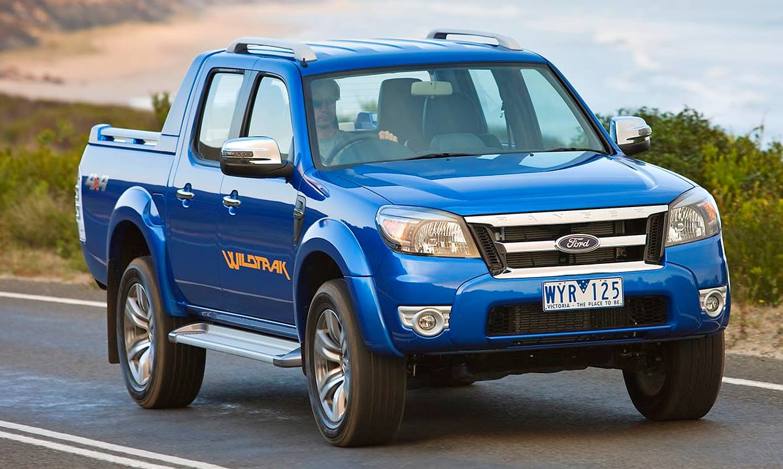 Back in 2009, Toyota's Corolla was king and the Holden Commodore was still a top-three sales performer in NZ. Utes were popular, but most of them had "Hilux" written on the back (it was actually number two that year) and they were for work first, play second.
But in 2009 Ford facelifted the Ranger, which was officially the PK-generation if you like model codes. The top model was a new thing called Wildtrak, which dared to dress itself up like a fancy SUV: huge orange decals, fancy 18-inch alloys, a sports bar atop the tray, suede-look upholstery and a CD stacker. Oh yes, you could load multiple CDs into the player at once. Sweet.
The rest is history. As Ranger grew through its generations, it became NZ's number one new vehicle in 2015; a lot of its appeal was trickle-down from those flash Wildtrak versions. It dragged the rest of the ute market along with it, too: basically every other maker of one-tonne trucks has tried to replicate the Wildtrak formula in some way or another over the past decade.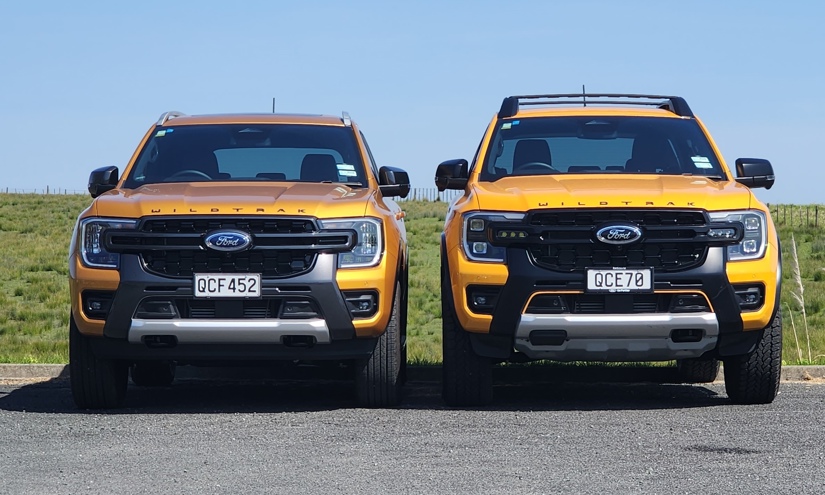 Ford certainly knows its value. According to Ford NZ, Wildtrak consistently accounts for 30 per cent of Ranger sales here and sometimes goes as high as 40 per cent.
With the latest Ranger, it's grown from a single model to a whole range. You can have a Wildtrak in four-cylinder part-time 4WD or V6 AWD now, and the latest addition is a limited-run Wildtrak X (300 units) that has a host of unique features. There was a Wildtrak X special right at the end of the previous generation too, but this new one ramps things up significantly.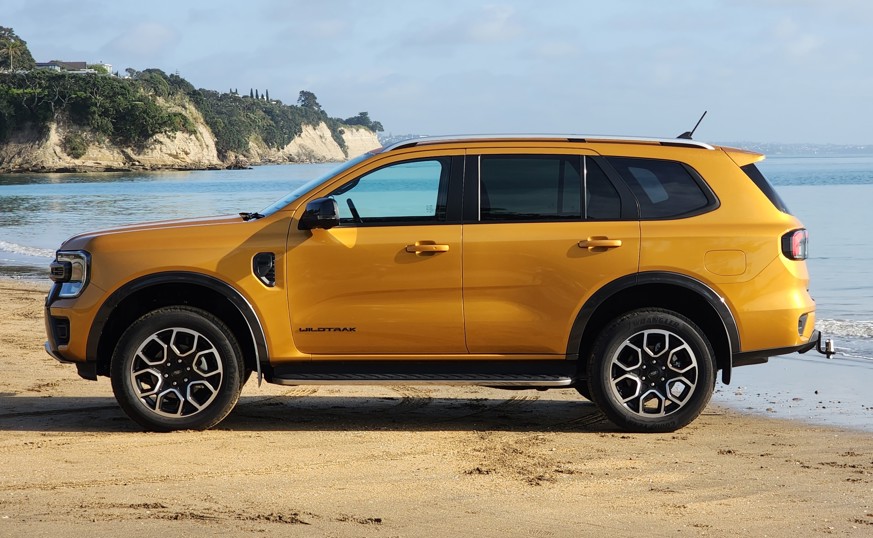 There's now also an Everest Wildtrak, which makes sense because the Everest is essentially a seven-seat SUV version of the Ranger. Even though Ford has always said it isn't.
We've brought the very latest Wildtraks together here: Ranger X and Everest. Consider it a showcase/homage for a model that has helped define the Kiwi new-vehicle landscape for a decade now, although we'd have to admit the fact that our two test vehicles were clashing shades of lurid orangey-yellow (Cyber Orange for Ranger, Luxe Yellow for Everest) was part of the inspiration.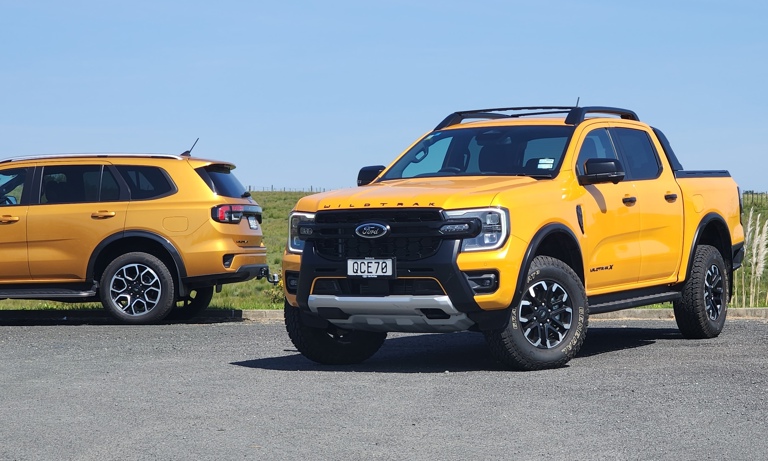 Wildtrak X makes a good case for being the best all-round Ranger there is. It aims to "bridge the gap between the high-performance Raptor and Wildtrak" says Ford, with lots of flashy stuff and lots of functional stuff (especially off-road stuff).
The new Cyber Orange exterior colour is exclusive to the X (it's long been used for Wildtrak cabin trim, too). The model features a special grille and orange accent on the bumper (not so obvious on an orange truck), extra LEDs, blacked-out badges with branding across the bonnet, bash plates/side steps, different upholstery and B&O sound system.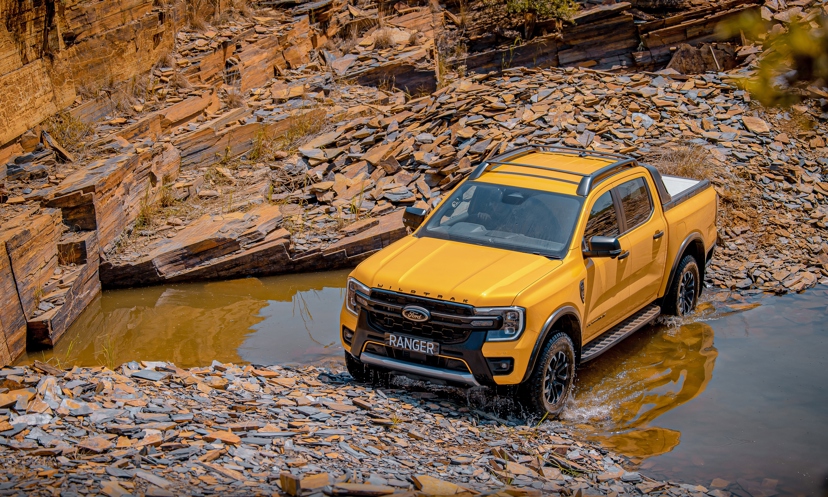 Style? Check; very important with a Wildtrak. But there's substance, too. The X is currently the only Ranger that combines the 2.0-litre biturbo diesel engine with a full-time AWD system (normally reserved for the V6 variants).
The vehicle is lifted by 26mm, but the real selling point for the Bilstein Position Sensitive Dampers with End Stop Control Valve technology is better off-road performance with little or no compromise to on-road performance ("increased tuning bandwidth", in Ford-speak).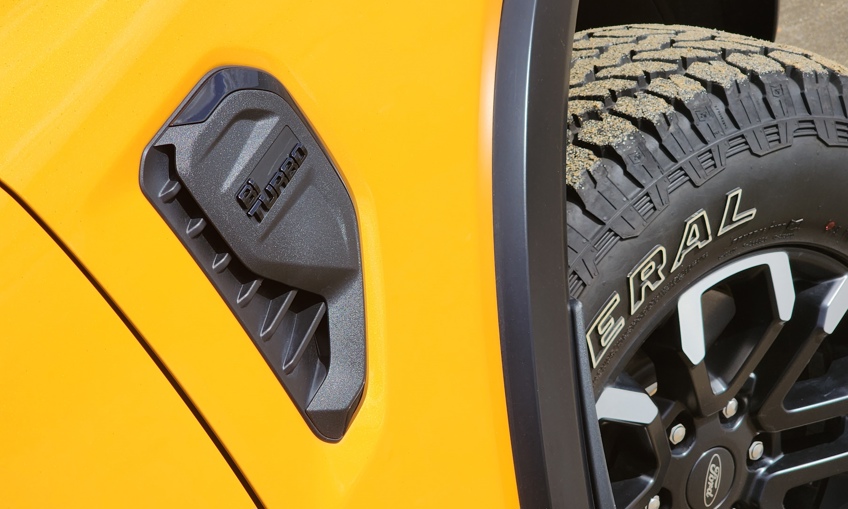 So it proves. The X is still brilliantly composed on-road for a one-tonne ute; even the chunkier General Grabber AT3 all-terrain tyres are impressively quiet on tarmac.
It's not a dune-jumper like the Raptor, but it's even better in, shall we say, "proper" off-road situations. And unlike Raptor, it retains a 3.5-tonne tow rating.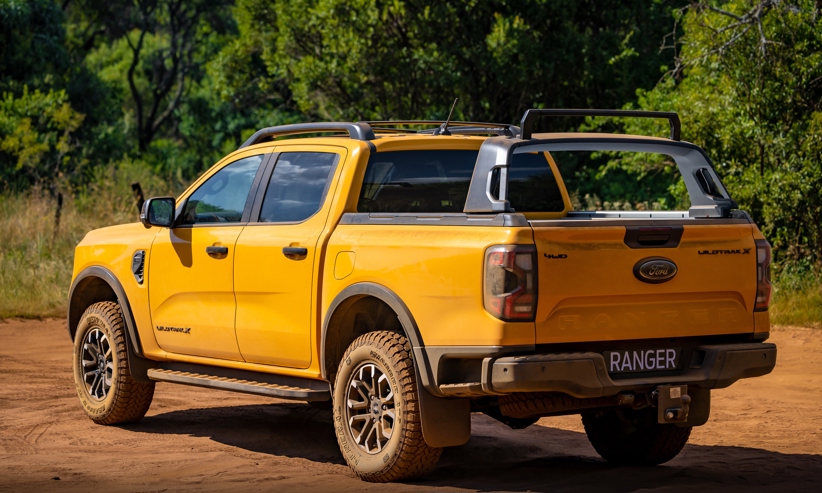 The X borrows Trail Control from Raptor (basically off-road cruise control) and adds Trail Turn Assist, which is active below 19km/h and helps the vehicle make tight turns on loose surfaces by braking the inside-rear wheel. Clever.
The icing on the cake – or the topping on the tray – is Ford's brilliant Flexible Rack System (FRS), a sliding structure that can be fixed at five different points along the load area, with folding racks that store inside the rails when not in use.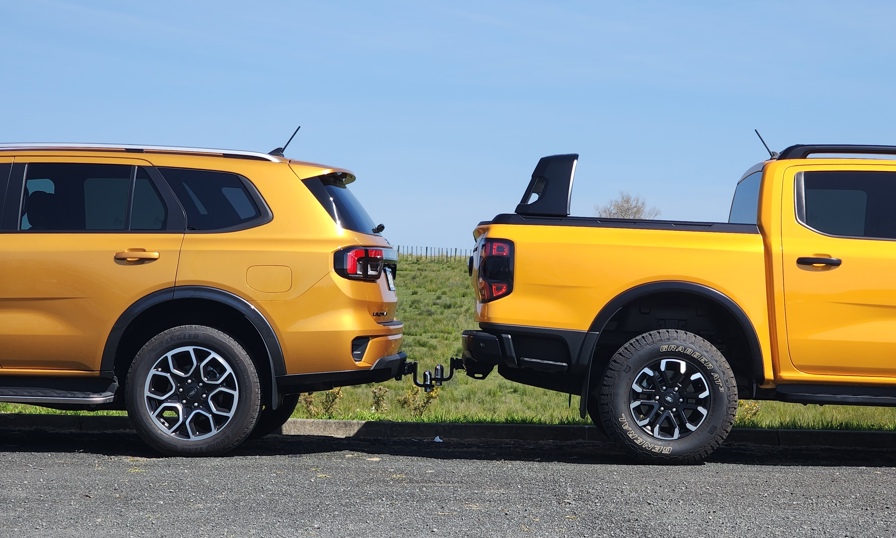 The FRS is available as an option on other Rangers, but not normally for the Wildtrak because it already has that signature sailplane behind the cabin fitted. Which the FRS takes the place of in the X.
No doubt a lot of the Wildtrak X equipment will be offered on other Rangers in time; that biturbo/AWD combination is a no-brainer, for example. But for an extra $5k over the standard Wildtrak, this is a lot of one-tonne ute. Even for $80,990, although that's contingent on being able to actually get one: Ford NZ tells us its allocation is almost sold out.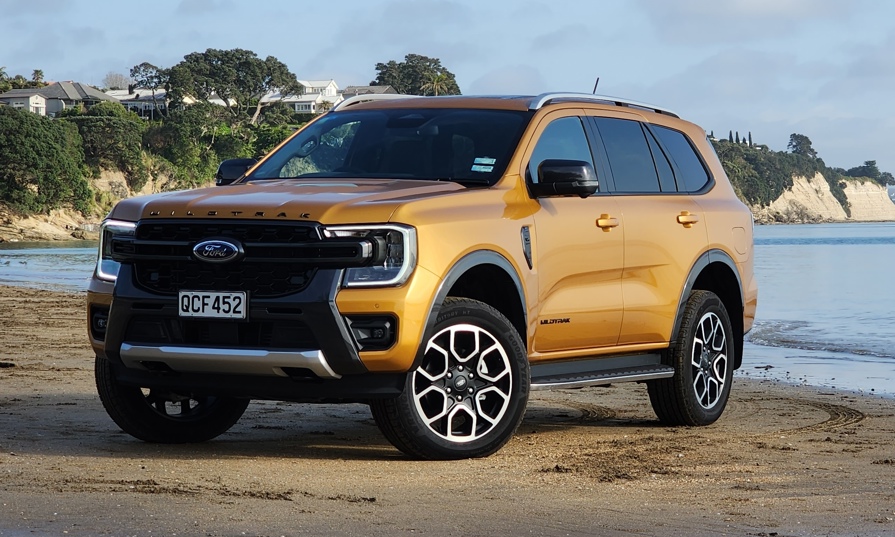 After all of that, the Everest Wildtrak is more of a dress-up. But it's still a new designation for the SUV and lest we forget, that's what Wildtrak used to be.
You can only have the Everest Wildtrak with the gruntier 3.0-litre turbo diesel V6. In essence, it replaces the Everest Sport V6, which is now only available with the 2.0-litre biturbo four.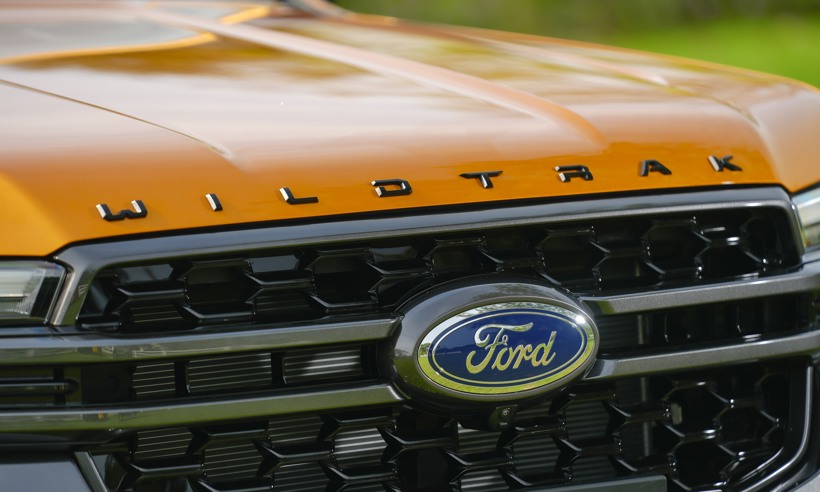 Luxe Yellow is a first for the Everest and it's only for the Wildtrak; there's a unique grille and bumper design, and lots of Bolder Grey detailing (including the 20-inch alloys). Wildtrak logos abound of course, with the odd flash of Cyber Orange detailing inside, including contrast stitching around the sueded seat trim.
So while the Wildtrak package is essentially just garnish… it's nice garnish and a model name that really resonates with Kiwis.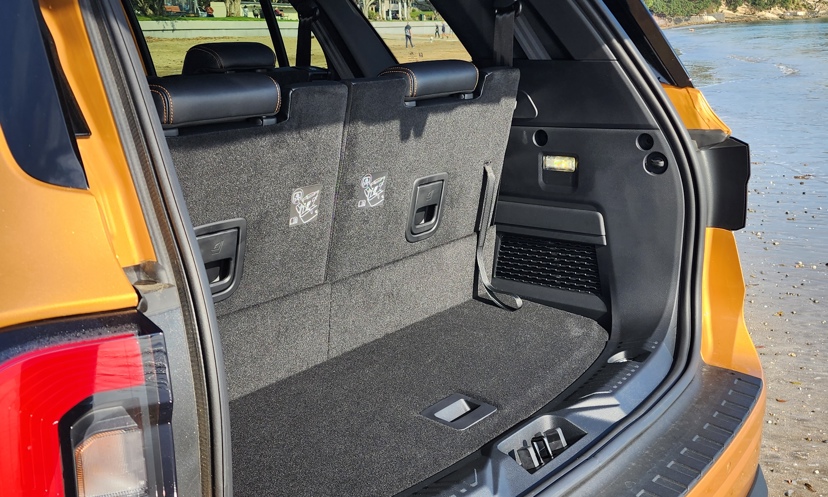 Another opportunity to drive the Everest has also reminded us what a brilliant "ute with a boot" it is. That turbo-diesel V6 is mighty (and mighty relaxed). Everest is still a hard-core off-road vehicle and still tows 3.5 tonnes; while the more sophisticated rear suspension means it ultimately won't go as far off-road as a Ranger, it'll still go very far indeed.
And the chance to drive an Everest back-to-back with a Ranger is something we haven't had before. Yes, the Everest really does ride better on urban roads, with its coil-sprung rear suspension (the Ranger has humble horse-and-cart leaf springs). When the Ranger is so composed compared with other utes, that's a real compliment. These two are still head and shoulders above anything else in their respective classes.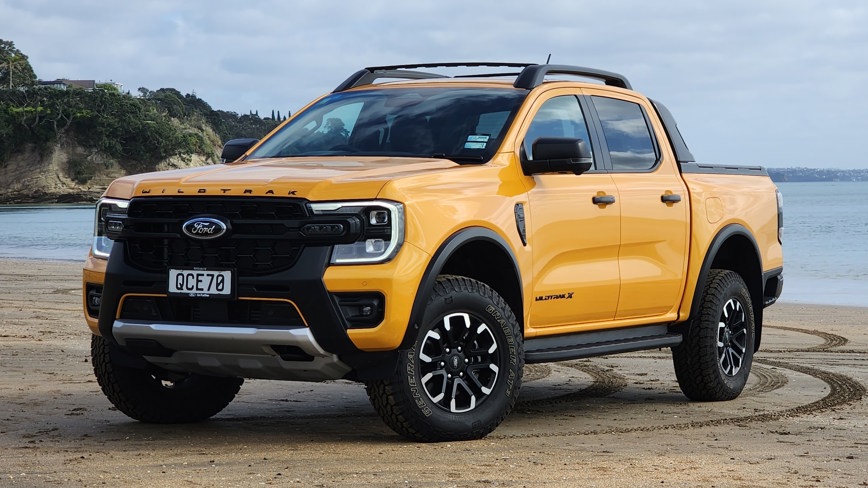 FORD RANGER WILDTRAK X
ENGINE: 2.0-litre biturbo diesel four
POWER: 154kW/500Nm
GEARBOX: 10-speed automatic, part-time 4WD/automatic AWD with low-range transfer
CONSUMPTION: 8.0l/100km (3P-WLTP)
PRICE: $80,990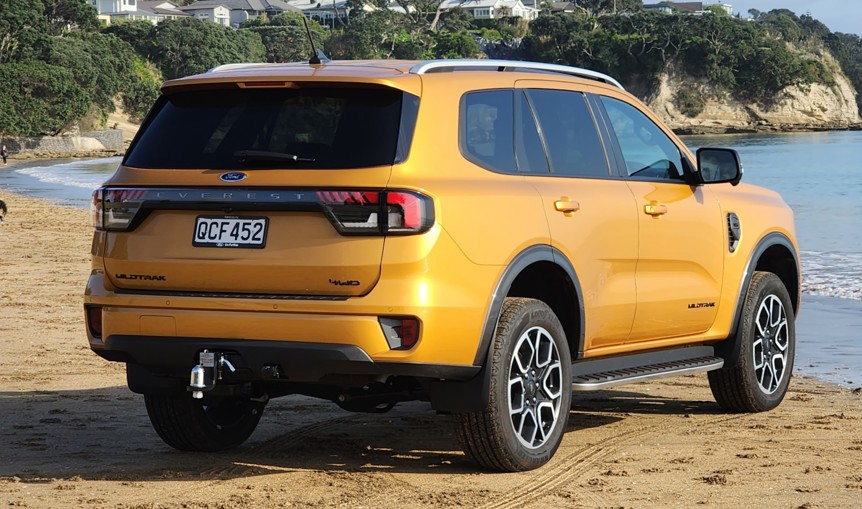 FORD EVEREST WILDTRAK
ENGINE: 3.0-litre turbo-diesel V6
POWER: 184kW/600Nm
GEARBOX: 10-speed automatic, part-time 4WD/automatic AWD with low-range transfer
CONSUMPTION: 9.7l/100km (3P-WLTP)
PRICE: $84,990