Auckland to Wellington in an electric vehicle is a trigger for EV lovers and haters. With more than 600km to cover and the ability to do easily do it with an ICE car with minimal hassle or wasted time, it's a reminder about horses for courses. And a city-sprinting EV isn't always the best choice for a long-distance haul.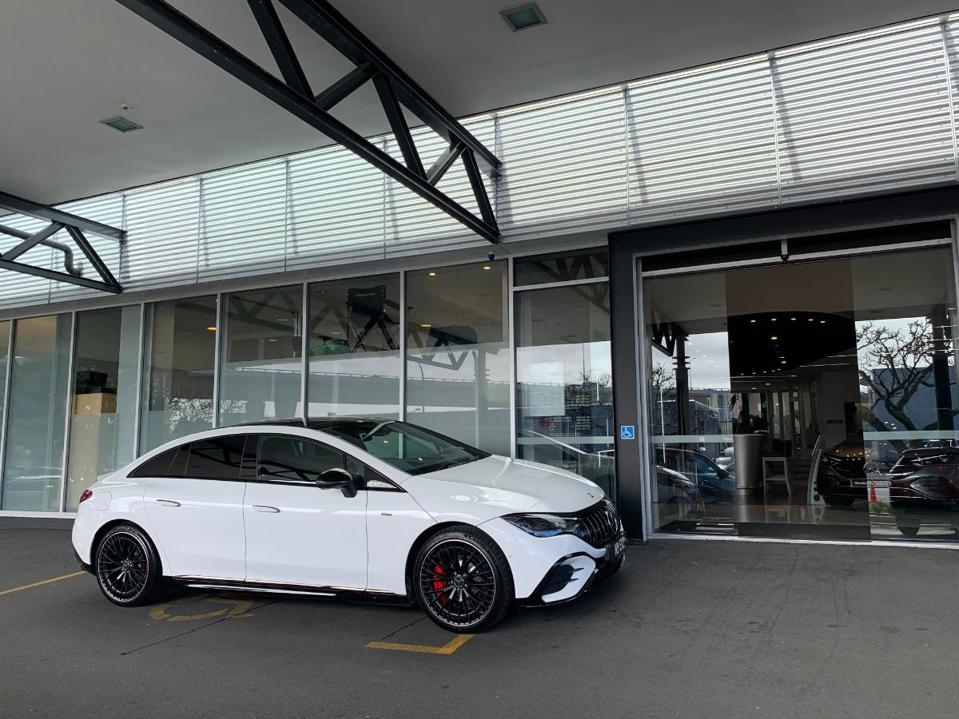 But is a grand touring EV a better option? Enter the Mercedes-AMG EQE 53 4Matic sedan (not to be confused with the EQE SUV, which we first drive here.
Grand touring and electric vehicles aren't considered best of friends, with the key aspects being outright range, range anxiety and charging mindset; but with a trip to down south, effectively Auckland to Manfeild, and the opportunity to take a new Mercedes-AMG EQE 53, it was part opportunity, part adventure and part experience of driving and charging a luxury EV over a long distance.
Collected from Mercedes-Benz Newmarket, Auckland with around 80 per cent charge, a quick top-up from 70-100 per cent at the Bombay super charger took around 15 mins, arriving in my home base in Hamilton an hour or so later, where it was topped up again overnight via the three-pin wall charger to 100 per cent, ready for the morning. Red mark number one, though: the USB-C charger's port in the centre console pushed inwards while trying to plug in; luckily there are others around the cabin.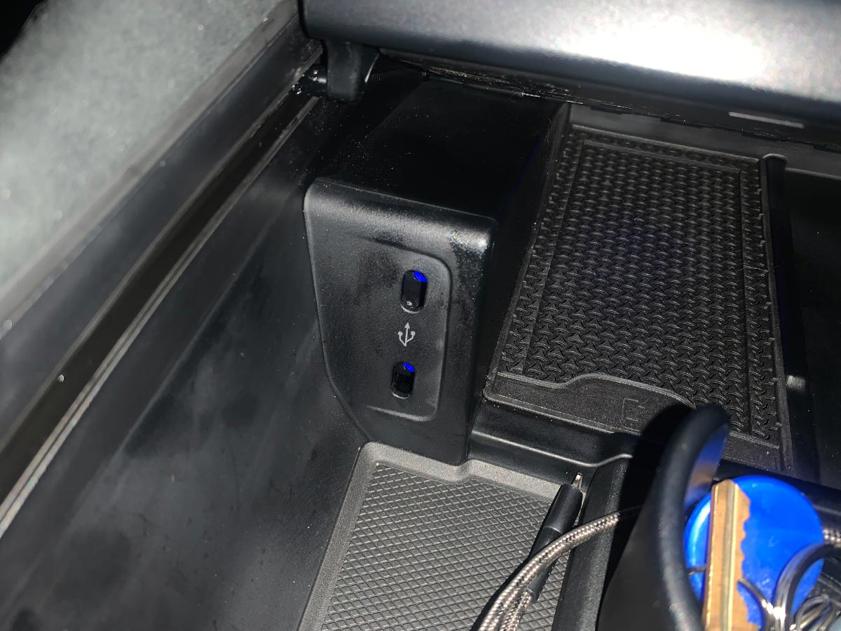 So in one respect, that's a 120km advantage already, with the remaining five-hour, 375km journey ahead. With a 90.5kWh sized battery in the EQE, and range of 515km, should be a walk in the National Park, right? But even Mercedes has fine print, and its range disclaimer is thus: "Real world figures... may vary and are influenced by many additional factors such as... individual driving style, load, traffic, environmental and road conditions, ambient temperatures and vehicle condition."
The massive reserves of power feel a bit overkill today.
Even the EQE's onboard range estimator on the big MBUX screen offers three range estimates "between 128km and 450km"... that's a big between! Right in the middle was its average estimate of 205km.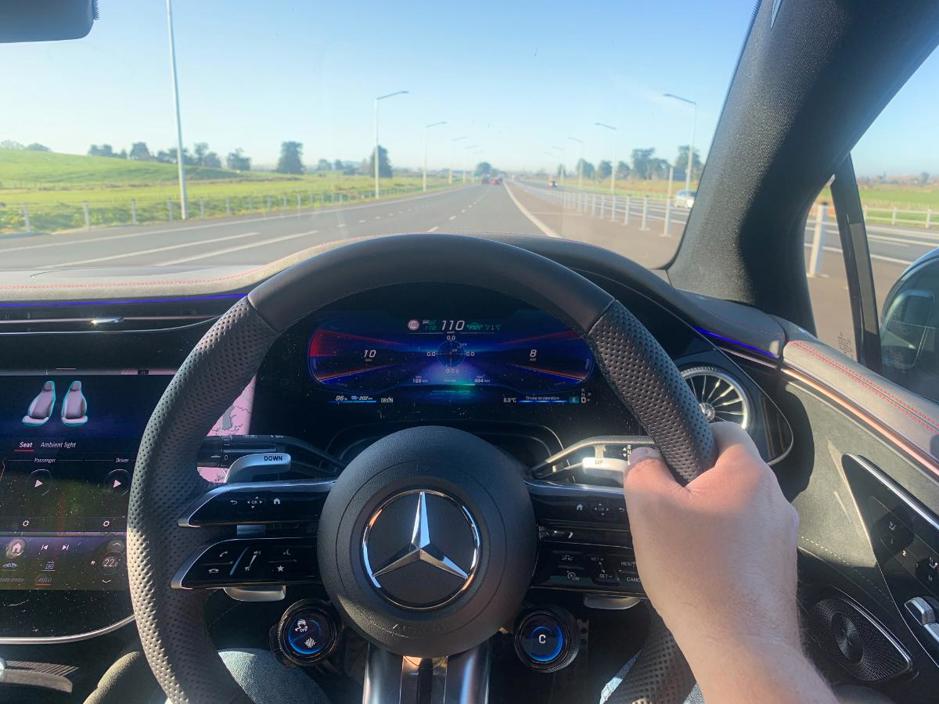 With an 8am start and a short 5km suburban trip to join the motorway, the massive reserves of power feel a bit overkill today: 0-100km/h in 3.5 seconds from its dual motors and a mountainous 950Nm of torque are crazy big numbers. Well, maybe more useful at least once on the motorway on-ramp. With 440kW (from its maximum of 460kW) showing on the usage gauge, it's quickly settled to a 110km/h radar cruise-controlled limit.
The cabin is gorgeous inside, with a cocooning feeling while being modern and spacious, with glorious attention to detail.
A neat little rotary dial on the steering wheel allows the car to quickly switch between Comfort, Sport and Sport Plus modes, along with paddles for regen; in our case, maximum.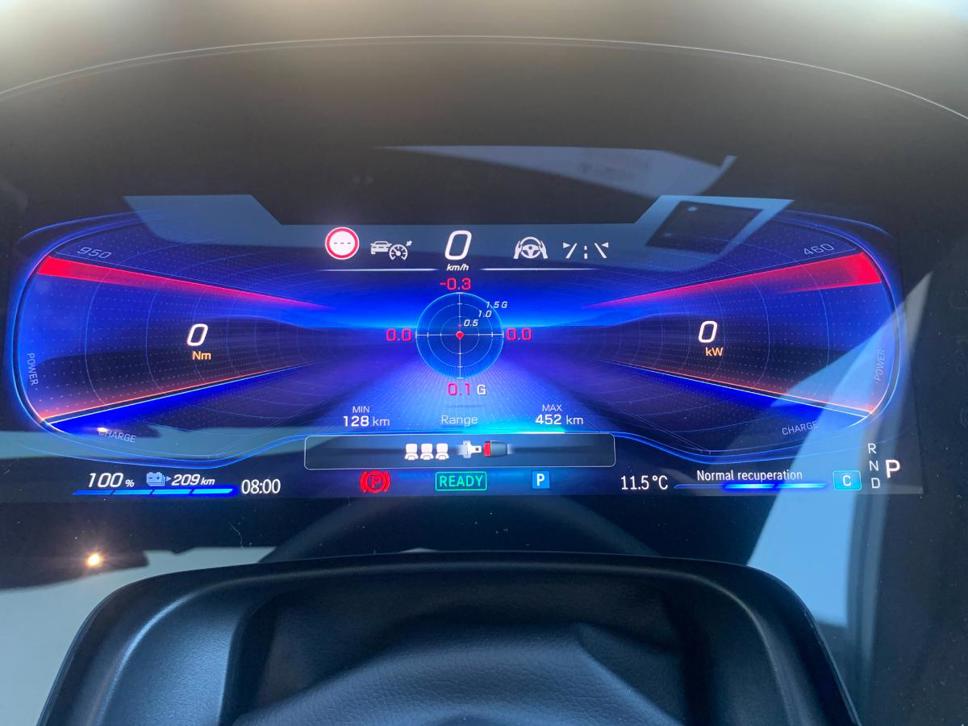 The cabin is gorgeous inside with a cocooning feeling while being modern and spacious with glorious attention to detail: as it well should be for $195,000 - no Clean Car rebates here! The big touch-screens and secondary touchpad that falls to the left hand, plus the "Hi Mercedes" voice control, neat turbine style air vents, ambient lighting in your choice of colours and even seat kinetics that either massage or move the seat a few mm every few seconds to prevent muscular aches are all made for driving enjoyment and extended drives like this.
Passing the snowcapped peaks of the mountains through the Desert Road, I'll admit I started to get anxious as range dropped below 20 per cent.
Just north of Taupo, with the car's range meter starting to calibrate itself with the driving style, the predicted range coincidentally matches the distance to go. But highway speeds will always diminish an EV's range, and from having a best-case of 75km spare range up our sleeve, it's evened out and will no doubt fall further, virtually eliminating the ability to do the 375km trip on one charge; even though 1-2 rest breaks had already been planned for the five-hour drive.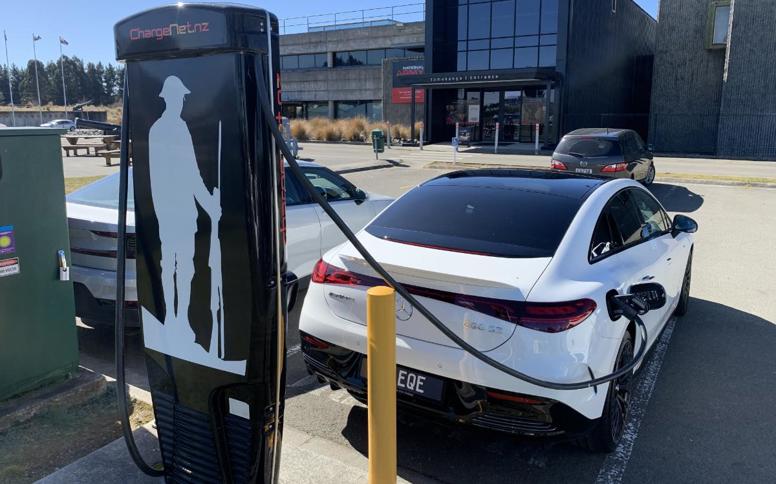 With the battery level down to 50 per cent arriving at the Taupo bypass, the range was down to 229km, with 245km still to go. The usage is around 25kWh, sometimes getting under 20, often over 30 on climbs.
Passing the snowcapped peaks of the mountains through the Desert Road, I'll admit I started to get anxious as range dropped below 20 per cent and less than 100km. However, relief was ahead, with three imminent charging stations in a row at Waiouru National Army Museum, Taihape New World and Mangaweka.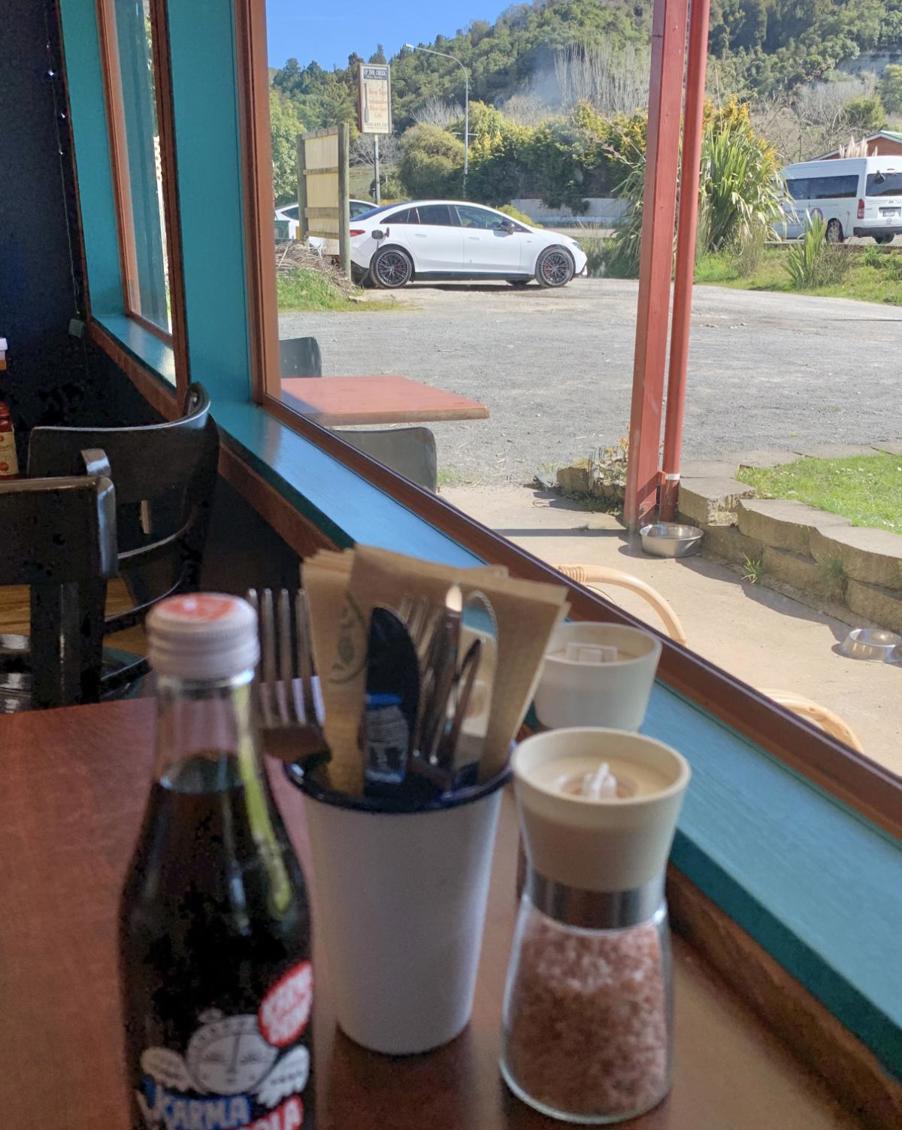 So down to 50km of range remaining, a 17 per cent warning pops up about charging the battery. It's 10km to Taihape, and 40km to Mangaweka, but the habit with EV charging is to take it where you can get it: so a stop at the Army Museum allows a stretch and short walk to Subway for lunch... and typically (for me, at least), 10 seconds before reaching the door, a small school group of 12 kids arrive... normally this would have me fuming, but I actually have time to burn today, and every minute delayed here is an extra minute charging the AMG. No biggie.
An hour later at the 45kW charging rate, from the maximum 50, in goes 117km of range and back up to 55 per cent. Just enough to get me to my destination with a little in reserve. Which is fine if my stop was home with a three-pin charger, but I'll need a little more, so from my Subway lunch, another 40km later I pre-plan and see the ChargeNet charger is free and working, so pull into Mangaweka cafe for a coffee and desert, and give it another top up from 60-80 per cent - also to aid the overnight three-pin wall charging that'll likely only add another 50-60km.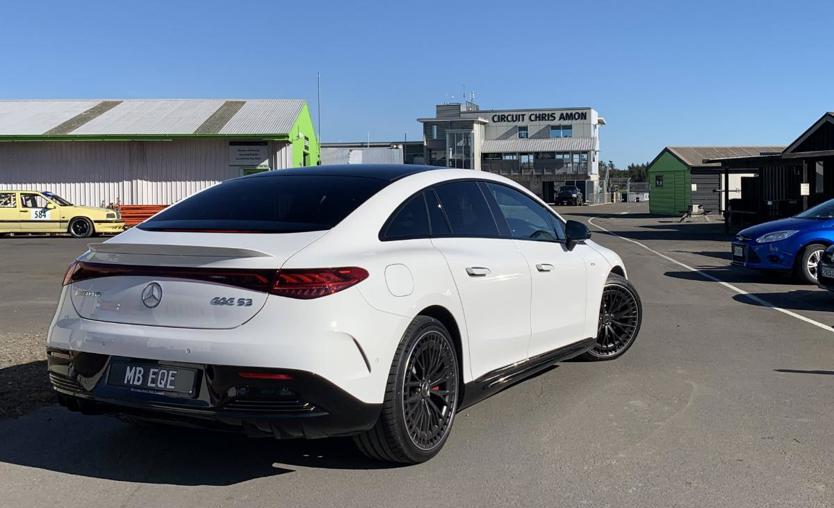 So a quick hop into Palmy North and then Chris Amon Manfeild Circuit and we have arrived for a weekend of racing our DRIVEN MX-5. Arriving around 8am and putting the car on charge on three-pin portable charger has it back up to 100 per cent by around 1pm, ready for the drive home at the end of the day.
The return leg was a little easier, just the one stop, mid-point to recharge just enough to get home again.
Was the Mercedes-AMG EQE a great luxury sedan to do the big tour trip? Absolutely! But given the option, and the amount of time spent recharging, I probably wouldn't take an EV again on a trip like this.
MERCEDES-AMG EQE 53 4MATIC
BATTERY: 98kWh battery, dual electric motors
CHARGING: 22kW AC, 170kW DC
POWER: 460kW/950Nm
0-100KM/H: 3.5sec
GEARBOX: Single-speed automatic, AWD
RANGE: 459km (WLTP)
PRICE: $195,000