In a journey that may raise the eyebrows of electric vehicle (EV) sceptics, retiree Jeff Giddins has completed a lap around Australia while towing a trailer with his rear-wheel-drive (RWD) Tesla Model Y. And it's not even the long-range model.
Not only did he conquer the vast Australian landscape, but he also towed a trailer loaded with a kayak, an electric bike, and camping equipment, showcasing the versatility of EVs in rough terrain.
20,000km journey
Giddins embarked on this ambitious adventure on 29 June, starting from Jan Juc in Victoria, and returned home after nearly three months on the road, covering a staggering 20,000km.
During his journey, the 67-year-old retiree demonstrated that driving an EV across Australia is not only possible but also a viable option for those who wish to "tow their trailer" while enjoying the benefits of electric mobility.
"I'm quite happy to dawdle," Giddins tells The Driven.
"By about 200km, I'm feeling tired, so I can pull over, go and recharge, and take off the next day." The former car mechanic was well-prepared for his adventure, with his Model Y loaded with camping gear and food. His small boat trailer carried an electric bike and kayak, totalling approximately 700kg. 
Although he wasn't expecting to match the RWD Model Y's official range of 430km, he managed to complete most of his daily 200km trips with 20 to 30 per cent charge remaining.
Throughout his journey, Giddins discovered that maintaining a speed of 90km/h was the sweet spot, a lesson that applies to both EVs and ICE-powered vehicles when towing. 
Planning is key
To ensure his trip went smoothly, Giddins carefully planned his route, calling ahead to locations lacking fast-charging infrastructure to secure charging options. He also updated the PlugShare app, which provides information on charging locations, and helped identify new charging sites or report malfunctioning ones.
Giddins used a variety of charging options along the way, including caravan parks, roadhouses, DC fast chargers, and 3-phase plugs. Interestingly, he noted that many cattle stations are now considering hosting charging stations of some sort, highlighting the growing EV infrastructure in remote areas of Australia.
Initially, Giddins didn't intend to complete a full lap of Australia but embarked on the journey to test the limits of his Model Y while enjoying the beauty of the country's landscape. However, his determination led him across Western Australia, and with the help of a fellow traveller, he discovered a shortcut through a cattle station in Ballara that allowed him to continue his journey.
Reflecting on his adventure, Giddins shared, "The beauty of the trip was that I stopped in a lot of places and saw a lot of things I normally wouldn't see. Normally you'd just drive straight through."
No regrets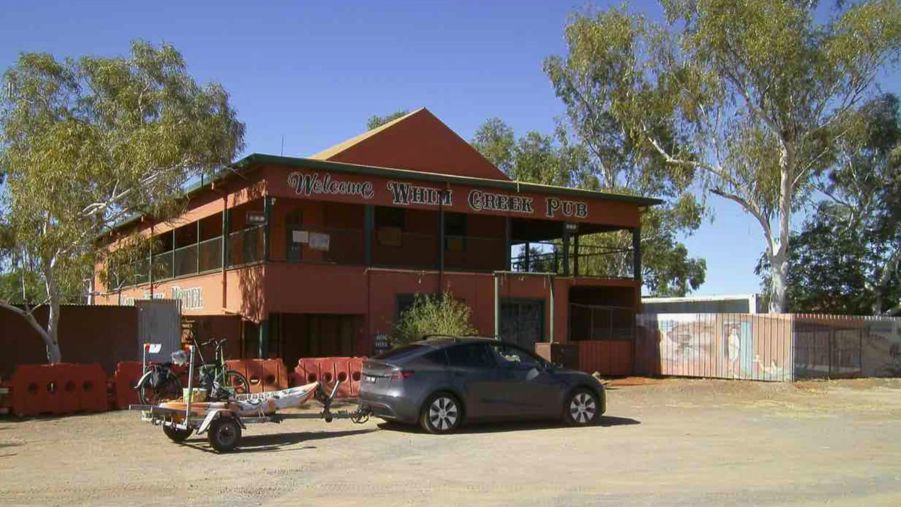 Giddins's decision to switch to an EV, particularly the Tesla Model Y, stemmed from his concern over the skyrocketing fuel costs associated with towing. He had previously used a Toyota LandCruiser turbo to tow his fishing boats but was taken aback by the fuel bill when towing a caravan from South Australia to Victoria.
"There was no way I can afford that going round Australia," Giddins stated. After exploring options, he chose the Model Y for its towing package, a decision that proved to be both cost-effective and enjoyable. His charging costs remained remarkably low, with the highest bill being just $24, reinforcing his faith in the affordability and performance of EVs.
"I'm sold on them," Giddins exclaimed. "They are the best car to drive I've ever had. I'm loving it."
Jeff Giddins' remarkable journey not only highlights the capabilities of the Tesla Model Y but also serves as a testament to the expanding EV infrastructure in these parts of the globe. Now who's up for something like this in New Zealand? It'd be much easier, we reckon.