The highs and lows of the Government's Clean Car Discount have been a big topic lately, with a lot of discussion about whether buyers of "luxury" EVs like the Tesla Model Y really need extra money in their pockets.
We could discuss whether Teslas are really luxury vehicles all day. But… some might say proper luxury vehicles are well above the $80k cap for rebates and well above talk of feebate-funded discounts.
Consider the Volvo XC90 T8. It's a big SUV that still makes a big impression (even after eight years on sale in New Zealand) and sells for pretty big money.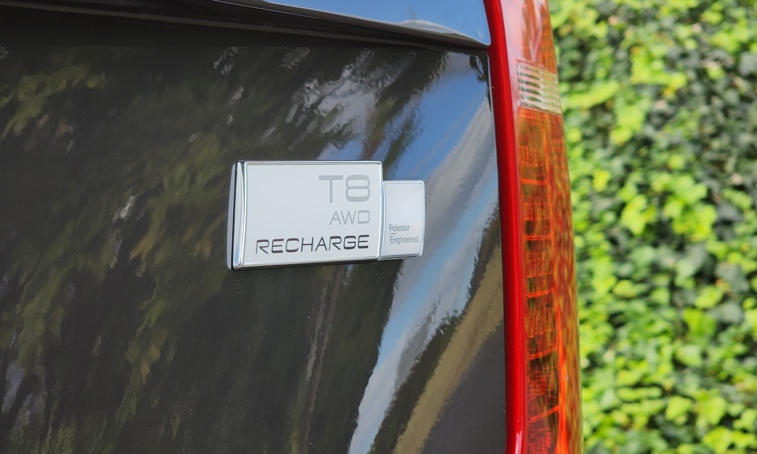 The T8 is a plug-in hybrid electric vehicle (PHEV) that now also goes by the name of "Recharge", in line with Volvo's other plug-in products. It was clever tech when launched in 2015 and it's still clever now: the petrol engine drives the front wheels and the electric motor the rear. It's fast when you want it to be (0-100km/h in 5.3sec, 1.4sec quicker than the next best XC90) and really frugal if you maximize use of the plug-in battery for daily driving.
And that's where we come to the biggest change for this big-money Volvo: a bigger EV range. Volvo has more than doubled the battery size to 19kWh, giving a claimed 77km electric driving and a solid real-world 60km judging by our week with the car.
It's impressively smooth in EV mode (not all PHEVs are) and can even give you more of an electric driving experience with a switchable "one pedal" setting, just like a BEV – lift off the throttle and the car will use its regen function to slow and stop, without the driver touching the brakes.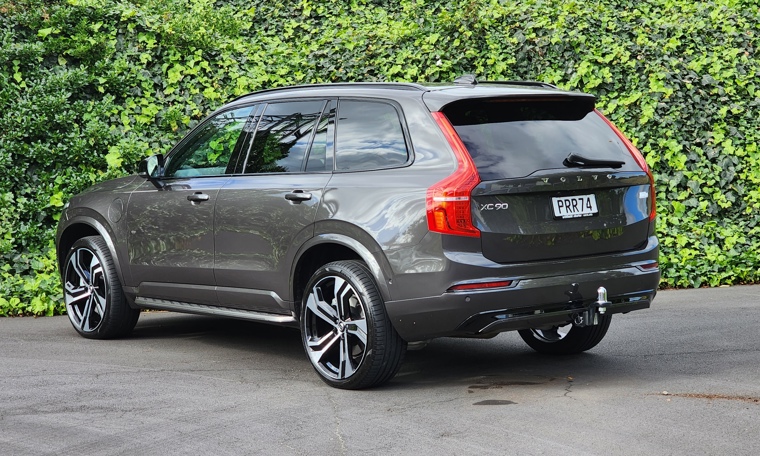 The T8 is famously heavy (2310kg, 220kg more than a mild-hybrid model) and famously quick despite that, thanks to an excess of power. It's not sporty, mind, but it is very quick point-to-point, the chassis managing all that mass with surprising control - and sometimes, lots of roll.
As a more sedate family machine, the air-suspended ride is surprisingly supple when you consider this Ninety is wearing gargantuan 22-inch alloy wheels.
Part of the PHEV-appeal is that you can manage the powertrain to suit the driving situation. It defaults to Hybrid mode and will prioritise electric drive if you have the charge, but it'll also fire up the petrol engine if you get a bit more pokey with the throttle.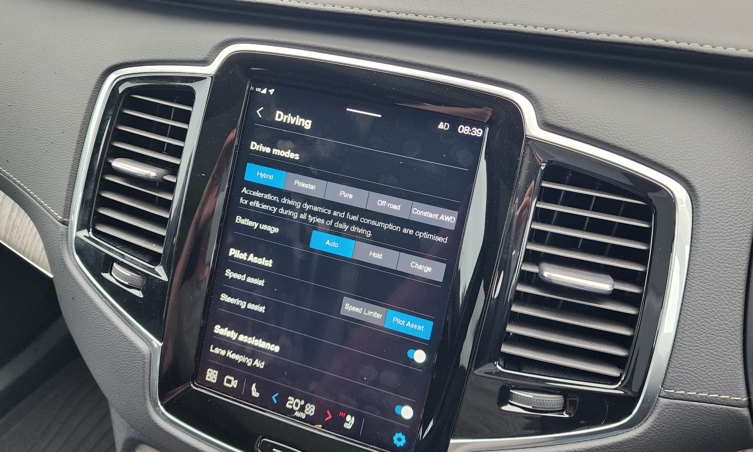 You can also select Pure, which holds onto electric drive with more determination. There are more niche settings for Off-Road and Constant 4WD – and an optional "Polestar" configuration that sharpens up the throttle and gearchange.
You can also choose whether the car does its own thing with battery use/charge (ie situation normal for a PHEV), holds the current level or uses the petrol engine to top up the electric power.
It's a Volvo thing to declutter cabin controls as much as possible, but all of the above settings have been moved into the infotainment screen. Fine if the car retained the previous mode at startup, but it doesn't.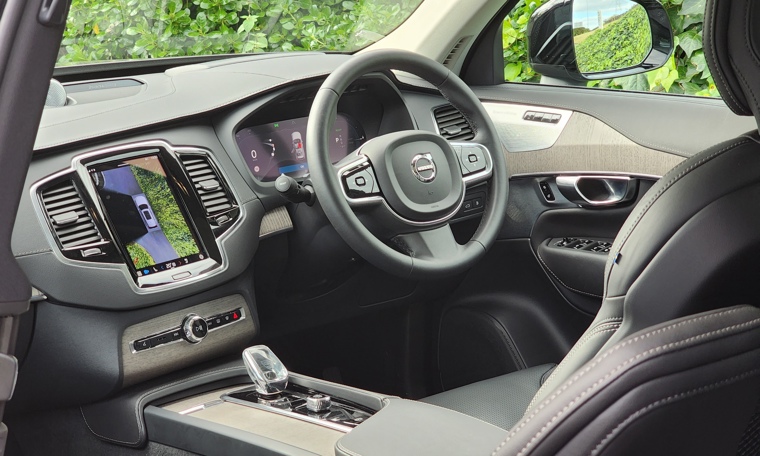 The XC90's 9-inch portrait touch screen was a thing of wonder in 2015, but it looks rather small now. Or perhaps it's just right in the modern era of garish displays, because it does the job nicely and now has the Google operating system fully integrated and live. You can use it as-is for navigation and so on, but if you sign in with your personal account you get lots more functionality, including personal music/podcasts/sat-nav history without having to connect from a phone. Pretty cool.
As is the XC90 generally. It still has one of the most gorgeous interiors in the SUV business, with lovely materials (check out the crystal gearlever from Swedish glassmaker Orrefors) and fantastically firm-but-comfortable seats for all.
It's a seven-seater of course, with a third row that'll keep the kids pretty happy without stretching right to people-mover status. And the cabin is packed with clever ideas, like the cupholder cover that slides to secure your phone once it's positioned on the wireless charger, or the air suspension function that "kneels" the back of the car at the touch of a button for easy loading.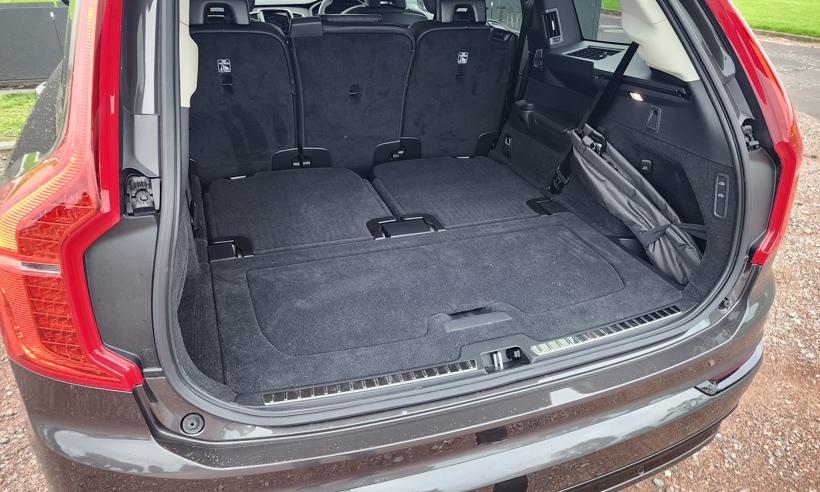 There's an all-new pure-electric equivalent coming late next year, the EX90, but it's not yet known whether it will replace or compliment the XC90 T8. Whatever the case, this will remain an important electrified model for Volvo for the next 18 months and likely beyond. It's still a deeply impressive and desirable luxury EV.
VOLVO XC90 RECHARGE ULTIMATE
ENGINE: 2.0-litre turbo-petrol four with 19kWh plug-in battery and single electric motor
POWER: 233kW/400Nm (petrol), 107kW/309Nm (electric)
GEARBOX: 8-speed automatic, AWD (FWD petrol, RWD electric
0-100KM/H: 5.3sec
CONSUMPTION: 1.8l/100km, EV range 77km (NEDC), CO2 44g/km (3P-WLTP)
PRICE: $149,900