You could argue there are three things that make a great sports car: front engine, rear-drive and a lightweight, naturally aspirated four-cylinder engine.
That's exactly what these two cars have in common: the new Toyota GR86 and updated Mazda MX-5 GT. With an added enthusiast bonus, because both the cars you see here are also six-speed manual.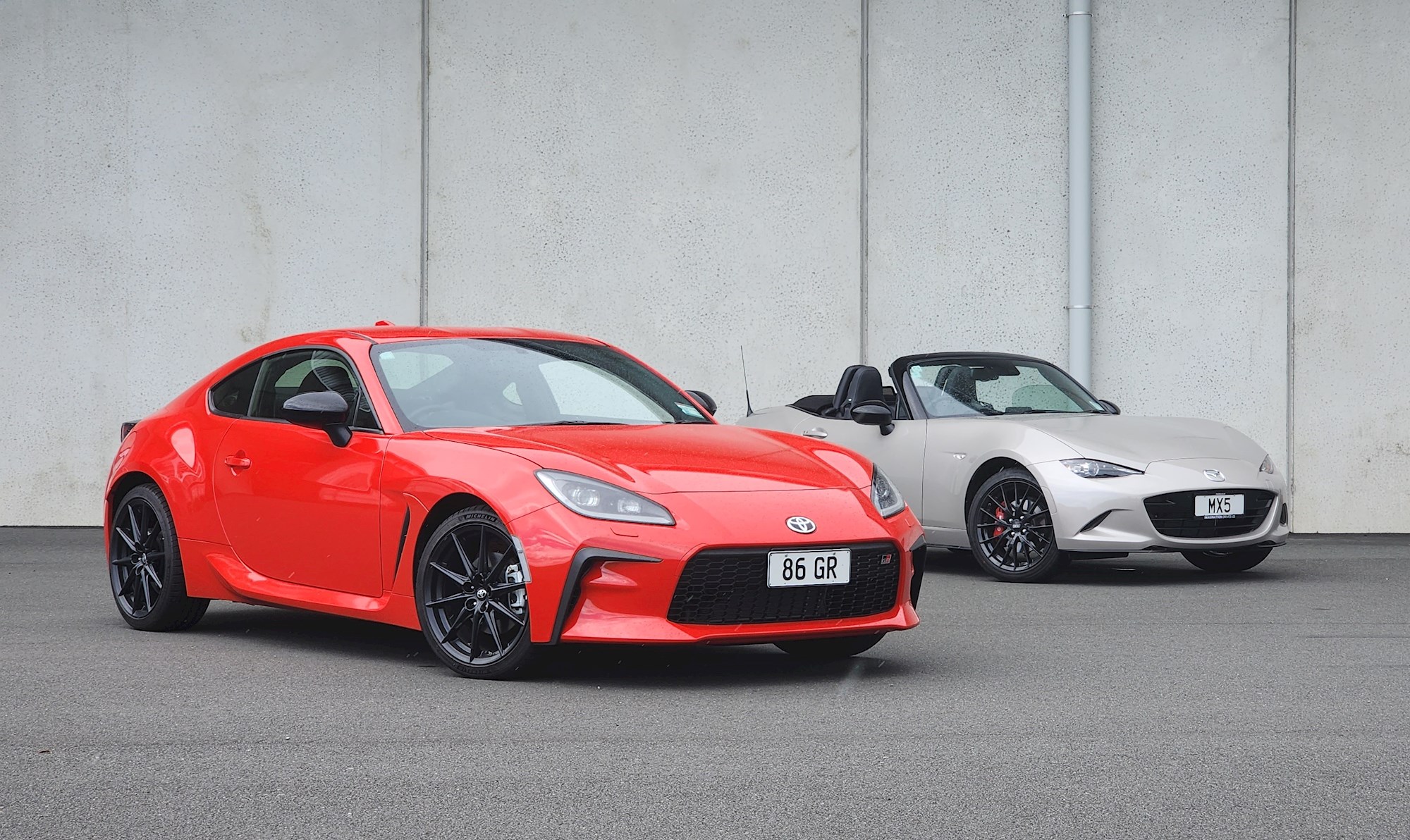 TOYOTA GR86
Hard to believe it's been over decade since the original 86 was launched, but now it's arrived in second-generation guise. The styling changes certainly stand out: it's a lot more aggressive at the front, with bigger headlights and functional ducts. At the rear you can see a lot more Supra in the 86 – overall it's a much more cohesive design, and now includes a fully integrated "ducktail" spoiler.
The cabin is fairly typical Toyota, but with a few special touches and controls, like the GR-branded start button and red stitching. The main instrument panel is digital, which means you get different menus in different modes. Hit the ESP off/Track mode button, for example, and you get a different layout with the traditional tachometer replaced by a bar graph readout.
It's very businesslike inside, but Toyota has added some subtle touches of extra comfort and convenience. The front seats are a new sports design with heavier bolsters, finished in perforated Ultrasuede with leather… and heated! The new multimedia system has a larger eight-inch touch screen, too.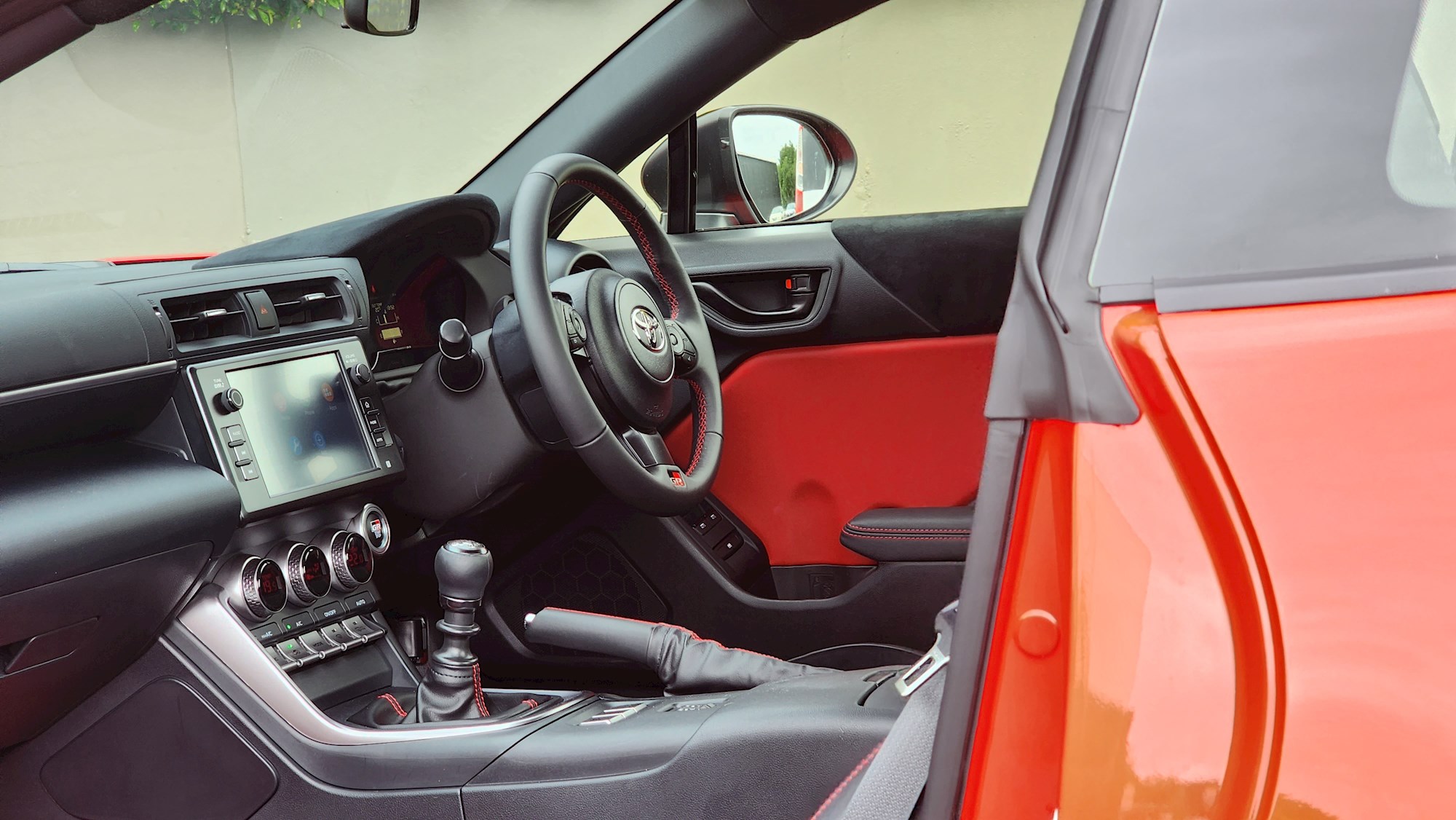 The 86 (and now GR86) still stands as a hugely significant car for Toyota – a return to a pure sports car layout, albeit one shared with Subaru's BRZ.
That larger engine is the most important upgrade to the new GR86. While Toyota kept the body-size and layout of the original 86, it says more power was on the wishlist for many customers. The new 2.4-litre delivers 174kW/250Nm, substantial increases of 27kW/45Nm over the original car. But there's also improved day-to-day driveability, with that peak torque arriving 2700rpm lower in the rev range, at 3700rpm.
The new 2.4-litre engine also has a great sound: it's like a high-tech chainsaw blended with a 1000cc sportsbike. This is a car you just love to drive – get out on a winding weekend road and enjoy yourself.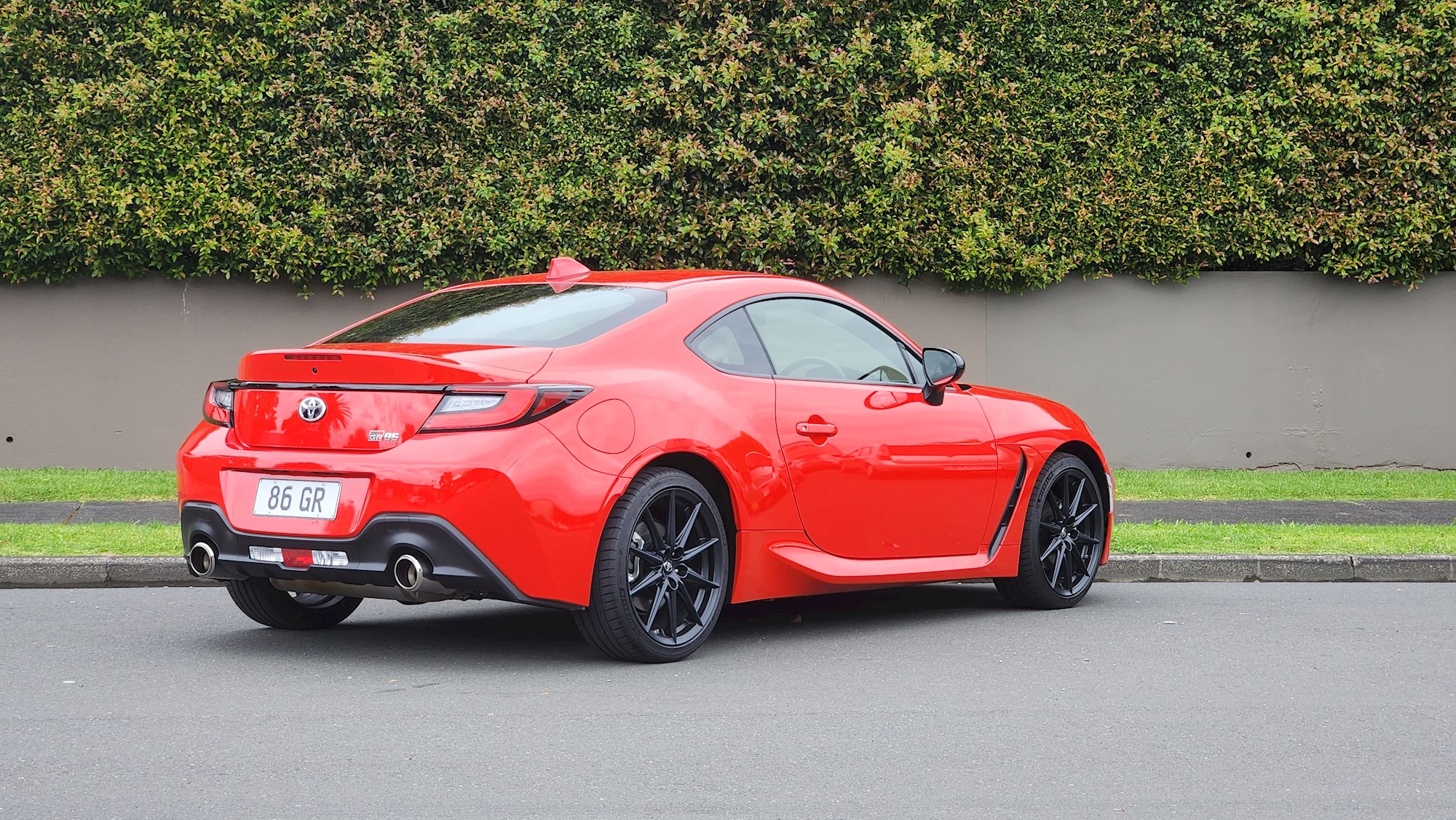 The six-speed manual is great, but Toyota also offers a six-speed automatic if you prefer two pedals. Enthusiasts will be drawn to the manual, but an auto does also make sense: this new GR86 is also perfectly serviceable as a daily driver.
Not that it's gone soft. The body structure is also now up to 60 per cent stiffer, which helps with handling. Chassis upgrades include 18-inch alloys with Michelin Pilot Sport 4 tyres.
TOYOTA GR86
ENGINE: 2.4-litre petrol four
POWER: 174kW/250Nm
GEARBOX: 6-speed manual, RWD
0-100KM/H: 6.4 seconds
CONSUMPTION: 10.6l/100km, CO2 242g/km (3P-WLTP)
PRICE: $56,990
MAZDA MX-5 GT
The Mazda MX-5 is as good as ever in its fourth ND evolution, with the 2.0-litre engine (the smaller 1.5-litre is no longer offered). It's still such a great package, especially in this roadster form with the soft-top – certainly a worthy successor to the original NA.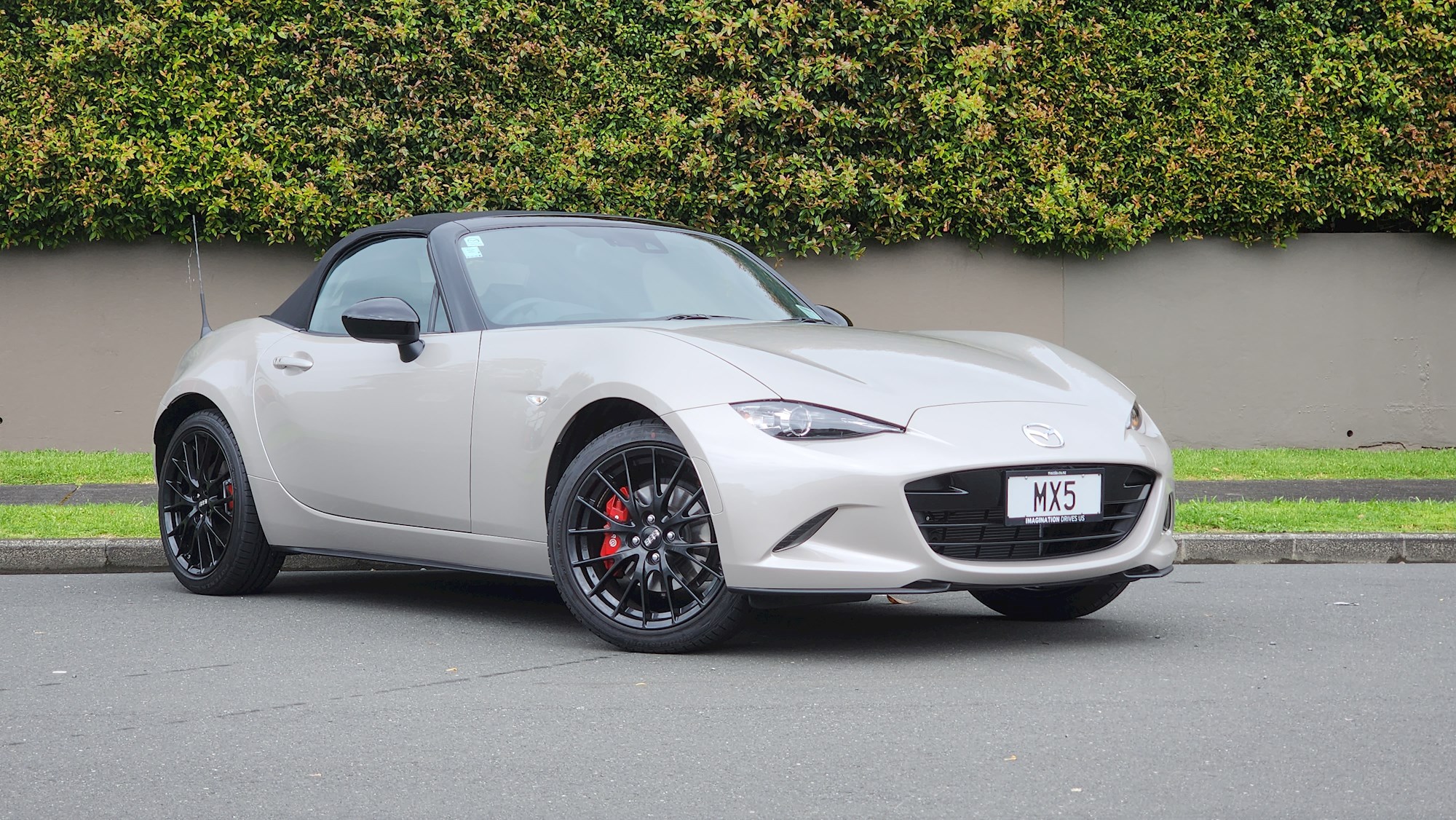 Inside, it goes for a really traditional look with two of the three gauges in the main instrument panel being analogue. There's plenty of modern technology of course, including an infotainment screen with the expected phone projection, but overall the look and feel is of a beautifully simple driver's package.
What's not to love about the MX-5? It's light, it's agile, it's direct. You've got that great six-speed manual.
If you're taller than average you do have to accept it'll be tight in the compact cabin, but this car has so much to offer the enthusiast. And you can always have the ultimate in headroom by dropping the top!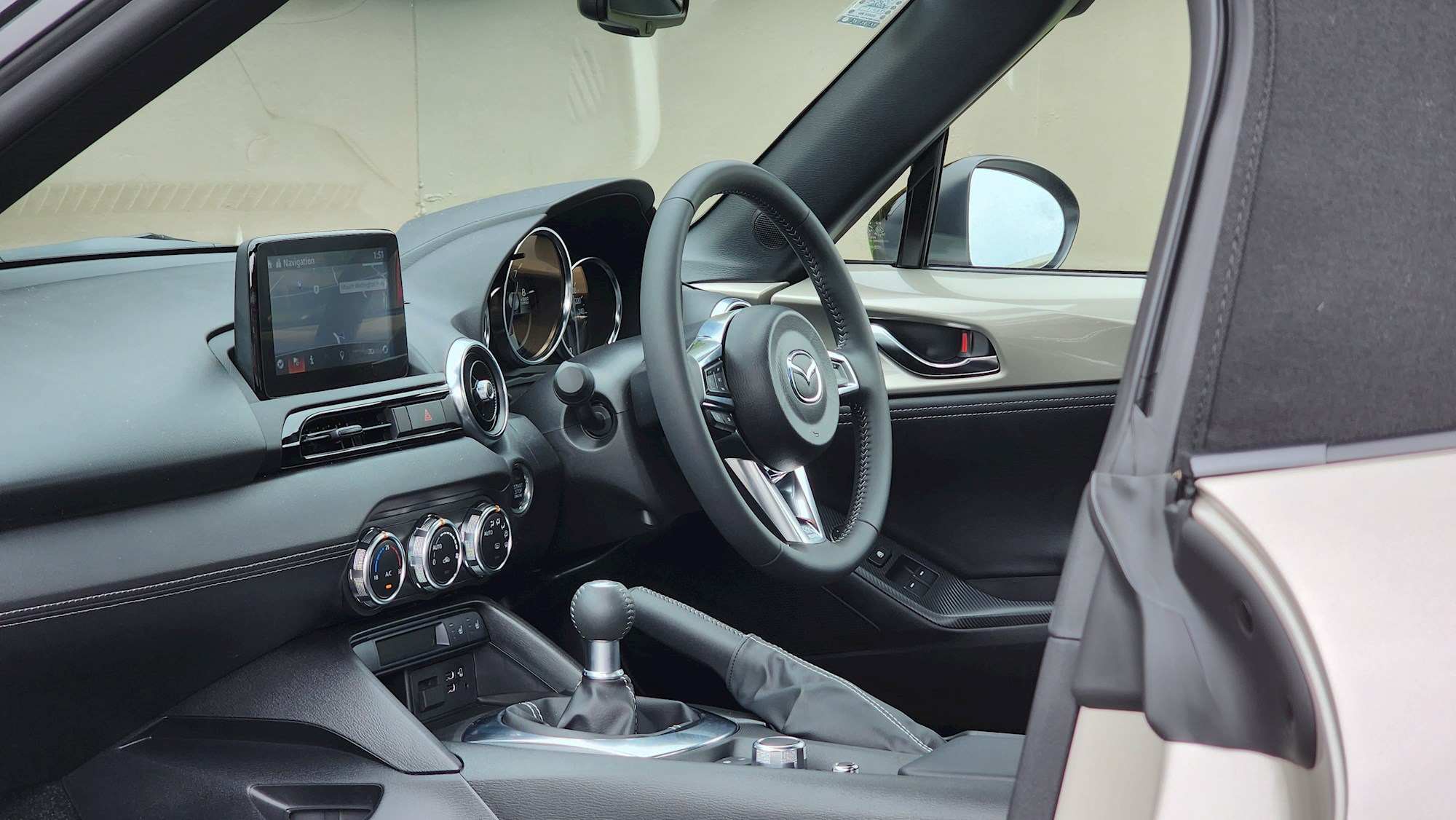 The 2.0-litre revs hard and sounds good, but it's not over the top: not too much power (which has always been a mantra from Mazda for this car) and nothing that overpowers the excellent chassis. Everything's just so well balanced.
It's worthy of mention that the GT roadster is only available as a manual, although the RF (retractable fastback) can be had with two pedals as well as three.
But the GT specification (exclusive to the roadster) brings goodies of its own: 17-inch Gunmetal BBS forged alloy wheels with 205/45 tyres, Bilstein sports dampers, Brembo front brakes with red callipers and a front suspension tower brace.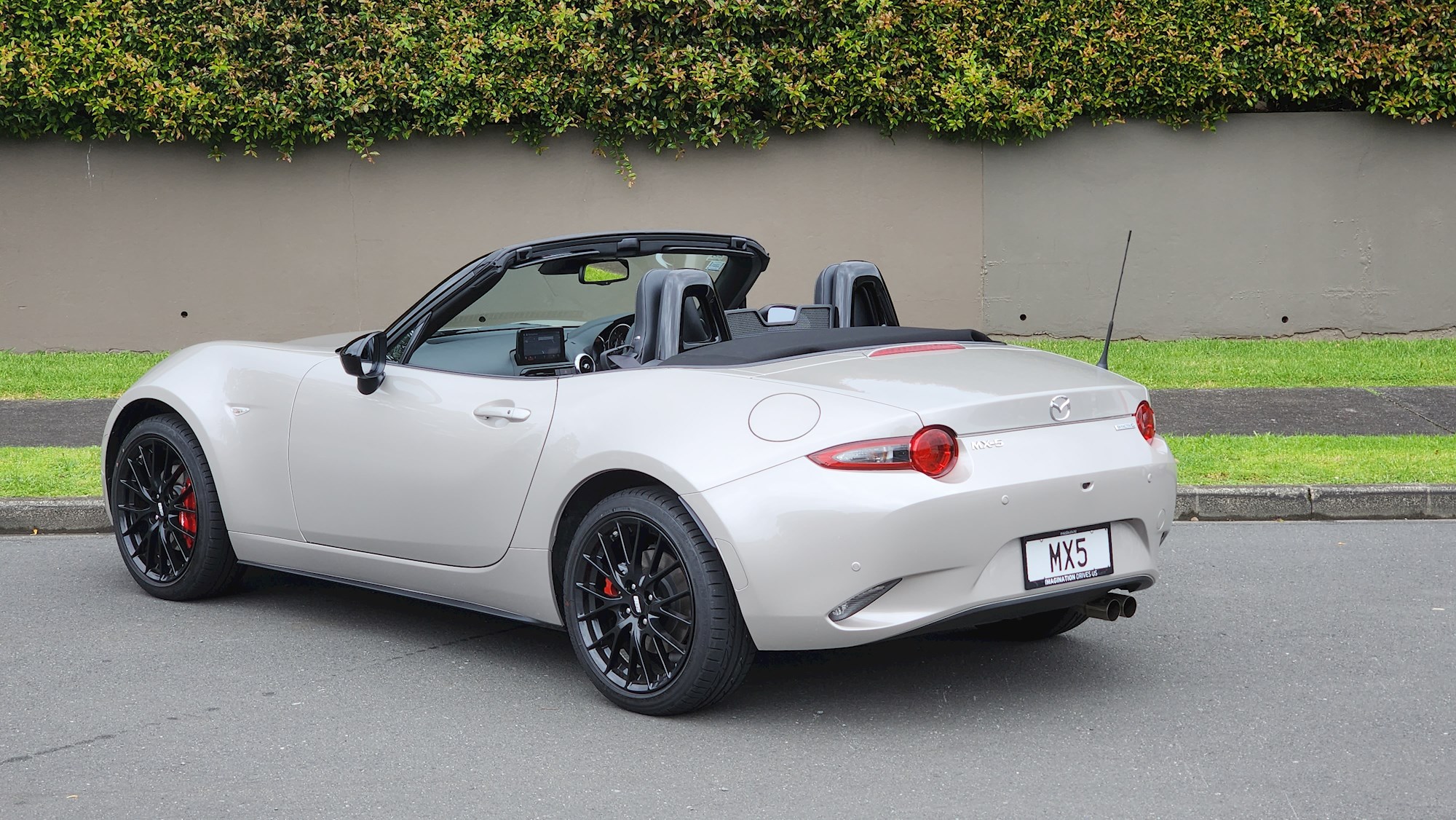 All MX-5 models now also have Kinematic Posture Control (KPC). It's a finessed version of torque vectoring by braking, with the intention of achieving the same effect for rear-drive cars that Mazda's proprietary G-Vectoring Control Plus (GVC Plus) does for front-drive.
KPC works in conjunction with the car's "anti-lift" suspension architecture and applies gentle brake force to the inner rear wheel during fast cornering. This is intended to suppress body roll and make steering response more linear through tight or rough corners. But while it's smoother, the MX-5 certainly hasn't lost any of its driver involvement.
So which car is better: the Toyota GR86 or Mazda MX-5 GT? The reality is that it doesn't actually matter. The fact that you can still buy these sports/performance, front-engine, rear-driven manual cars is fantastic, particularly in a time where everything is going electrified. So let's just celebrate them for what they are: great sports and driver's cars.
MAZDA MX-5 GT
ENGINE: 2.0-litre petrol four
POWER: 135kW/205Nm
GEARBOX: 6-speed manual, RWD
CONSUMPTION: 6.8l/100km (NEDC), CO2 158g/km (3P-WLTP)
PRICE: $58,290