It's impossible to rationally compare Toyota's new GR Corolla to the GR Yaris. They're very different models, very different sizes: one's a heavily modified version of a family hatch, the other basically a bespoke ground-up homologation car for WRC (albeit one that never got to compete).
And yet it's impossible not to compare the two. The Corolla picks up the idiosyncratic and highly acclaimed powertrain from the Yaris: 1.6-litre turbo-triple engine, six-speed manual with rev-matching and a sophisticated GR Four all-wheel drive system.
The two are also elite members of an exclusive GR production-car family that still only comprises four models; the others being two rear-drive coupes, GR86 and GR Supra. So Corolla and Yaris look like a nice little brace of bonkers hatchbacks together.
Best we get the facts and figures laid out for the inevitable "which GR AWD hottie" arguments then. A Corolla is much bigger than a Yaris, so in their GR incarnations the new five-door is 140mm longer in the wheelbase and 160kg heavier, which changes the dynamic character straight away.
READ MORE
In terms of outright performance, the balance swings back with the extra 21kW Toyota has extracted from the three-cylinder engine for Corolla, taking it to 221kW. Yes, from a three-cylinder 1.6! It's all up top, because torque stays the same at 370Nm.
So power-to-weight is very similar between the two and so are the 0-100km/h times: 5.3/5.2sec. You'll notice a slender but consistent advantage for the purebred GR Yaris all-round; no accident, surely.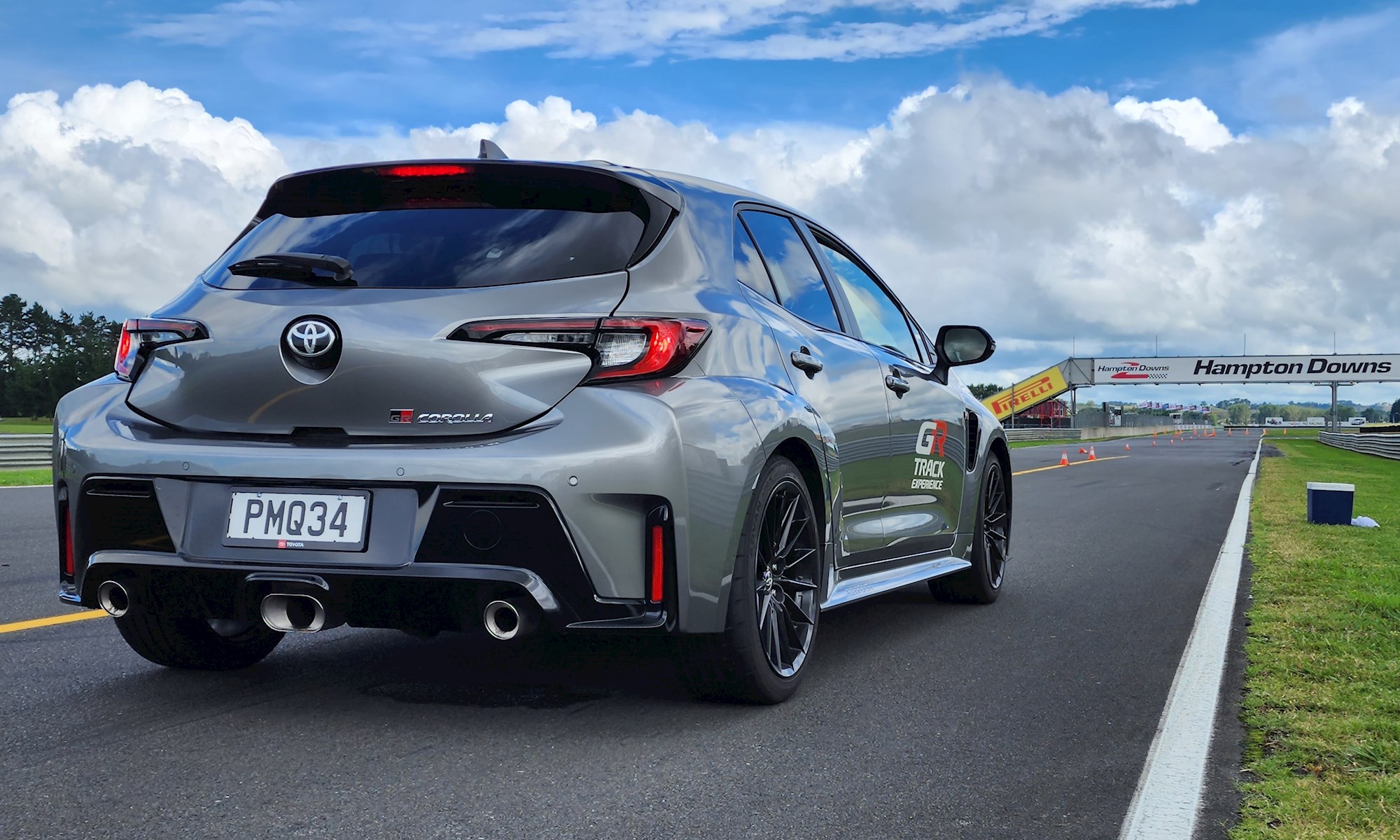 The Corolla has a slightly taller final drive to make it a more relaxed day-to-day machine, and it has drive modes the Yaris doesn't for the same reason: Eco, Normal, Sport and Custom. But it retains the ability to switch to 30/70 or 50/50 torque splits for performance and track driving, just like little brother; although the former is called Sport in Yaris and Rear in Corolla. Same setting though. And same set of Torsen diffs front and rear.
To business, by which I mean DRIVEN gatecrashing a GR owners' day at Hampton Downs and securing the keys to a GR Corolla. An opportunity not to be missed, with the catch that we didn't actually get to drive the car in real life on the road, a place where it should really shine among the GR range. We're getting it back at a later date for a full review; yes, yes, any excuse.
Any thoughts that the larger, heavier Corolla might disappoint on the track compared with Yaris were ill-founded. The high-revving engine, iMT manual gearbox (you still have to activate the rev-match separately) and trick AWD make the GR Corolla a joy on the circuit.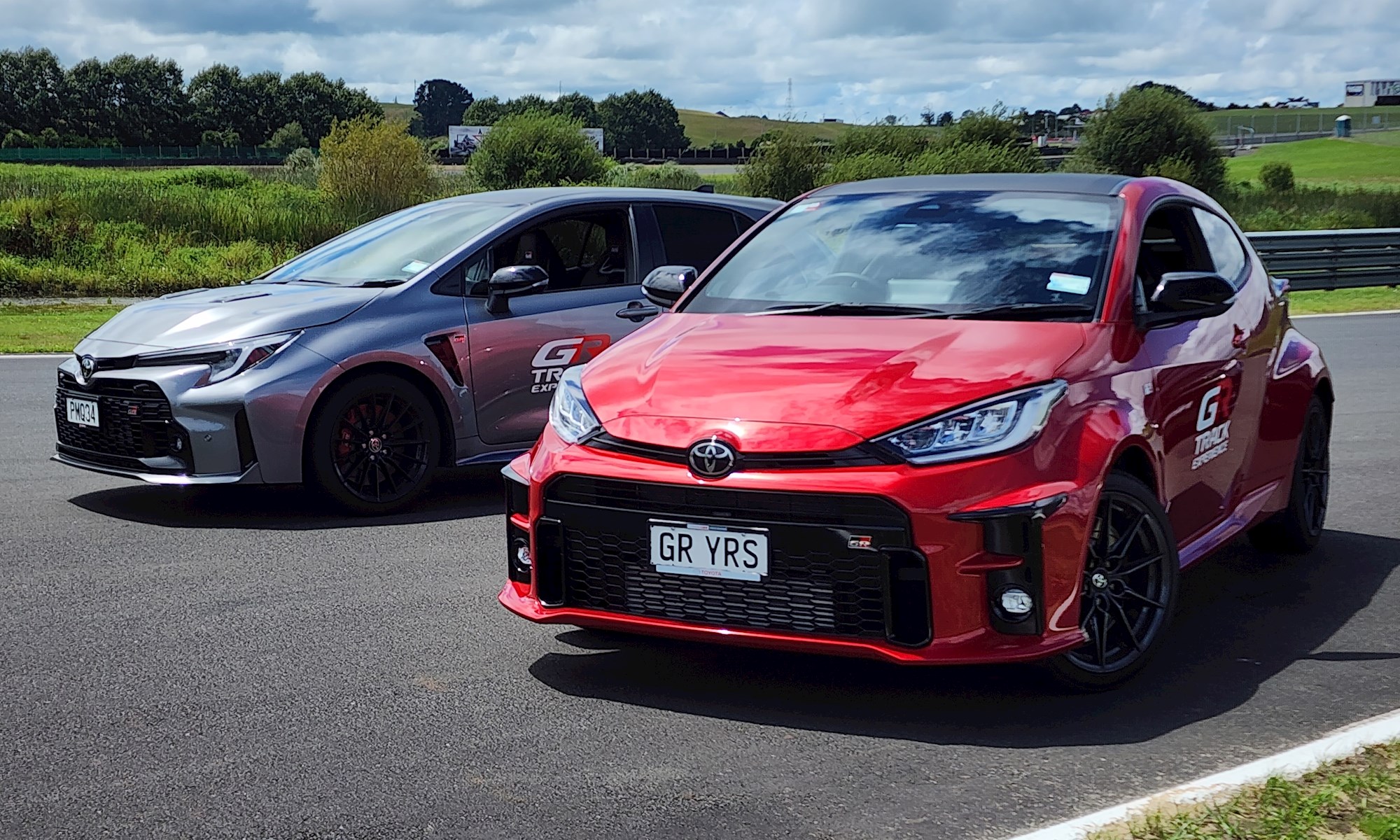 We're pretty familiar with GR Yaris, having driven it on track (this track in fact), on road and even awarding it the supreme prize in AA DRIVEN Car of the Year for 2021. There's no doubt it's a more focused car than the Corolla and it'll remain the GR purists' halo machine.
But the GR Corolla is an exquisitely engineered thing and it absolutely lapped up those… laps. It's arguably more accessible for us modestly talented drivers, with more rubber on the road and a longer wheelbase for superior straight-line stability at high speed.
Not quite as nimble as little brother, sure. But in a timed "GRkhana" set up by Toyota, I was a smidge faster in the Corolla than the Yaris; you could put some of that down to the "sacrificial" (Toyota's words) rubber fitted to the well-used Yaris for the track day and perhaps the faster sections played well with the Corolla's longer gearing, but the point is: this is still one astonishingly dynamic and agile hot hatch.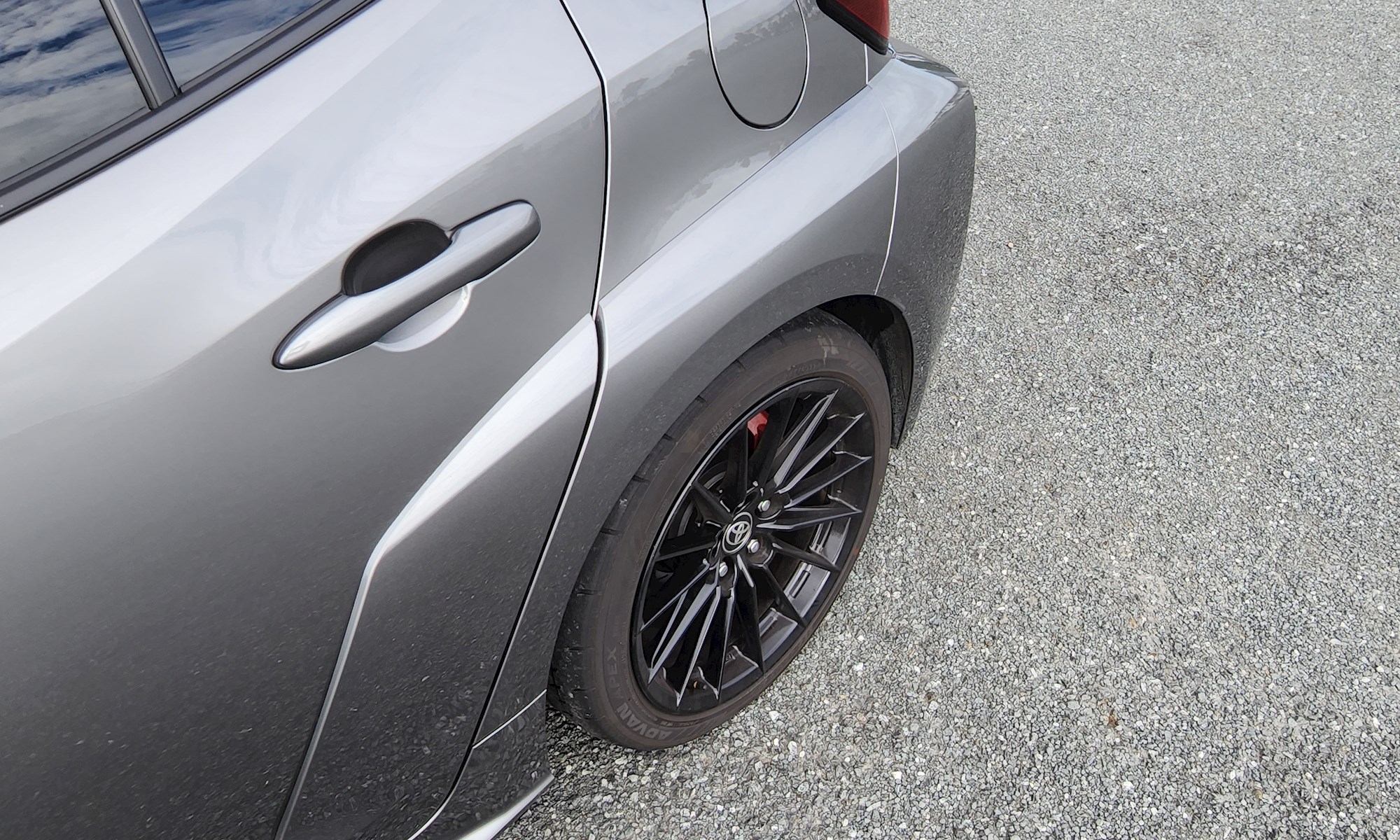 Speaking from my slightly weird heart, I'm also not sure there's anything cooler than a truly hot Toyota Corolla. Or perhaps I've said too much.
Choice might be a moot point between these GRs anyway, because you can't rock up and buy either of 'em. Toyota NZ only has 150 Corollas to sell initially and it's offering them in three separate ballots. The first is already finished, with the next two batches of 50(ish) set for later this year. No firm dates yet, sorry.
You'll need as much or more luck securing a GR Yaris. Visit the website and you'll get a sober message about global allocation and a link to contact your local Toyota Store for expressions of interest. Both these GRs are rare machines, which only increases the appeal.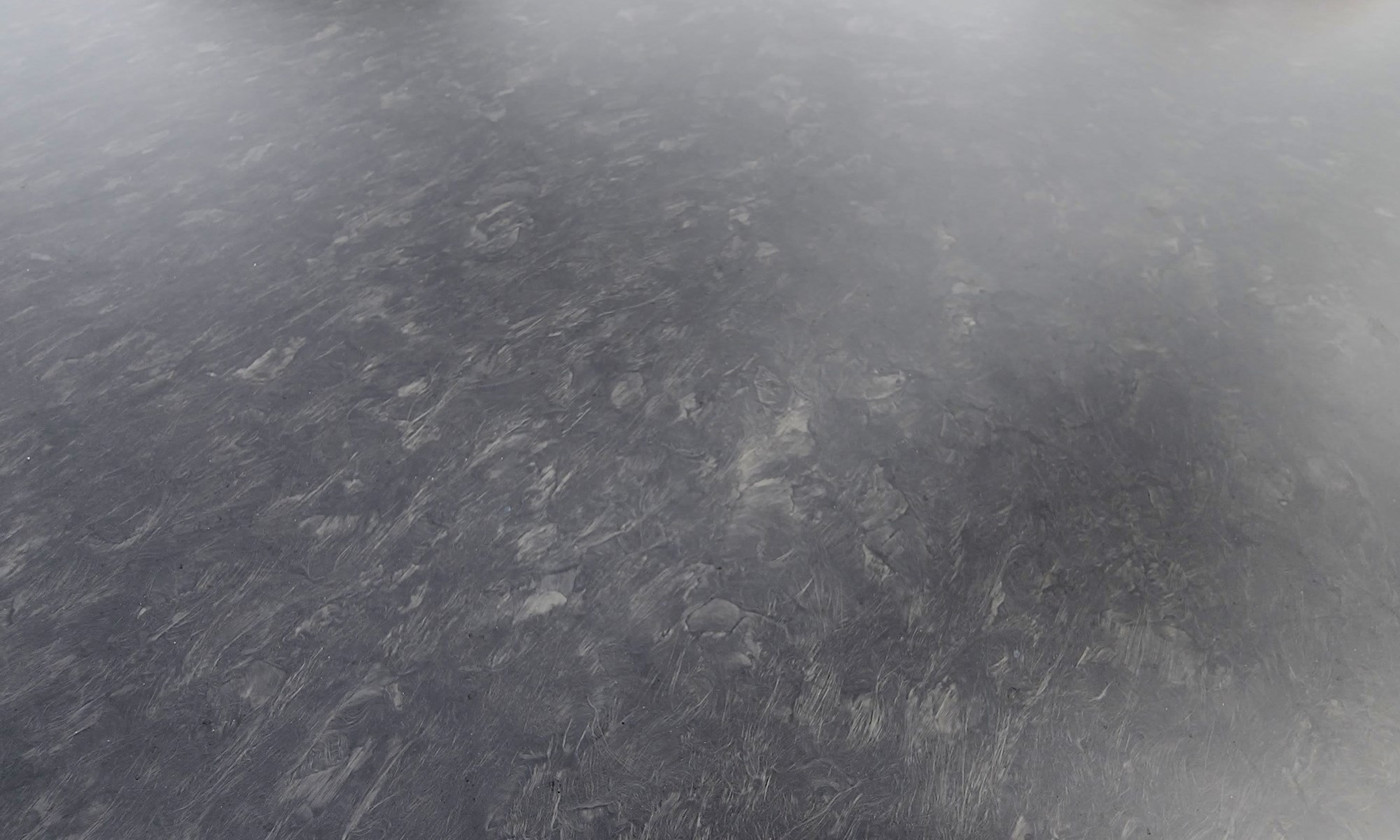 Cars like these are all about the detail and there's small one that might grab you about the GR Corolla. It has a "forged" carbon roof (above) that looks a lot more matte and unfinished than the symmetrical weave we've used to seeing on performance-car parts. The forged stuff is made from a composite paste and has a marbled effect; not quite as light and strong as the flash-looking weave, but easier to produce and form into complex shapes for mass-production.
The GR Yaris has a more polished weave-look roof; but in fact that's an overlay and underneath it's forged, just like the Corolla lid. So there's at least one area where the newcomer is more honest and authentic.
TOYOTA GR COROLLA
ENGINE: 1.6-litre turbo-petrol three-cylinder
POWER: 221kW/370Nm
GEARBOX: 6-speed manual, AWD
CONSUMPTION: 9.4l/100km, CO2 213g/km (3P-WLTP)
PRICE: $74,990