The pure combustion version of Renault's Arkana is an interesting beast; strikingly handsome from some angles and yet slightly awkward from others, engaging and enjoyable to drive on the open road and yet frustratingly difficult to drive smoothly around town, it is a car of contradictions wrapped up in a wallet-pleasing package.
Yes, the RS Line ICE-only model I drove previously is well-equipped, nicely put together and surprisingly roomy and comfortable for the money asked, but the unresolved nature of the drivetrain thanks to a blend of turbo lag and transmission lethargy, and the jerkiness it introduces into day to day commuting let it down. I did wonder if this would irritate me over time, and it turns out it did.
However, there is a hybrid model of the Arkana due very shortly, that should - in theory - paper over the cracks (and turbo lag) of the ICE model with a naturally-aspirated 1.6-litre petrol engine, a pair of electric motors and clever transmission that ties them all together. And we got to try it out for a few weeks in advance of its local launch.
While the Arkana E-Tech hybrid we got our hands on isn't representative of the final local spec (it's one of only a handful of evaluation cars Renault has brought into the country so far), the powertrain technology is the same.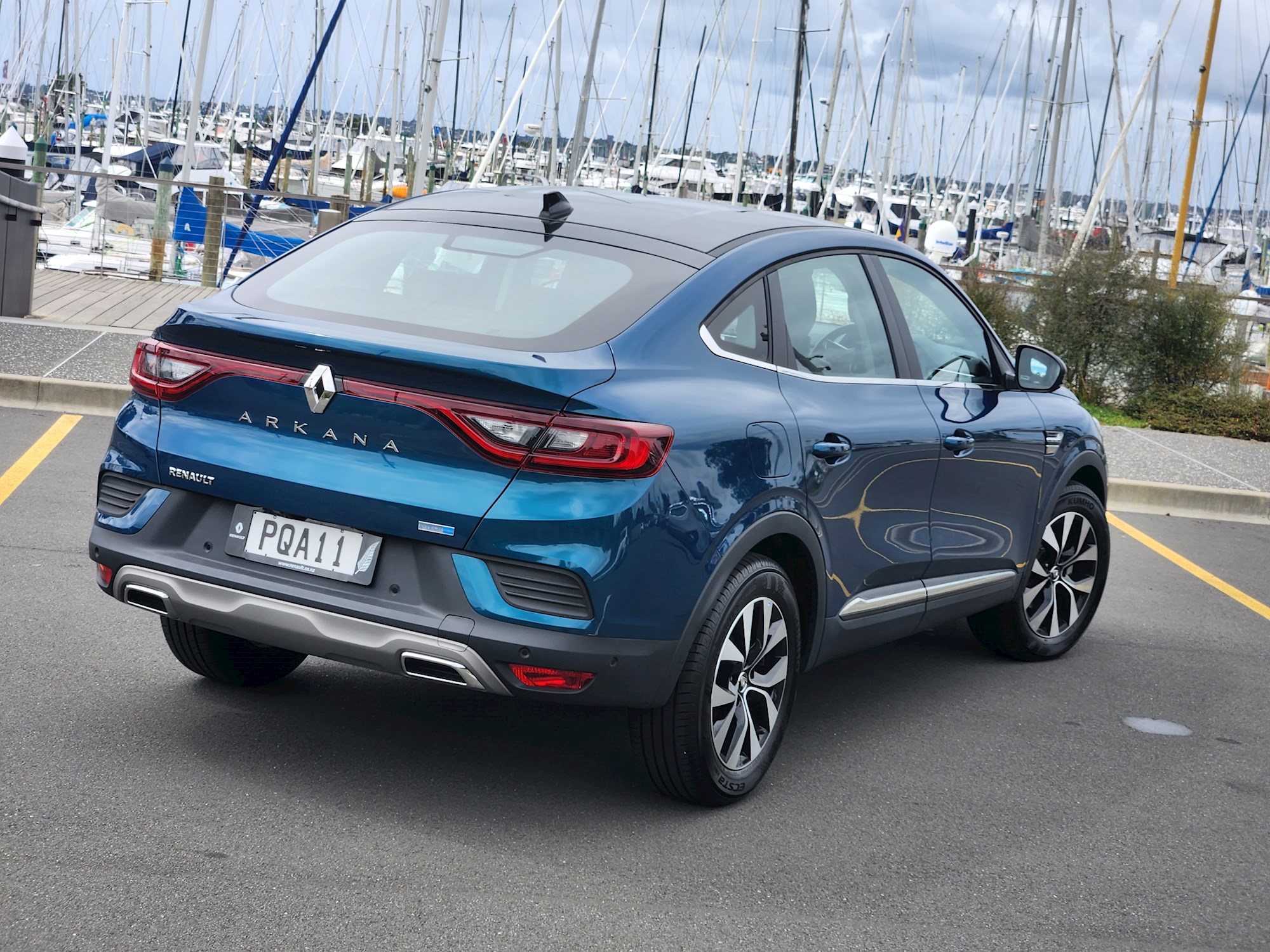 As mentioned, the Arkana's hybrid powertrain makes use of a 1.6-litre naturally-aspirated four-cylinder engine and two electric motors. Both the electric motors and the petrol engine are connected directly to the "multimode" automatic transmission, which is the fascinating heart of Renault's E-Tech hybrid system.
In very basic terms, the transmission uses a racing style "dog clutch", which is a simpler, lighter and more robust form of shifter that connects two rotating shafts by using interlocking teeth (or "dogs") instead of the friction plate used in a traditional manual transmission or the torque converter in a traditional automatic transmission.
Dog clutches are extremely strong, simple and more fuel efficient than other types of clutch due to the lack of friction involved in their operation, but this lack of friction also means there isn't anything to mask the shock of gear shifts, making them more suitable for use where refinement isn't really necessary, such as racing cars and heavy trucks. But we do expect our road cars to be a bit more refined than either of those things.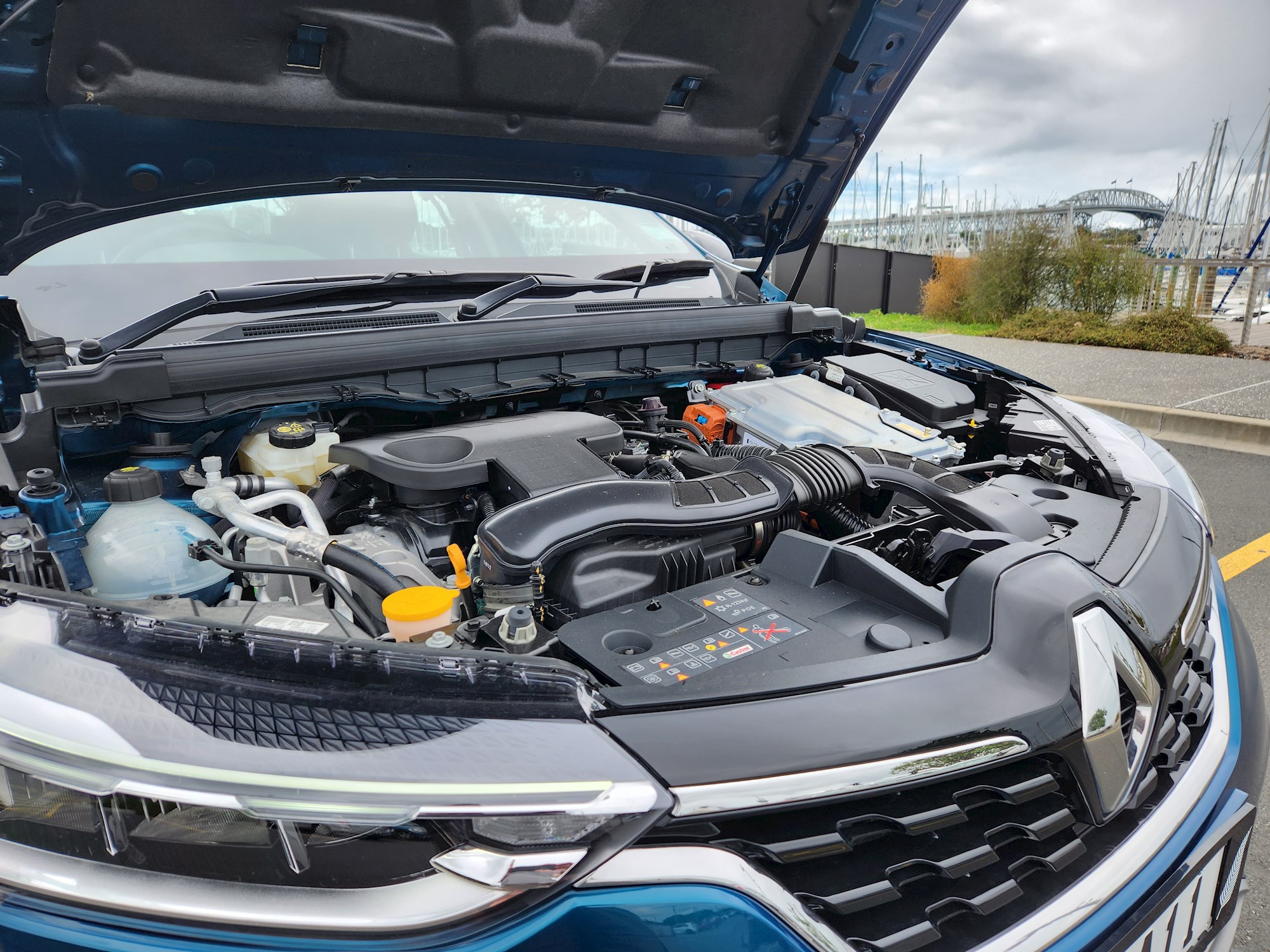 This is where Renault's engineers got rather clever and came up with the idea of using an electric motor to control flywheel speed to smooth out gear engagement, enabling them to build a simpler, lighter and smaller transmission that allows for numerous ways to transmit power to the wheels or charge the small 1.2kWh battery, whether it be from the electric motors, petrol engine or both.
Because the gearbox is only there to keep the petrol engine operating in its most efficient range, there are only four gears used for the ICE engine, while the electric motor uses two and can also be entirely disconnected from drive duties when necessary, increasing efficiency. And because the there is no traditional friction clutch, the E-Tech system always moves off on the electric motor and doesn't have a reverse gear, as this is also handled by the electric motor.
There's a lot more to it than that, but let's just keep things simple...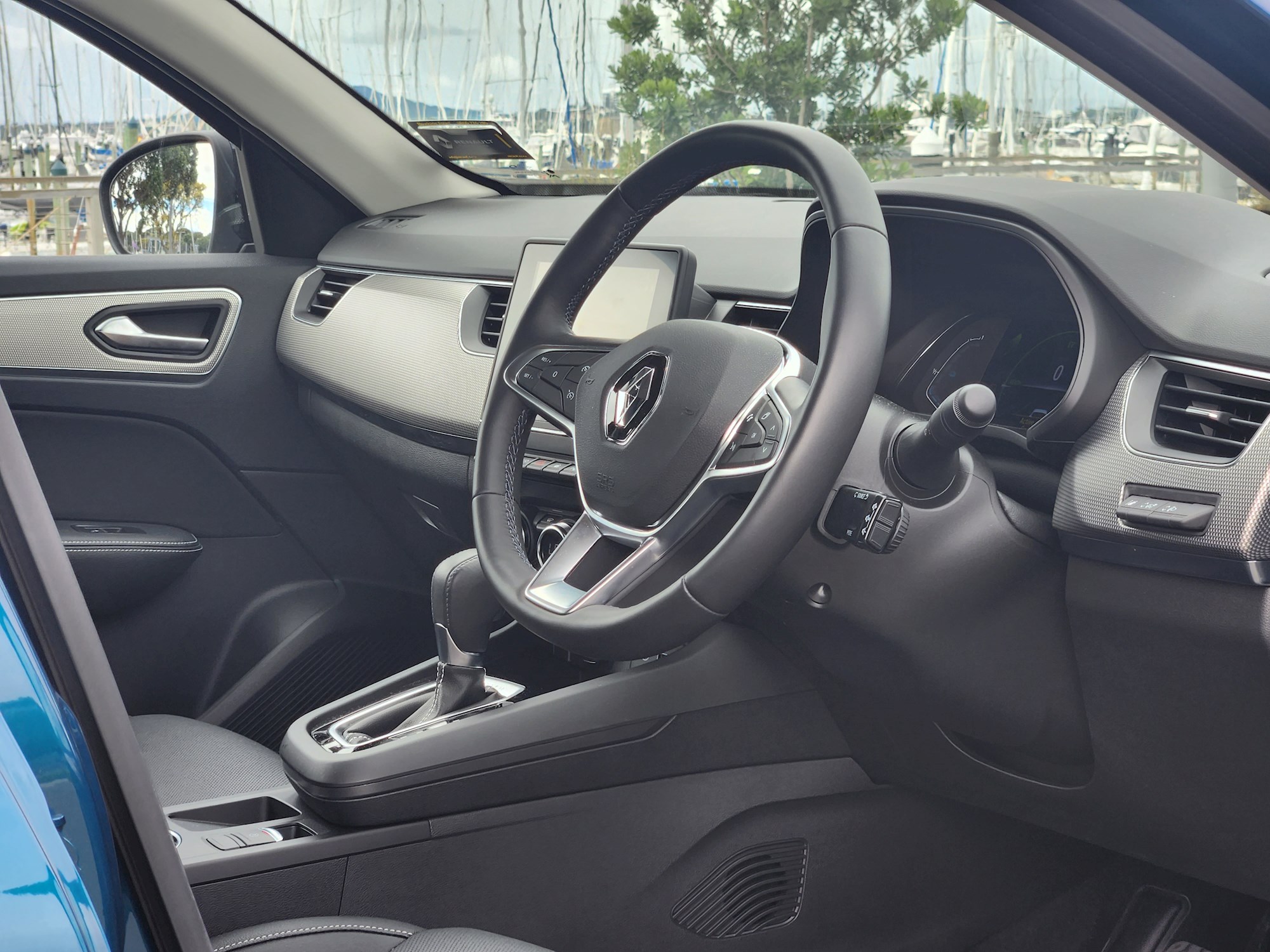 But even better than all that; there's a Lego connection in there as well! Renault's Hybrid Architecture expert, Nicolas Fremau, came up with the idea for the transmission while watching his son play with Lego, and even used Lego to build a prototype to take to his boss, who confidently stated that "if we can make it in Lego, it will work".
Speaking as someone who put together a Land Cruiser Defender Lego Technic model complete with a working transmission and managed to make it most definitely NOT work, I am not sure I entirely agree with Fremau's boss on that, however it seems he was very much correct in this case, as the Arkana E-Tech simply works. And works better than the ICE-only models too.
Out on the open road the ICE-only Arkana RS Line was something of an unexpected delight, with its 1.3-litre turbo engine and dual clutch transmission coming together nicely, avoiding the turbo lag and sluggish gear shifts around town, and once it was up and running at speed, possessed a good dose mid-range grunt and super-slick gear shifts, while the chassis had a wonderfully lithe and agile attitude through the corners.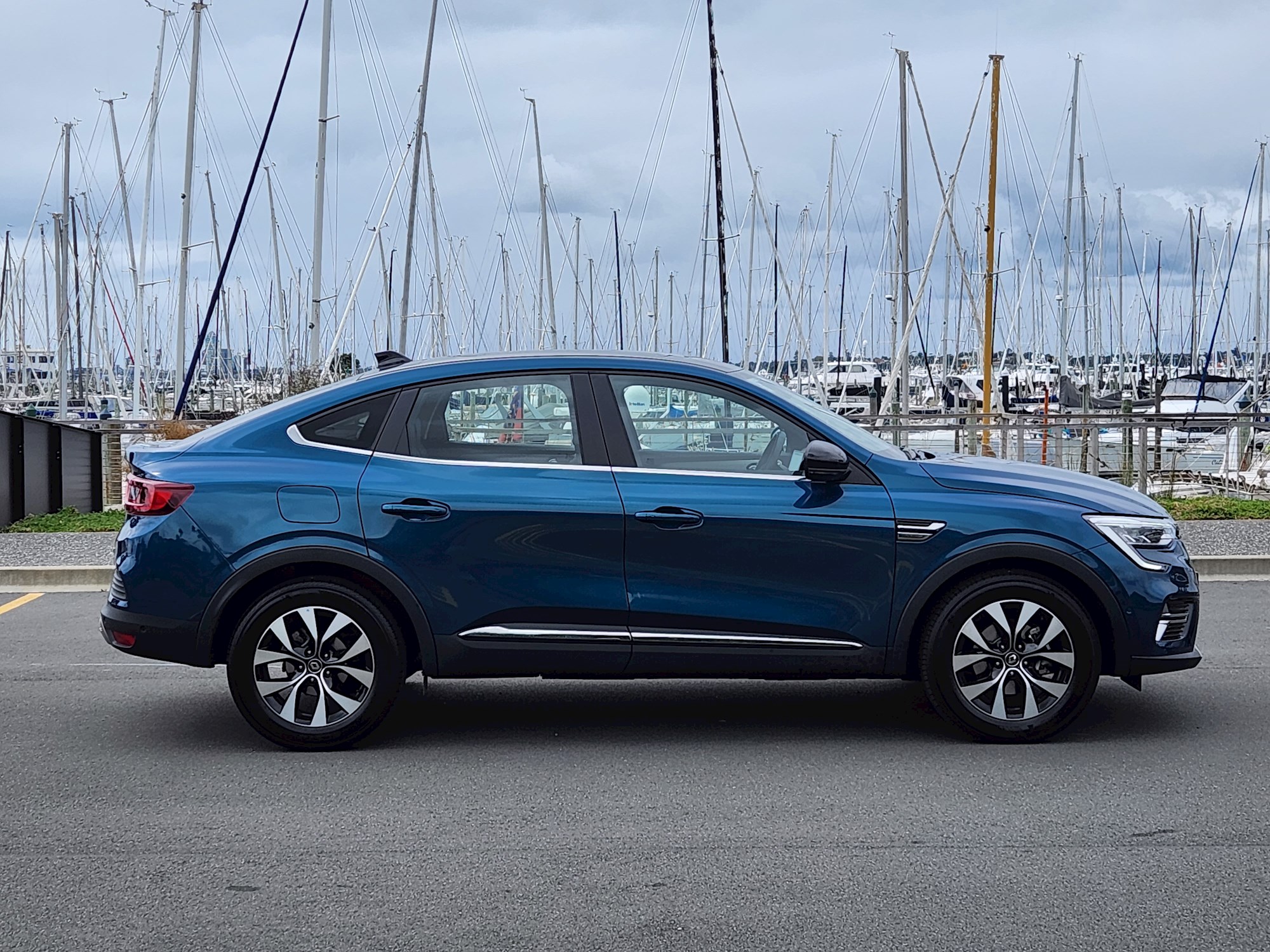 And so it remains with the hybrid as well, with the same impressively agile and responsive nature despite the extra weight of the hybrid technology. The steering is equally responsive and accurate, and while the engine isn't quite so eager to rev as the smaller turbo unit in the ICE-only RS Line, the electric motor does take up a lot of the slack in that regard, so the punch out of corners is still satisfying.
While the ICE-only Arkana's biggest drawback is the powertrain's clunky, abrupt nature at low speeds, the hybrid version fixes that and is certainly extremely smooth off the line and at low speeds around town when operating on battery power alone. When the petrol engine does kick in, it is also smooth in its operation, but can often be harsh sounding, particularly when it is cold.
Renault claims a combined fuel consumption of 4.6L/100km for the hybrid, and for our time with it - depending on who drove it and how - it varied between 3.9L/100km (around town commuting, mainly on the electric motor) and 7.2L/100km (a blend of open road driving and and a heavier foot on the commute), which probably puts it about right. However it also highlighted that the Arkana E-Tech's ability to be a frugal fuel-miser really does depend on how you drive it, more so than the likes of a Toyota hybrid.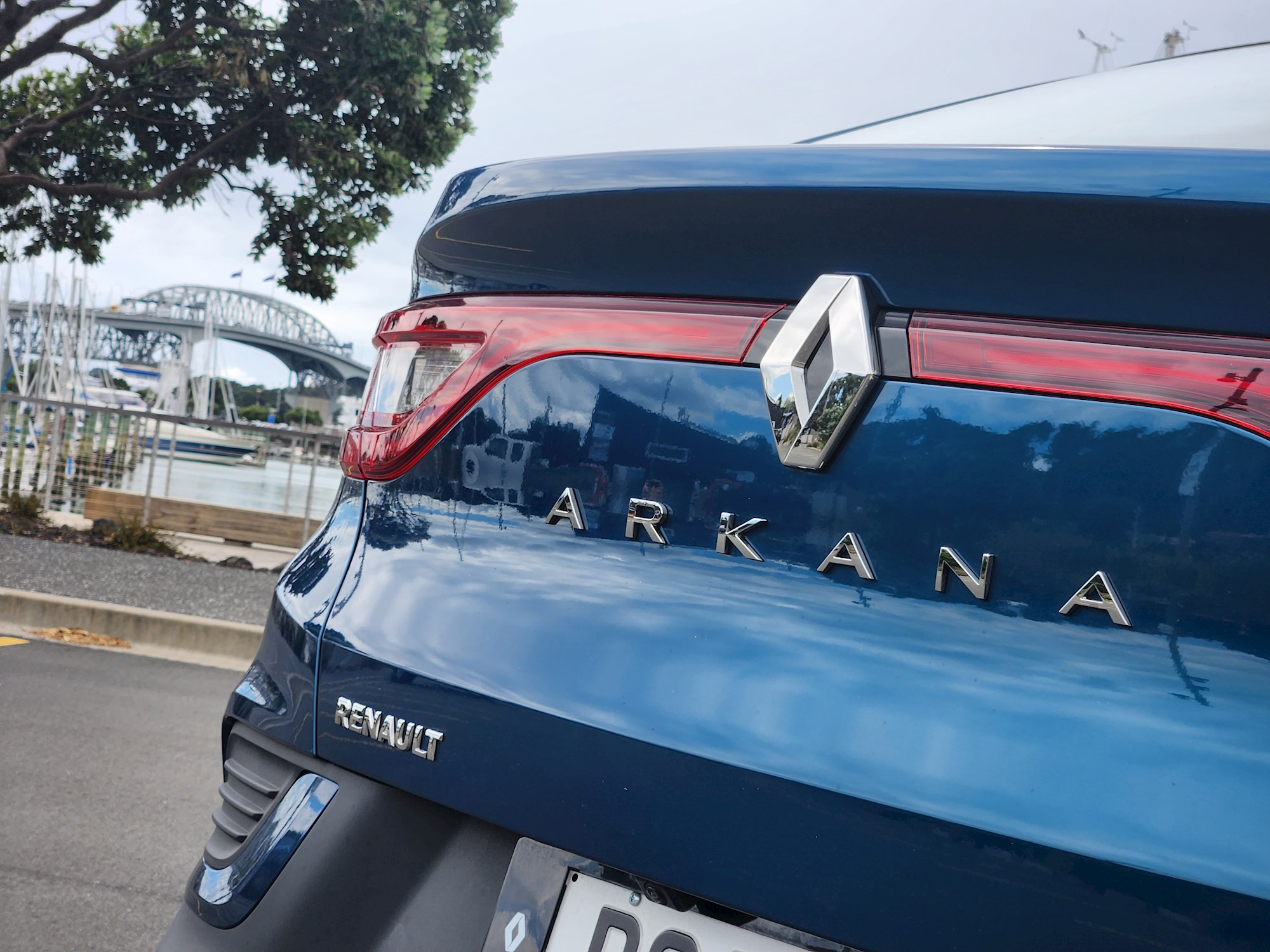 Hitting the button marked "EV" on the dash will make it stay solely reliant on the battery alone for longer (otherwise it will fire up the engine at around 40km/h in straight hybrid mode), but this depends on a number of parameters, not all of which are immediately clear to the driver (it just flashes up a generic "EV unavailable" message). Still, driven sensibly and with a decent mix of urban and open road motoring, you should be able to get close the WLTP figure at least.
While Renault's trick transmission is a very clever set up, in operation it can be occasionally clunky, something amplified by the engine's slightly coarse edge when up in the revs. It's nothing awful, just not as slickly smooth as Toyota's CVT hybrid set up or Kia's latest dual clutch set up in the Niro.
Of course, how much small niggles like this matter will depend squarely on how much Renault will sell the Arkana E-Tech for when it arrives here later this year. The Arkana range starts at $39,990 for the entry level Zen and rises to $49,990 for the RS Line (although Renault NZ's website says that is RRP and also lists a "recommended sale price" of $34,990 to $45,990). A lower spec version of the hybrid at around the same price as the RS Line could be a convincing package indeed.
RENAULT ARKANA E-TECH HYBRID
ENGINE: 1.6-litre petrol four with dual motor/1.2kWh battery hybrid system
POWER: 103kW/148Nm (plus 250Nm from the electric motor)
GEARBOX: 6-speed automatic FWD
0-100KM/H: 10.8 seconds
CONSUMPTION: 4.6l/100km
PRICES: TBA