Here's something you may not have realised: you can buy a brand new Morgan in New Zealand right now.
Yes, really, the iconic UK brand is officially available in New Zealand, and has been for 18 months, with Morgan Motors New Zealand even having a showroom in Auckland.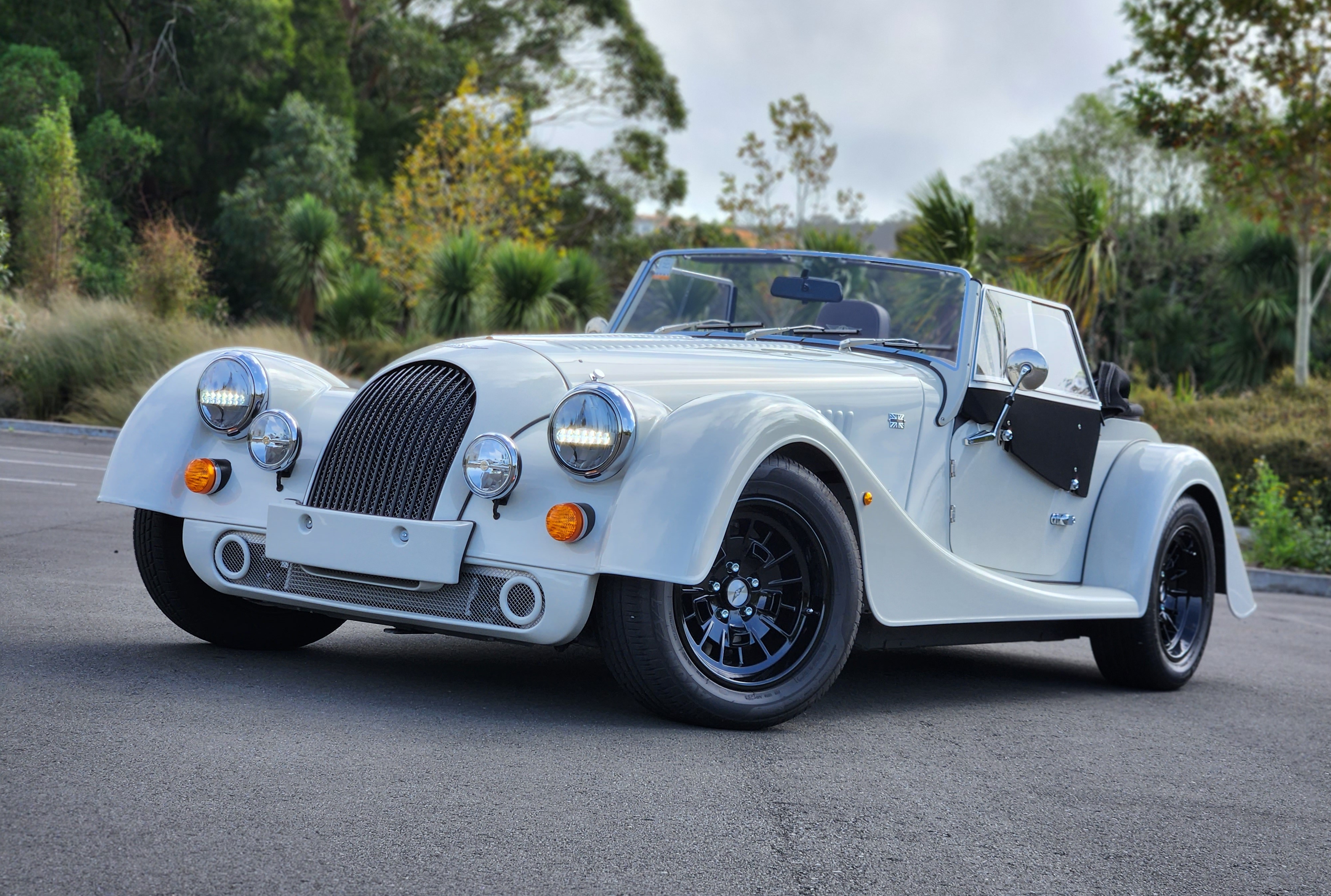 Todd Pearce, the man behind it all, says it took him two years to get factory approval to set up the operation here and, aside from a "rest of the world" charge of £1800 plus freight and insurance, Kiwi Morgan buyers pay the same as UK buyers, subject to exchange rates, of course.
That means the Plus Four you see here starts at NZ$145,000 which, while quite a decent amount of money, is actually something of a bargain for what is essentially a hand-built brand new car. Then there are,of course, a bewildering array of personalisation and options boxes that you can tick on top of that too.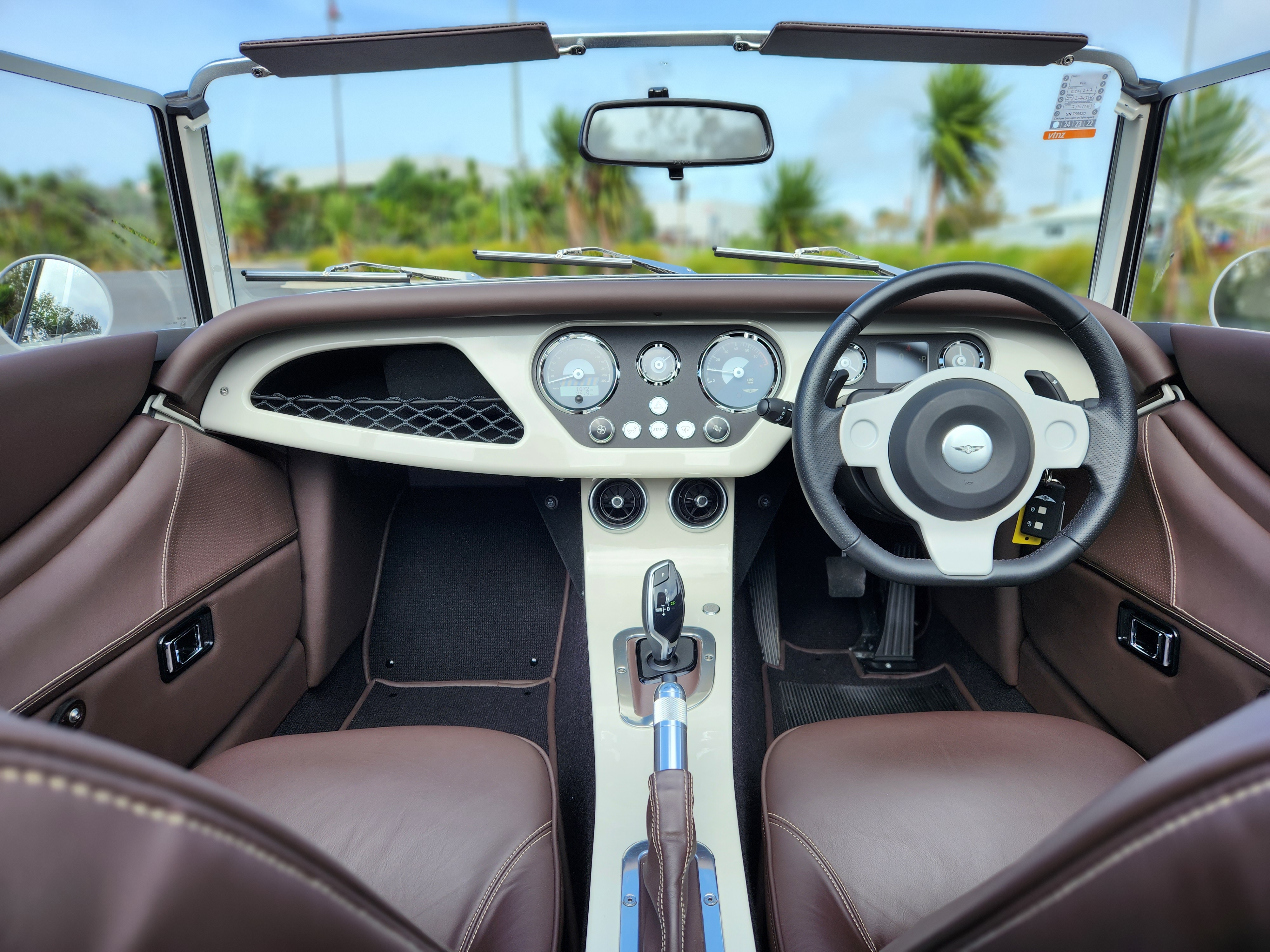 The phrase "no, no - it really is brand new" is something you have to get used to saying when you drive a Morgan because, looking at the new Plus Four, you could be forgiven for thinking it could have been built almost literally any time in the last 100 years.
But here's the thing: the new Plus Four really is rather new indeed: a brand new bonded aluminium platform was introduced under the Plus Six in 2019, which was adopted by the Plus Four in 2020, replacing the old steel ladder chassis set up. Gone is the Ford engine used in the old Plus 4 (or +4, Morgan has updated to full words for the new model as well) and in its place are BMW units - a 250kW 3.0-litre twin-turbo straight six in the Plus Six and a 190kW 2.0-litre turbo four-cylinder in the Plus Four.
The BWM four comes as a package complete with all the engine electronics, prop shaft, driveshafts and rear differential, while leaf springs and live axles have been replaced with coilover dampers and double wishbones. Hell, there's even a Bluetooth audio system complete with a discreet volume knob hidden under the dash and a digital dash display.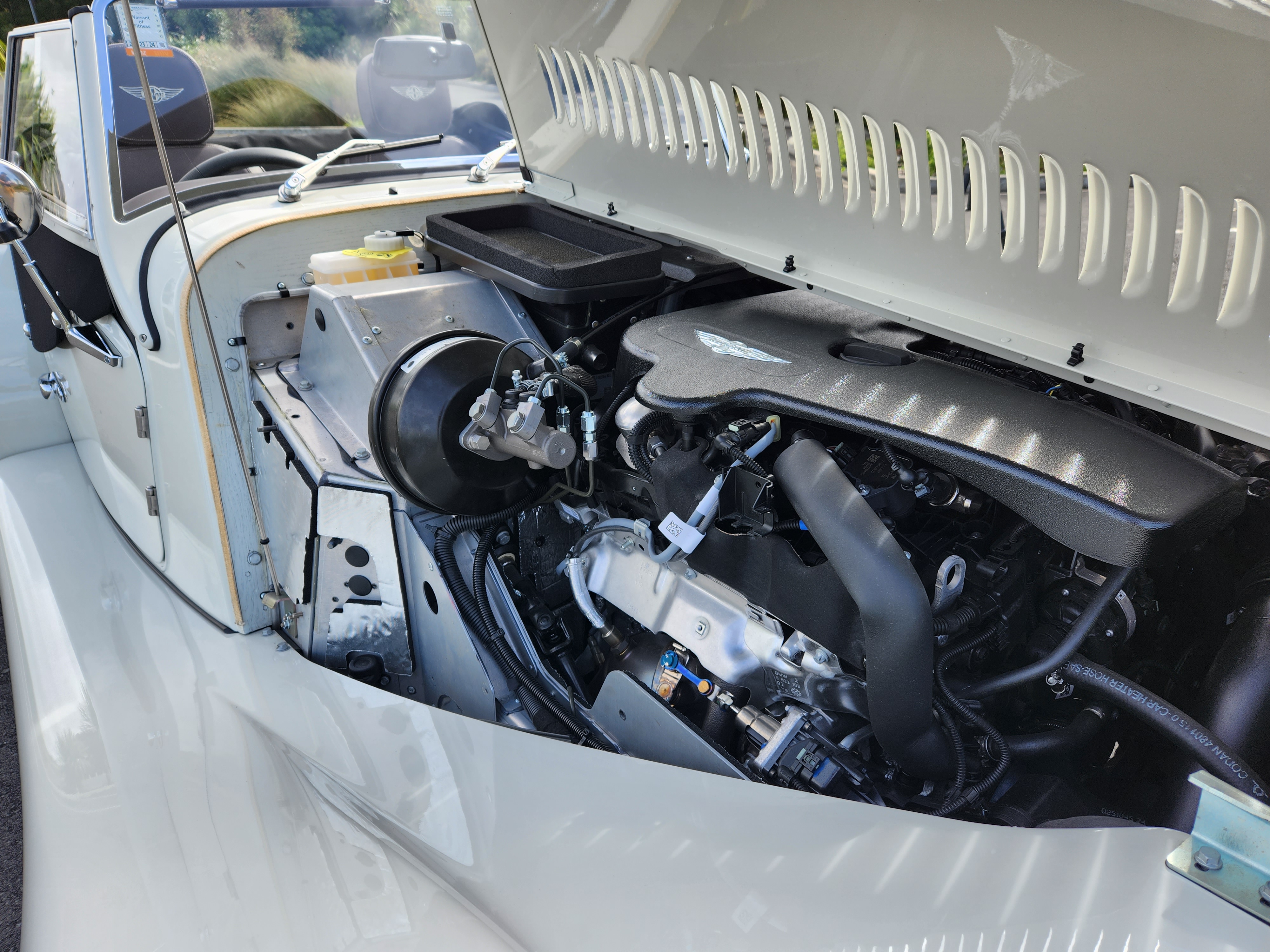 There is also an 8-speed ZF automatic transmission as part of the BMW deal, although the Plus Four (unlike the Plus Six) can be had with a six-speed manual as well, although you lose 50Nm of torque with the manual shifter.
Before you start bemoaning the loss of heritage and oppressive encroachment of "wokeness" stripping the Plus Four of its character with all this modern silliness, you need to realise that while this is a surprisingly modern version of a truly classic car, it is also still very traditional where it counts - the Plus Four is still essentially hand-built at Morgan's factory in Worcestershire, England, and very much still uses a wooden body frame; Morgan firmly holds that ash is the ideal structure to affix its aluminium body panels to and, in fact, more ash then ever before is used in the current Plus Four's construction.
Another area where the Plus Four is very traditional is in the way it drives - while any ladder chassis/leaf spring-related antics are long gone, the Plus Four is still a visceral and purely tactile experience like few other modern cars.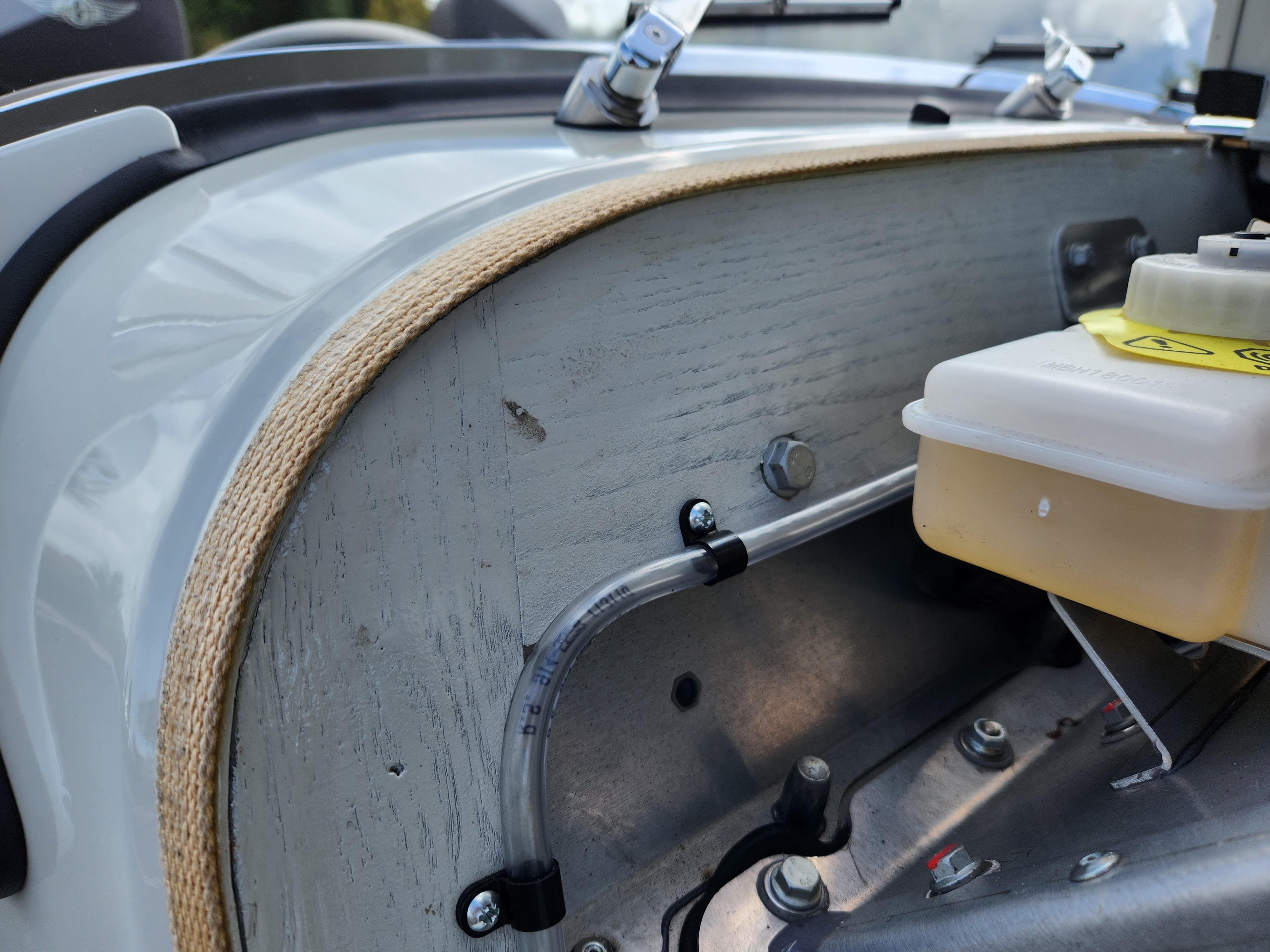 Whether it be charging down a winding back country road or pottering around town soaking up all the attention you get driving it, the Plus Four feels fantastically alive. The ride is impressively compliant - in a proper 'sports car' sense, that is: it's still quite firm, just never uncomfortable or harsh - while the chassis feels delightfully agile and superbly responsive.
The steering feels a little odd at first, with a slight deadness just off centre at low speeds, but increasing familiarity as well as increasing speeds reveal a wonderfully sharp and communicative set up, with lightning quick response and fantastic feedback.
In fact, the whole car simply bristles with communicative feedback, telegraphing everything that is going on under it through the steering wheel and your backside, making it a thoroughly involving experience to drive quickly. The rear end feels impressively planted and confident through corners at speed and, even if you do get a bit over-enthusiastic, it loosens its grip in such a progressive and predictable way that it easy to keep ahead of.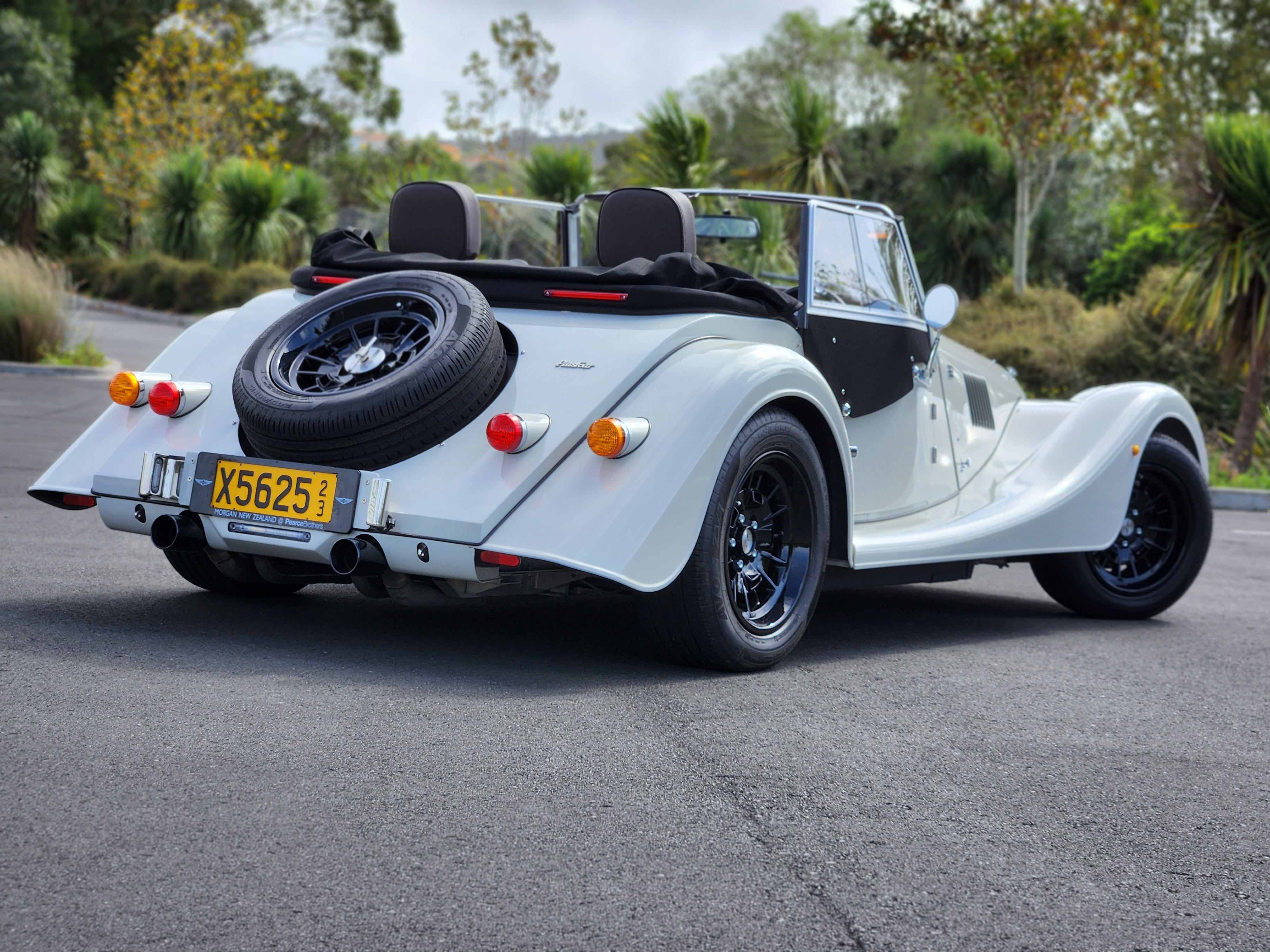 Which is a very good thing indeed, as the Plus Four is also very traditional in terms of driver aids and chassis electronics. In that it literally doesn't have any.
There is no stability or traction control here (Morgans slip in as "specialist vehicles", not requiring them to have such frivolous things), meaning that you get an incredibly pure and totally unimpeded driving experience, but you also have to be very aware of what your right foot is doing. And in the wet, you need to very much keep in mind when the engine will come on boost. At pretty much any speed...
And let's just talk about that engine for a bit, as when I first heard that the Plus Four would be using a BMW four-cylinder I thought "Oh... that's a bit of a shame". Not in any performance sense, mind you, as the B48 TwinPower four is a fantastically flexible and powerful thing, it's just that it is not exactly the most characterful engine out there.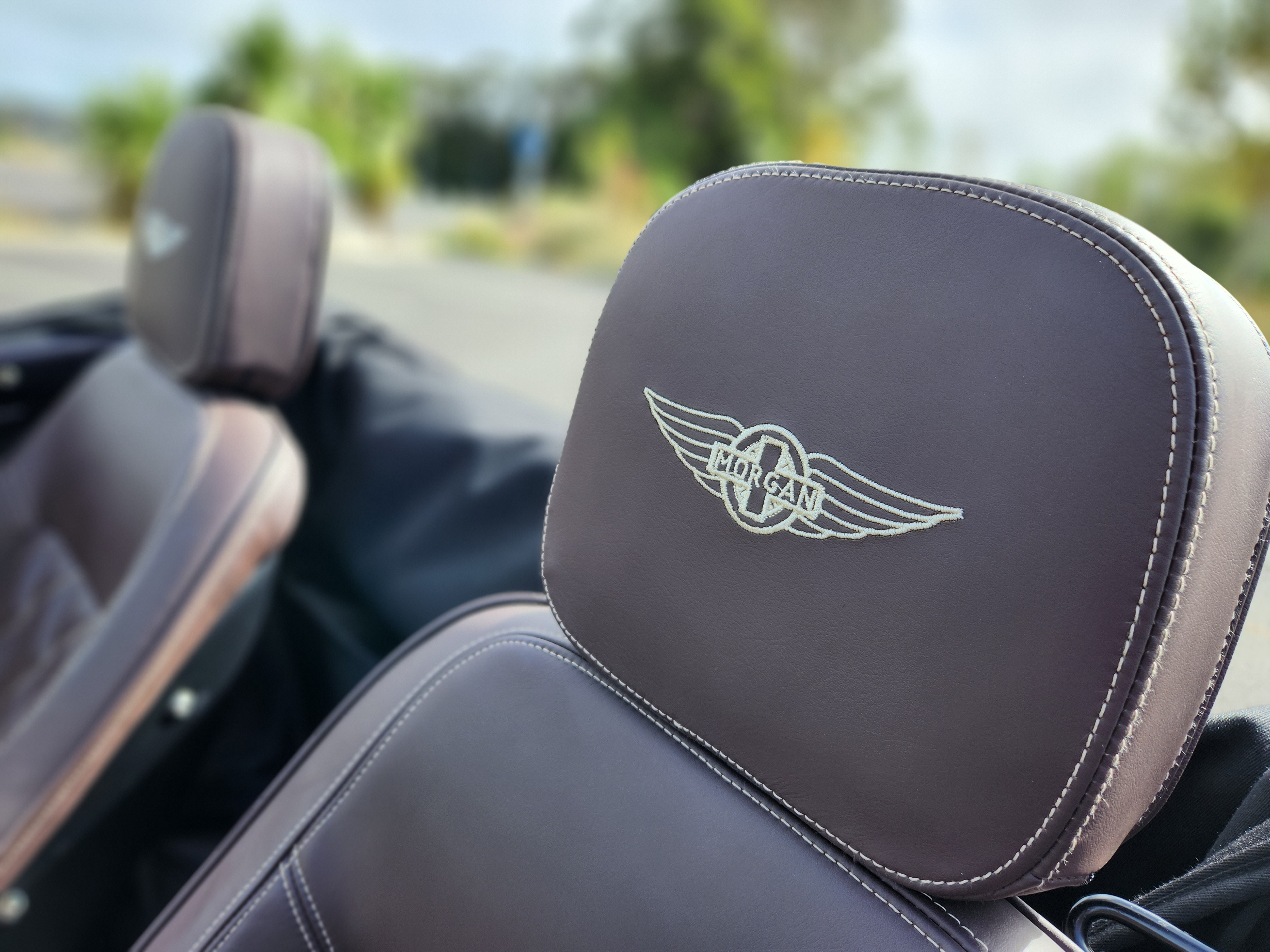 But Morgan has certainly taken care of that particular concern, transforming the B48 from a strong performing, but largely uninteresting-sounding engine in the likes of a BMW 3 Series or Mini, into a roaring, snorting beast of a thing in the Plus Four. Dramatic induction noise and a beefy, angry exhaust note keep things interesting in normal mode (that's right - the Plus Four gets drive modes too!), with the addition of a nice array of bangs and pops on the overrun when you slip the gear shifter across into Sport.
Hit the lovely aluminium Sport Plus button next to the gear selector, however, and the bangs and pops turn into something more akin to a volley of artillery fire, and the exhaust note goes from 'assertive' to 'wild bear fighting a pack of wolves' as pedestrians run for cover to avoid all the wolves and bears and falling bombs.
The Plus Four only weighs around 1000kg, so 190kW is what you would describe as "easily more than enough" power (the Plus Six's 250kW sounds frankly terrifying...) and is more than enough to propel the Plus Four to the open road speed limit in 4.8 seconds. But it is arguably the lovely meaty chunk of torque that punches you out of corners in the mid and upper areas of the rev range that is the biggest delight of them all, combining beautifully with the delicately agile chassis for a truly memorable driving experience.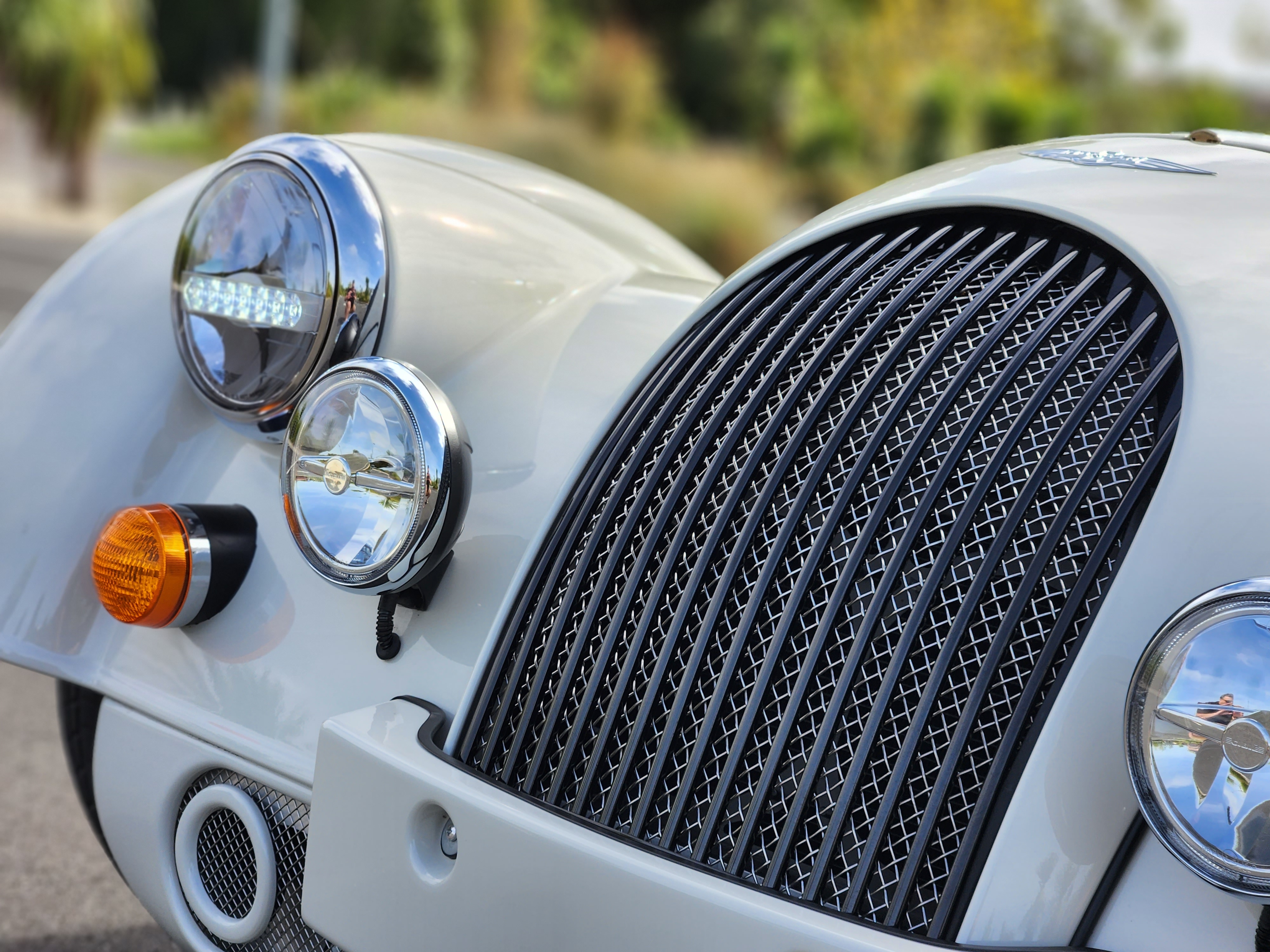 Are there downsides to the Plus Four?
Oh yes, quite a few. But they are mere niggles compared to the sublime driving experience on offer. I mean, the BMW automatic gear selector looks as weirdly out of place in the Morgan's coolly retro-modern interior as it does in the Ineos Grenadier (although the aluminium shift paddles attached to the steering column are sublime), and who really needs actual water tightness when it comes to roofs anyway?
A boot is just something other cars have and windscreen wipers that clear off all the water are just for the cowards who complain about the windows letting the rain in, and if you think the sound quality from the $750 optional Bluetooth audio system is crap, then it serves you right for ordering that option in an open-top two-seater sports car anyway. Besides, you would be far better putting that money towards the optional air conditioning because, while the Plus Four IS an open top car, it does get rather hot with the top up, even on a cold day...
But literally none of that matters when you drop the top on a sunny day and blast the Plus Four along a twisting country road. Hell, the superb engine and slick transmission mean that it is every bit as easy to live with around town as a BMW or Mini, and the interior is actually surprisingly roomy for such a small thing. It is quite a bit lower to hop in and out of, though, so if you are prone to making old man noises like I do with such effort, then you will have to get as used to that as you will to saying "no, no - it really is brand new..."
MORGAN PLUS FOUR
ENGINE: 2.0-litre turbo petrol four-cylinder
POWER: 190kW/400Nm
GEARBOX: 8-speed automatic, RWD
0-100KM/H: 4.8
CONSUMPTION: n/a
PRICE: starts at $145,000