After a long wait (but not as long as it could have been...) the much-anticipated Ford Mustang Mach-E has arrived on New Zealand shores to spearhead the company's charge (sorry) into electrification.
While the ICE faithful will cry that "It's not a proper Mustang" because it A) doesn't have a V8 and/or B) is an SUV, that really doesn't matter in the slightest. After all, Ford can call it whatever the hell it wants to call it - what actually matters is whether or not it is a good car.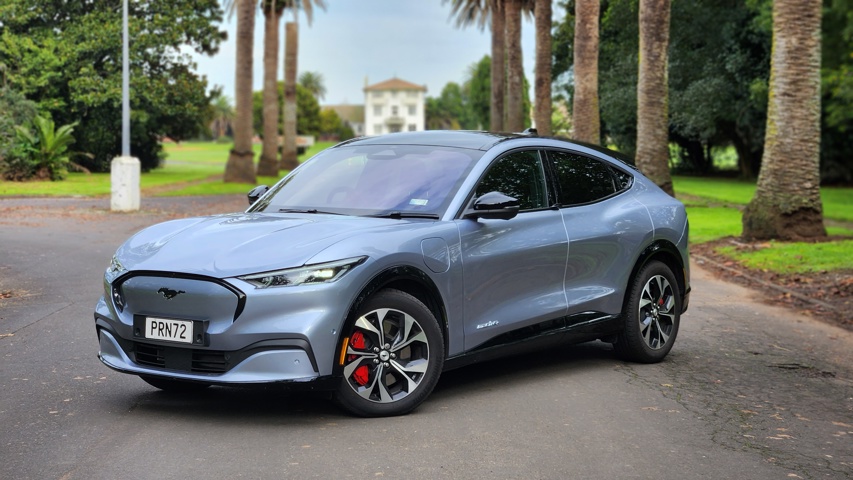 And after a launch event that saw us get plenty of time behind the wheel of several Mach-E's both on the rural roads south of Auckland and on a race track, I can say that, yeah, it is pretty damn good indeed.
While "first drive" articles are more about that car's features, pricing and an initial impression - with the deeper driving impressions left for when we get the car for a longer time for a more in-depth road test - there are some cars that just punch hard enough to make a particularly strong initial impression.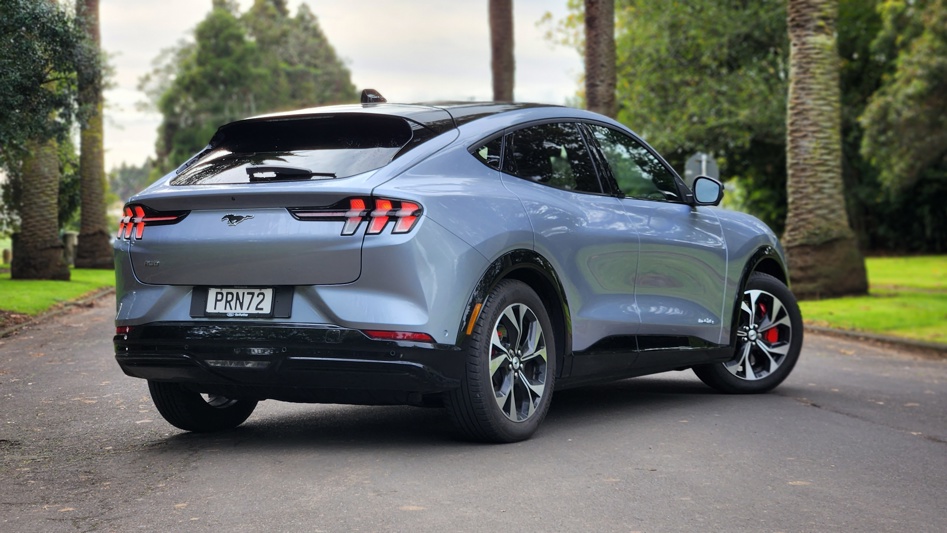 The Ford Mustang Mach-E is one of those cars.
Now, I'm not talking about things like styling or build quality (the former is subjective, to say the least, while the latter is exceptionally good), I am simply talking about how it drives.
And after years of driving EVs that go very fast in a straight line, are delightfully silent and refined, or are impressively luxurious, and all impress in their own way, yet lack much in the way of driving character, the Mustang is a massive breath of fresh air - in that it is an EV that is fantastically fun to throw around a corner.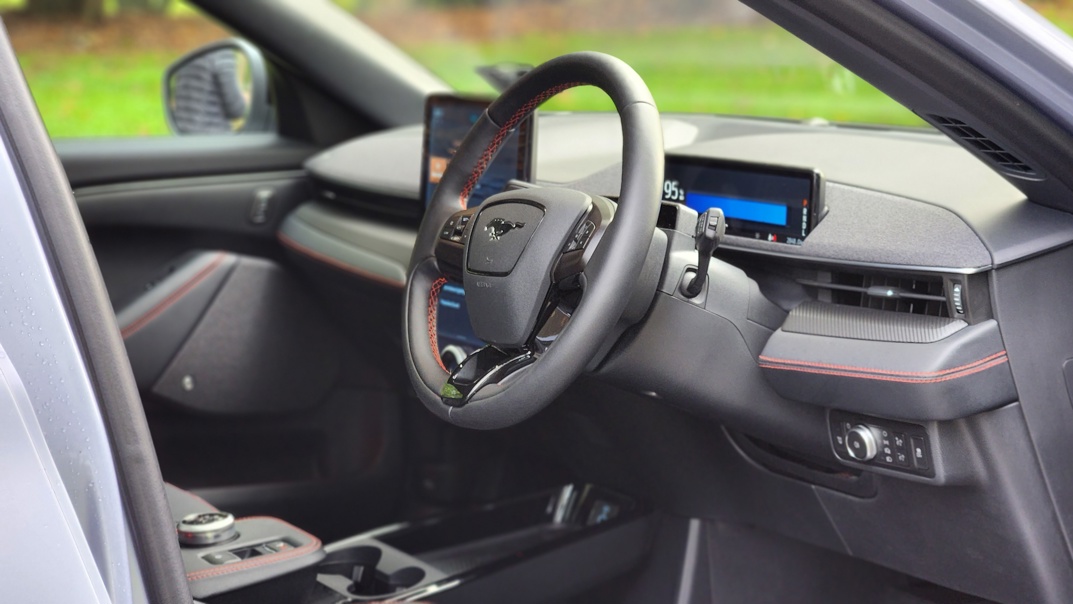 While some earlier EVs like the Jaguar I-Pace and BMW i3 were actually fun to drive, much of their kind since have been rather sterile in terms of driver' engagement. Sure, things like the Tesla Model 3 Performance and Kia EV6 GT have utterly epic straight line performance, the actual joy you get smashing them down a winding road is limited. And just forget about enjoying things at a track day... for that you have to spend the big money and get a Porsche Taycan or Audi e-tron GT.
But the Mach-E changes that equation by being massively engaging, either on or off the track.
On the open road it offers up an impressively refined ride and sharp, accurate steering with decent communication, and fantastically sharp turn-in. A distinct rear-drive bias is present on the AWD versions, giving the Mach-E a distinctly American feel.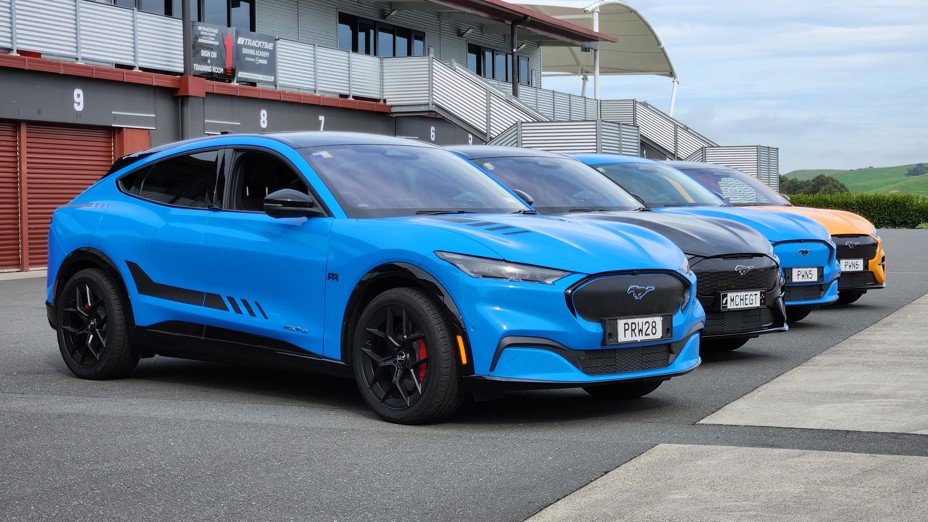 On the track, however, that rear end really comes into its own, with the AWD GT in particular being a fantastically enthusiastic tail-wagger. The standard AWD car isn't as powerful, but is still a fantastic steer and also packs a similar rear-bias attitude.
The thing that both AWD variants share (we didn't get to drive the RWD model at the launch) with their namesake ICE-powered Mustang coupe, is a superb controllability of the rear end - go in hot, hammer the brakes and then power it out again and the rear will effortlessly and predictably break loose. Keep the throttle on and it will swing wider, or tail it off and it will step obediently back into line.
Away from the track, the Mach-E is supremely quiet, with hardly any wind noise and only minimal tyre roar from our coarse chip seal roads making it into the cabin which, by the way, is probably one of the best Ford has done in recent memory.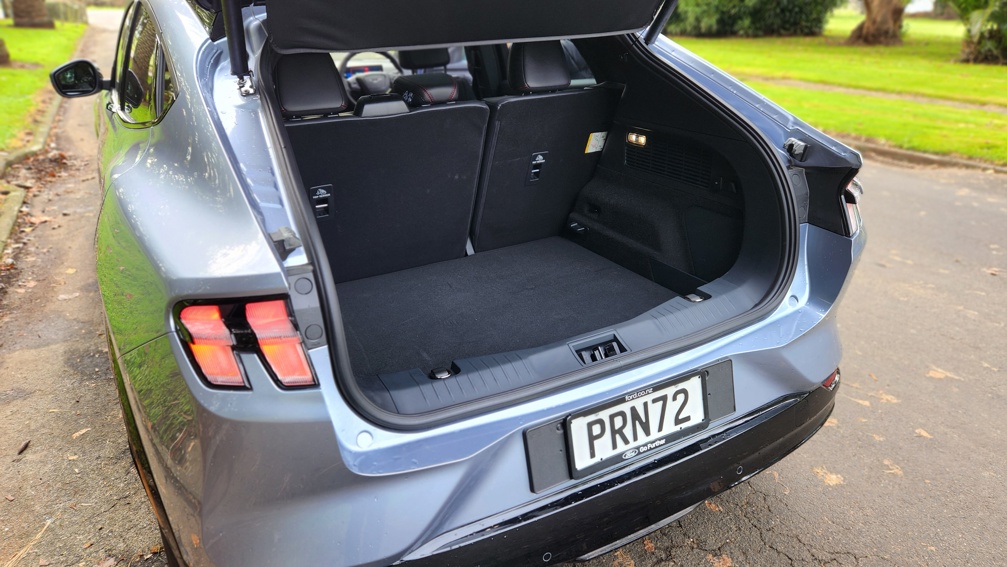 Again, while styling is subjective, the build quality is fantastic and the materials used are of an impressively high quality. While Ford's Sync infotainment system is still a tad unintuitive, the large 10-inch touchscreen is bright and responsive, and while the slim readout behind the steering wheel initially looks a bit too small to be terribly useful, in practice it is actually just right.
The Mach-E is available in three models initially - the standard RWD, the long range AWD and the GT AWD.
The RWD kicks off the local Mach-E range at a Clean Car Discount-friendly $79,990 and gets the smaller 75.7kWh battery with a single electric motor on the rear axle. With 198kW and 430Nm on tap, it has a range of 440km and will scamper to 100km/h from a standing start in 6.1 seconds.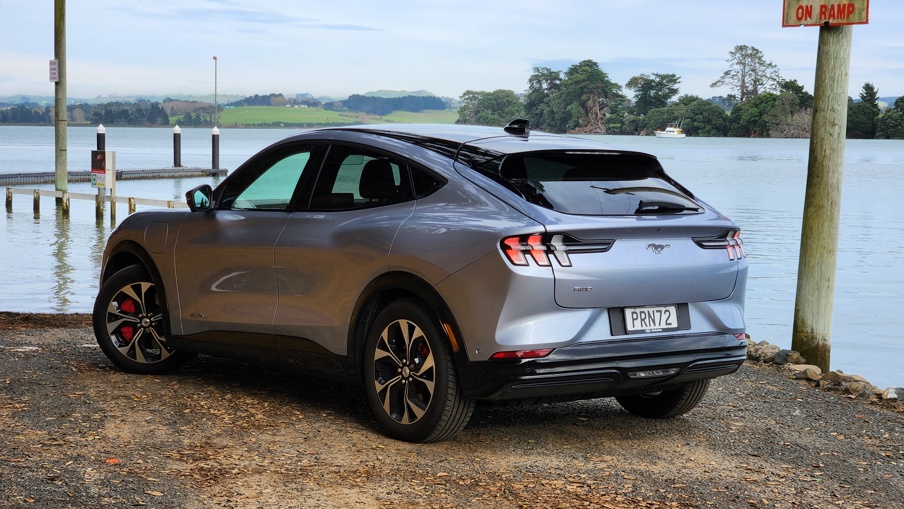 The RWD Mach-E is generously-equipped as standard and comes with 18-inch alloy wheels, LED headlights, heated front seats, wireless phone charging and a full suite of safety assists, including adaptive cruise control.
While the Mach-E only has a relatively small 402 litre boot thanks to that swoopy coupe-like roofline, this is complimented by a 100 litre frunk up front.
The AWD model is next in the line up and bumps the price up to $109,990, but brings along the larger 98.7kWh battery and an extra electric motor on the front axle. It also gets larger 19-inch alloy wheels, projector LED headlights, a power hands free tailgate, power 8-way front seats, a panoramic sunroof and an upgraded audio system.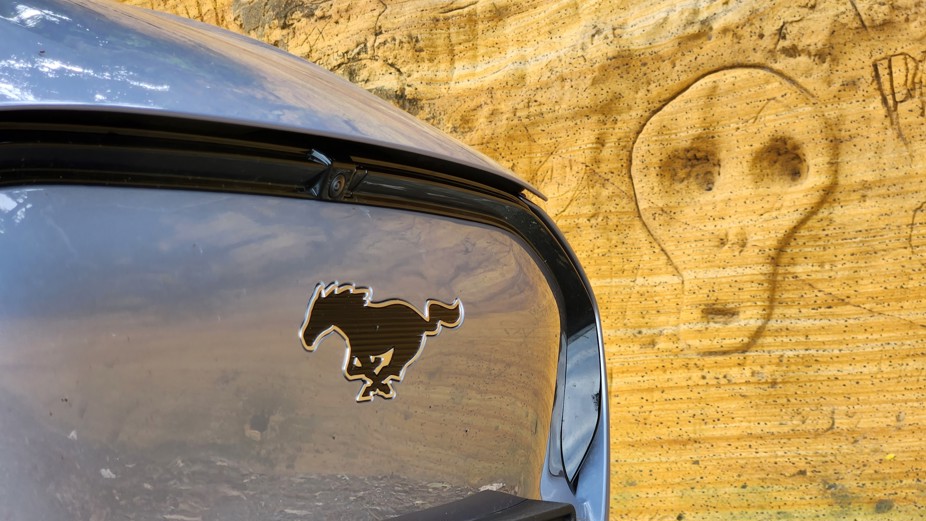 Of course, with the bigger battery and extra motor, performance is also increased, with 258kW and 580Nm on tap. This sees the 0 to 100 time drop to 5.1 seconds, while maximum range is 550km.
Then there is the heavy hitter of the range - the AWD GT that lands at $124,990.
While this is a rather hefty price increase for the top-spec Mach-E, it also comes with an equivalently hefty boost in power, with its 358kW and 860Nm being good enough to propel the GT to the legal open road speed limit in just 3.7 seconds. Which, just so you know, is faster than the V8-powered Mustang GT coupe...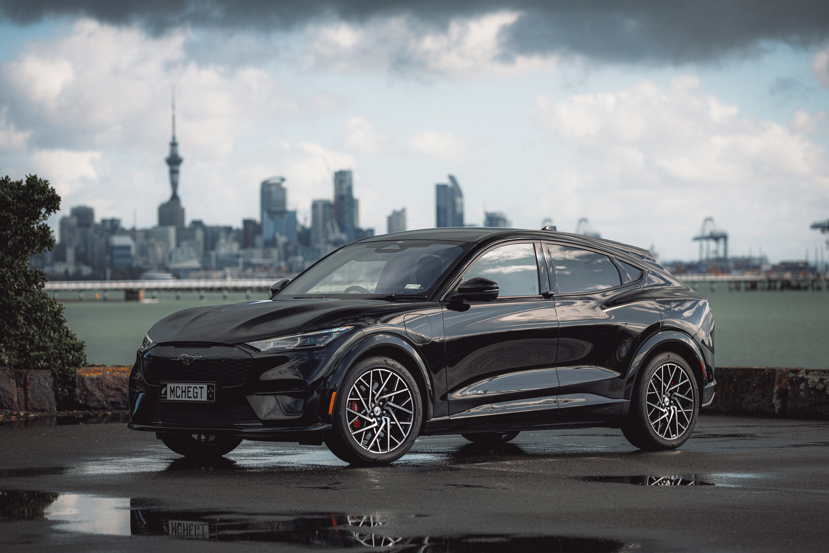 The Mach-E GT gets the same dual motor/98kWh battery as the standard AWD, but the brutal performance sees the range drop to 490km. The GT also gets 20-inch alloy wheels, MagneRide adaptive suspension and some slick sports seats.
As it stands, the Mach-E offers up a comfortable, quiet and high-quality package that also throws in fun and engaging driving dynamics for good measure. And in the case of the GT, there is also that V8-beating performance.
My day with the Mach-E on both the road and the track revealed a lot more than launch drives usually manage to do, simply because while I expected the Mach-E to be a good EV, I didn't necessarily expect it to be a fun car to drive. But it certainly seems to be just that.
FORD MUSTANG MACH-E
ENGINES: 75.7kWh battery with single electric motor (RWD) or 98.7kWh battery with dual electric motors (AWD and GT).
POWER: 198kW/430Nm (RWD), 258kW/580Nm (AWD), 358kW/869Nm (GT).
GEARBOX: Single-speed automatic, RWD or AWD
0-100KM/H: 6.1sec (RWD), 5.1sec (AWD), 3.7sec (GT).
RANGE: 440km (RWD), 550km (AWD), 490km (GT).
PRICE: $79,990 to $124,990.