Alpine sports cars famed for their performance were made from 1955 to 1995 
A legendary French sports car roared back to life today as parent company Renault took the wraps off its svelte new Alpine model – two decades after it killed off the much-loved marque.

The global launch of the new upmarket Gallic two-seater coupe with near supercar performance took place in Monte Carlo.
With looks harking back to the famous Alpines of the past – now highly collectible classics – the new 21st century lightweight Alpine mid-engined sports coupe will hit 62mph in less than 4.5 seconds and set buyers back £50,000
Renault hopes the Alpine will lure buyers away from Porsche Caymans, Audi TTs, BMW 4 Series coupes and Jaguar F-Types. Prices are expected to start from around £50,000.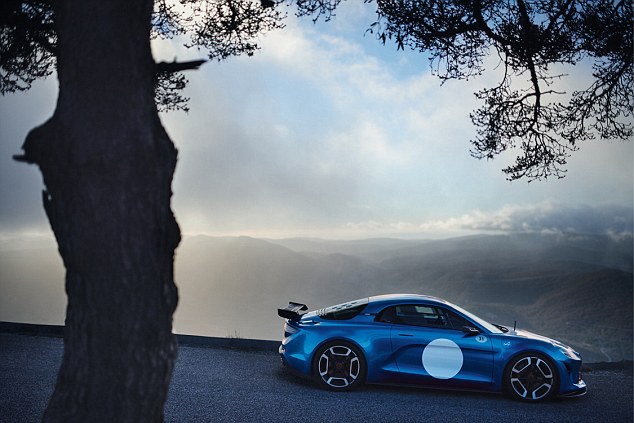 Flagship models: Even more powerful versions of the new Renault Alpine are also planned.

After its unveiling by Renault boss Carlos Ghosn today, the prototype Alpine Vision will be launched officially at next month's Geneva Motor Show before the final showroom version – differing little from the car revealed – goes on sale globally in showrooms from 2017, beginning in Europe.

Taking the wraps of the new Alpine, he said the new car would be the first of a new family: 'Alpine is back. 'We're putting in place the first stepping stone of something that will be much bigger. We're building a brand. We'll take it step by step. The future brand will be global.' 
He added that whether or not the UK left or remained in the EU, his company would continue to sell its cars to Britain.
Fittingly, its launch came at the home of the famous Monte Carlo rally – run through the southern French Alps - in which adventurous Alpine cars triumphed over many years, from the birth of the firm in 1955 to its demise in 1995.
During that time more than 30,000 Alpines were built for recreation and competitive racing. 
In the glamorous capital of Monaco, famous for its roulette wheels, card tables, and super-rich tax-exile residents, car bosses are now gambling that their new and revamped Alpine range will be a suitably sporty and upmarket French challenger to the domination of Germany's Audi and BMW.
For fans and potential customers – including many in Britain such as the Earl of March who hosts the Goodwood Festival of Speed – the new Alpine promises 'awe-inspiring' and 'explosive' performance, 'phenomenal acceleration, turbocharged power delivered 'with an inviting purr,' and powerful brakes to match. 
After a number of false starts, Groupe Renault chairman and chief executive Ghosn finally took the wraps off the firm's flagship car today.
He said the new Alpine – named after the cars' legendary ability around the twisting mountain roads and hairpin bends of the southern French Alps used in key stretches of the Monte Carlo Rally - would bring a welcome 'breath of fresh air' back to the premium car market.
Car bosses say the new Alpine 'combines sensual design with outstanding agility' in the spirit of the great Alpine A110 Berlinette, which was loved and admired by enthusiasts around the world for its performance, both for fun and for competition.
The new Alpine Vision is powered by a powerful new 4-cylinder turbocharged engine built by experts at RenaultSport.
Its low weight allow the car to accelerate from rest to 62mph in under 4.5 seconds. An even more powerful version from around £55,000 is planned. 
Groupe Renault announced at the end of 2012 its intention to re-launch the Alpine marque. 
An Alpine Celebration Concept car appeared on show at the Le Mans 24 hour race and at the Goodwood Festival of Speed at the Earl of March's country seat in Sussex in June last year.
Himself a huge fan, Lord March said: 'The revival of Alpine means we will have some new and very exciting options when it comes to choosing light and agile sports cars.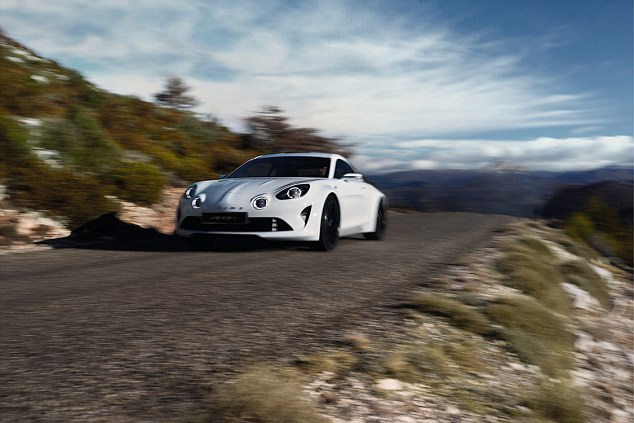 Renault hopes its new Alpine can take sportscar sales away from the German giants and Britain's Jaguar.


'I had the privilege of opening the 23rd Festival of Speed last year driving the Alpine Celebration concept car, and I am very much looking forward to discovering the actual production car and to soon seeing more Alpines roaring up the Goodwood hill.'
At one stage a partnership with Britain's Caterham Cars had been mooted but the planned collaboration stalled and was abandoned 
But now Renault bosses want to capitalise on a predicted 50 per cent growth in the premium sports car market by 2020. 
Their hope is that the Alpine, considered more upmarket than Renault, will help them achieve this.
Currently global sales of sports coupes and roadsters stands at around 200,000. Some 35 per cent of global sales are in Europe, where the UK is neck and neck with Germany accounting each for 30 per cent. 
Ironically, sales in France are a mere 7 per cent of European sales. North America is the biggest market at 40 per cent. 
Renault said: 'At the home of the world-famous Monte Carlo Rally and on the Col de Turini, site of some of racing's most memorable moments, Groupe Renault today announces plans for a new Alpine sports car, and unveils the Alpine Vision show car.'
The revamped Alpine will be managed by 'a small team of passionate experts within Groupe Renault' whose 'one sole mission' is 'to meet and exceed the expectations of the demanding sport premium customer', say Renault bosses.
The firm noted: 'Alpine has chosen the roads visited by the Rallye Monte-Carlo and, more specifically, the famous and twisty Col de Turini – the scene of its most celebrated early sporting achievements – as the backdrop for its renaissance.
Alpine is back to carve out a clear niche in the premium sports car market, promising an invigorating experience to both aficionados and those who appreciate automotive beauty.'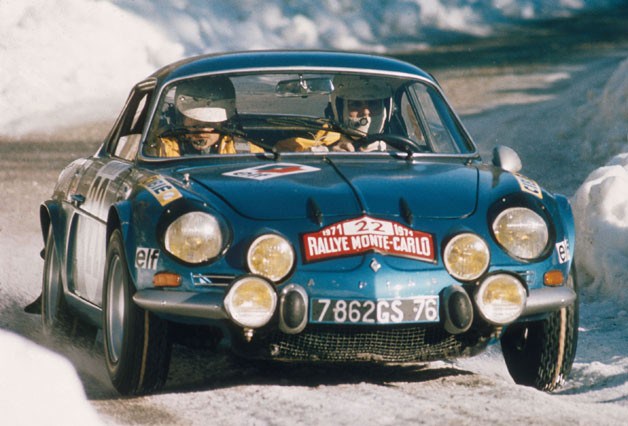 Rally legend: The Alpine Renault A110 of Jean-Claude Andruet and Pierre Pagani in action.


Alpine founder Jean Rédélé, said he had chosen the name for his firm 'because for me it represented the pleasure of driving along mountain roads.'

He said:' It was while traversing the Alps in my 5-speed 4CV that I had the most fun. This form of passionate driving experience – that was what my clients had to discover at the wheel of the car that I wanted to create. '
Alpine managing director Michael van der Sande said: 'All of us at Alpine are proud to have been entrusted with the task of bringing back Alpine to sports car lovers around the world.'
Alpine's design director Antony Villain said: 'The Alpine Vision show car ticks all the boxes expected of a modern, exclusive Alpine sports car.
'It blends a fiery spirit inspired by motorsport success, with Alpine's legendary expertise and a French flavour that can be found in every detail. It is aimed at aficionados and connoisseurs.'
Renault will now hope that the Alpine wins over a new generation of sportscar fans.
Kazunori Yamauchi, creator of the Gran Turismo racing video game said: 'When I was younger, I used to dream about Alpines. I still do.'

-Daily Mail