At the recent 2023 Kia EV Day, Kia unveiled the production version of the car that is likely the key to mainstream EV success and acceleration, with the EV5. We took a close-up look at the electric SUV.
Each of the new Kias (EV3, EV4 and EV5) uses an 'element' as inspiration, and the EV5's is 'air'.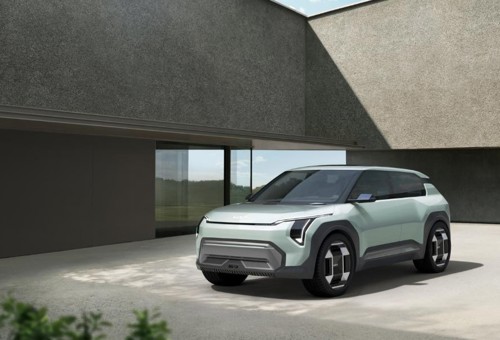 While Kia claims the EV5 is "designed and engineered to meet the needs and desires of millennial families", this has the potential to be a mass market leader in the very popular compact/medium SUV market. Around 4.6m long, the EV5 is the third EV, built on the brand's E-GMP dedicated EV platform, and offers spacious, practical and roomy interior closer to a home lounge (according to Kia), while retaining a modern and tight design.
Though Kia NZ is yet to confirm timing and price, home markets offer standard, long-range and AWD variants.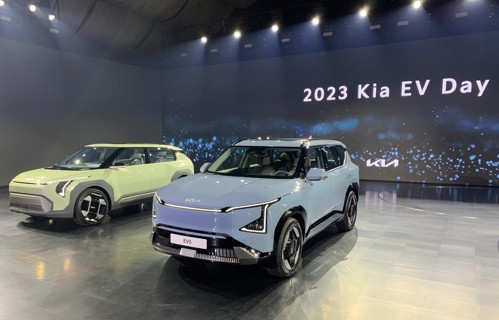 There are two key model variants, being the China and Korean market cars. The standard China model is equipped with a 64kWh battery pack and a 160kW motor, is expected to have a driving range of 530km; with the same motor but a bigger 88kWh battery, the long-range version claims 720km of range. The long-range AWD model will feature the 88kWh battery pack and a combined output of 230kW, from a front-wheel 160kW motor and a rear-wheel 70kW motor, and a 650km range.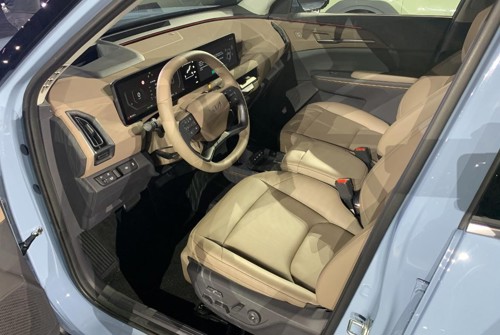 Fast charging up to 120kW will offer recharging from 30-80 per cent in 27 mins, which is a little sleight-of-hand as the typical charge measure is 10-80 per cent.
Korean variants of the same cars get a smaller, standard 58kWh battery, and long-range 81kWh battery, for a total maximum of 225kW in the AWD model.
A new heat pump (from EV6) will be incorporated to maximise the battery's performance in all conditions, along with levels of regen braking including i-Pedal one-pedal driving.
The EV5 GT will offer even more, though representatives wouldn't be drawn into further comment just yet.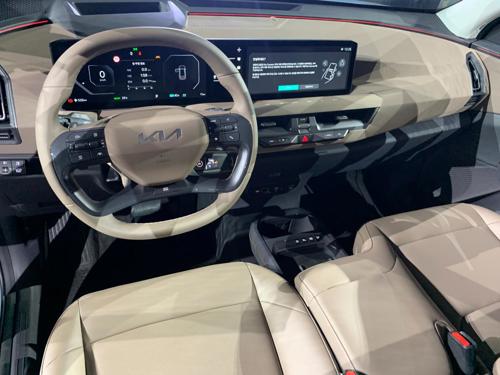 Infotainment and Connectivity
The EV5's spacious, light, well-ventilated cabin is equipped with the latest infotainment and connectivity tech, while enabling occupants to remain safely engaged with the digital world as they travel.
It is equipped with the connected car Navigation Cockpit (ccNC) infotainment system and supports over-the-air software updates. It incorporates a Panoramic Wide Display, which combines a 12.3-inch cluster and 12.3-inch infotainment system, along with a 5-inch climate control display. These features provide the driver with comprehensive information and content for a convenient and immersive driving experience.The brand's new Unified Graphical User Interface (GUI) is applied between the audio-visual, navigation, and telematics (AVNT) screens, and the CDU ensures enhanced information display consistency. Simple-to-navigate menus provide improved usability of EV-specific functions and enable drivers to monitor aspects such as range and EV charging at a glance. The seamless flow of information is further augmented by an optional windshield HUD (Head-Up Display).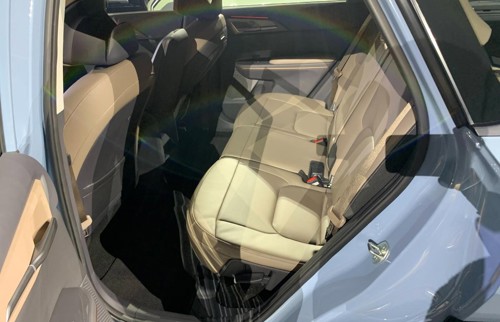 Throughout the cabin, physical buttons are kept to a minimum, for only the key regularly used functions like volume and AC temp and fan speed, for example. Beneath the central AVNT screen, four hidden hard keys provide a start/stop function along with AVNT and heating, ventilation, and air conditioning (HVAC) control; previously, these systems would have required 17 buttons to control.The three-zone climate control system enables individual control for the driver, front passenger, and second-row occupants, while an after-blow feature reduces air conditioner odors, ensuring a pleasant cabin environment for all occupants.

Customers can keep their EV5 constantly updated by upgrading the SUV's digital features and services without any need to take the vehicle to a dealership. Beyond the standard features, the Kia Connect Store offers a wide array of options to add to the vehicle's performance and enjoyment of the user experience, though this part is yet to be confirmed for New Zealand.
Safety and Convenience
The EV5 has with seven airbags and in addition to the latest seatbelt technology, its structure is engineered for optimum strength, and features the brand's latest Advanced Driver Assistance Systems (ADAS) and a range of active safety.
EV5 comes with Highway Driving Assist 2 (HDA2), which helps drivers maintain distance, stay centered in the lane, change lanes, and adjust lateral positioning.
With a touch of the Kia Digital Key 2 smart key, customers can activate the vehicle's Remote Smart Parking Assist 2 (RSPA 2) system. This technology enables the SUV to park itself without the need for driver intervention, whether in or out of the vehicle. Also, the smart exit function and a remote forward and reverse function provides drivers with added peace-of-mind when navigating tight parking spaces. It also features Rear Cross-Traffic Collision-Avoidance Assist (RCCA).
Efforts are being made to enhance energy utilization in the EV5 by incorporating Vehicle-to-Load (V2L) and Vehicle-to-Grid (V2G) functions. With V2L, the high-voltage battery can supply power to external electronic devices. Kia will concentrate on rolling out V2G in regions where the necessary infrastructure exists, New Zealand being on the radar though not set-up yet, enabling surplus vehicle battery energy to be shared with the grid.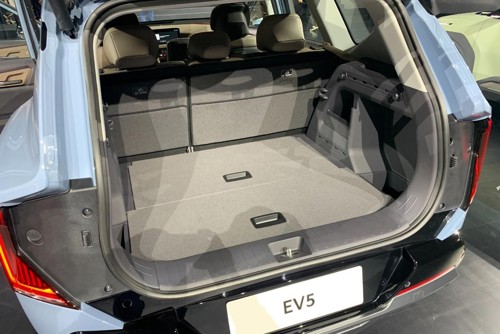 Multiple seating configurations
Kia has explained it is phasing out leather from all its EVs, in favour of sustainable, renewable and natural materials. The EV5 is available with a choice of seats featuring eco-friendly recycled PET fabric and Bio-PU leather coverings. This innovative approach elevates the EV5's spacious cabin from somewhere for occupants to sit while travelling, into an ultra-comfortable, highly practical, and inspiring environment that meets the needs of millennial families and ensures an enjoyable experience every time they enter the vehicle.
The Chinese market front seats feature a unique bench-type seat, though their use, comfort and practicality might limit them to China only. Other markets will, however, see mood lighting and a centre console armrest with configurable table.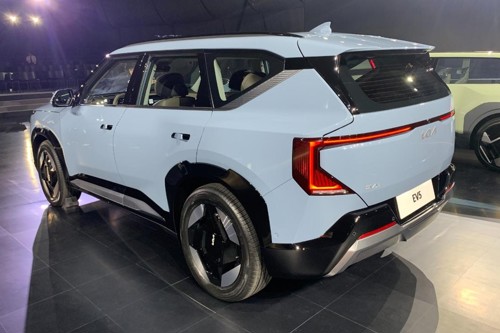 The reclining seats are designed to prevent back and spine discomfort with their continuously adjustable back angle. Relaxation seats feature a four-mode massage function with three levels of intensity, enabling occupants to choose their individual sweet-spot setting during charging. Comfort seats provide six massage air cells, four-way lumbar support, a three-step heater and ventilation function and a footrest. The model's safety seats, equipped with three airbags and a four-way adjustable headrest, provide optimum occupant protection.
The rear seat can also be transformed into a bedroom thanks to the 0-degree, full-flat folding second-row camping seat, with a rear heated/cooled console for food and drinks. The 4.0-litre unit provides food warming and beverage cooling functions with a temperature range of 5 to 55 degC.
Can't forget consumption, either, with the EV5 offering alfresco or in-cabin, with a highly versatile Multi Table luggage board, which can be easily transformed into a table.
Unveiled for the first time in October, we will possibly see the EV5 arrive in NZ in mid-to-late 2024.